You have /5 articles left.
Sign up for a free account or log in.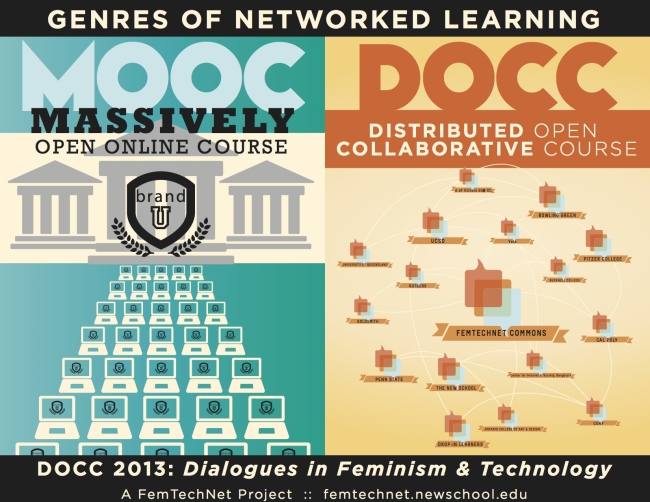 At first glance, "Feminism and Technology" sounds like another massive open online open course. The course will involve video components, and will be available online to anyone, with no charge. There are paths to credit, and it's fine for students to take the course without seeking credit. An international student body is expected.
But don't look for this course in any MOOC catalog. "Feminism and Technology" is trying to take a few MOOC elements, but then to change them in ways consistent with feminist pedagogy to create a distributed open collaborative course or DOCC (pronounced "dock").
The DOCC aims to challenge MOOC thinking about the role of the instructor, about the role of money, about hierarchy, about the value of "massive," and many other things. The first DOCC will be offered for credit at 17 colleges this coming semester, as well in a more MOOC-style approach in which videos and materials are available online for anyone.
"We're not saying bad bad MOOCs, but we're asking how else we might innovate," said Anne Balsamo, co-facilitator of the DOCC and dean of the School of Media Studies at the New School.
"A DOCC is different from a MOOC in that it doesn't deliver a centralized singular syllabus to all the participants. Rather it organizes around a central topic," Balsamo said. "It recognizes that, based on deep feminist pedagogical commitments, expertise is distributed throughout all the participants in a learning activity," and does not just reside with one or two individuals.
Participating Colleges
Bowling Green State University
Brown University
California Polytechnic State University
Colby-Sawyer College
Flinders University in Australia
Goldsmiths, University of London
Graduate Center of the City University of New York
Macaulay Honors College of CUNY
New School
Ohio State University
Ontario College of Art and Design
Pennsylvania State University
Pitzer College
Rutgers University
University of California at San Diego
University of Illinois at Urbana-Champaign
Yale University
So each week, a video presentation -- typically a discussion with one, two or three thinkers about feminism and technology -- will set a theme for the week. The first week's video will feature Balsamo in a discussion with Judy Wajcman, a sociologist at the London School of Economics and Political Science whose 1991 book Feminism Confronts Technology led many feminist thinkers to focus more on technology issues. That video is designed to provide a historic overview. Subsequent weeks will feature discussions about more focused topics -- feminism, technology and labor one week; feminism, technology and sexuality another, and so forth.
At participating colleges, professors will base their own courses on each weekly theme, sharing course materials and assignments, but customizing them for their own students. The courses will vary, as some are undergraduate and some are graduate, and the institutions (see list at right) vary widely by mission and geography -- including institutions in Australia, Britain, Canada and the United States. The class sizes will be between 15 and 30 students each, decidedly non-massive. "There is another pedagogical commitment here," Balsamo said. "Who you learn with is as important as what you learn. Learning is a relationship, not just something that can be measured by outcomes or formal metrics."
The courses at participating colleges will be offered for credit. Balsamo said she'll meet with her students twice a week for 90 minutes a class, and they will have readings and assignments based on the theme of the week, and will be formally graded.
Other instructors will have their own assignments and grading systems. She hopes that those who are not enrolled at one of the participating colleges may use the various syllabuses that will be posted to add to their experience beyond the videos -- but she's also fine if they just watch the videos.
With this approach, there may be common works and common lessons, but there is no sense of a single best way to learn the subject, she said.
Another common element in the courses will be participation in "Storming Wikipedia," in which students will be given lists of women who have played key roles in science and technology, and will study where they are represented (or ignored) in Wikipedia, and draft entries or entry additions to increase the representation of women in discussions of technology.
By using the faculty positions and institutions of participating instructors, Balsamo said, there has been no need to raise large sums of money or seek out corporate sponsors. To pay for the costs of video production, the organizers received $10,000 grants from the Pembroke Center at Brown University and from the New School. The project also received $7,000 in early support from Pitzer College.
The question organizers asked, she said, was "what if we put aside the most hand-wringing parts of the MOOC discussion -- revenue and massive." By thinking in this way, the organizers have decided not to worry about revenue streams or losing touch with students as individuals, she said. Yet they will be producing video content that will be available to anyone and that could, over time, reach large numbers of students. And they believe this approach could be used for other courses as well.
Alexandra Juhasz, a professor of media studies at Pitzer  who is the other co-facilitator of the DOCC, said via e-mail that "our DOCC is built to value situated experience and emphasis, and to share authority and responsibility rather than the MOOC's top-down, one size fits all, sometimes elitist approach. Attention to discrete learners, teachers, and institutions is valued over simple numbers of participants. While these structures mirror my own feminist values and approaches, I imagine that most educators will be intrigued by this more democratic and responsive model for technology enhanced learning."
Among the forms of MOOC hype that Balsamo said she hoped the DOCC would combat is the idea that massive online courses allow some "best" professor to interact with students everywhere, so that all can learn from the superstar. It's not that there aren't very talented professors out there, she said, but the superstar emphasis is wrong ("Is there really a 'best'?" she asks) and doesn't encourage group learning.
Said Balsamo: "The idea of the one best talking head, the best expert in the world, that couldn't be more patriarchal. That displays a hubris that is unthinkable from a feminist perspective."