You have /5 articles left.
Sign up for a free account or log in.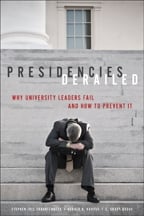 There's a slim new book for higher ed leaders hoping to avoid a train-wreck presidency.
In an interview, one of its co-authors, George Washington University President Emeritus Stephen Joel Trachtenberg, advises presidents to be "slightly paranoid" and governing boards to get their act together.
Trachtenberg said he craved the drama and the circus of the president's office and the tap-dancing he had to do to avoid getting tagged by his critics.
"People try to hurt you," he said after telling a story about one of those times at George Washington.
But he lasted for two decades -- after 11 years at the University of Hartford. Others do not do so well at all. Trachtenberg said he and his assistant, Gerald Kauvar, came up with the idea for Presidencies Derailed: Why University Leaders Fail and How to Prevent It (Johns Hopkins University Press) after they noticed yet another university president who had gotten the ax. All told, the book identifies 50 college presidents from 2009-10 who left or were pushed out before the end of their first contract period.
They and a third author, former Louisiana State University at Shreveport Chancellor E. Grady Bogue, find a half-dozen major ways the wheels come off the wagon: ethical lapses, poor interpersonal skills, inability to lead key constituencies, difficulty adapting, failure to meet financial objectives and board shortcomings.
Guess the Train Wreck
Presidencies Derailed: Why University Leaders Fail and How to Prevent It offers case studies of failed presidencies at 16 institutions. Although the authors have attempted to conceal the institutions and players involved, can you figure out who is who?
"Carol at Caroline College"
The president failed to meet operational goals at a faith-based liberal arts college. She also didn't socialize much, in part because she abstained from drinking and events with alcohol. A vice president invited her to chat with faculty and staff right before a holiday. The president's calendar was clear but she still declined. Also in the mix: members of the board were letting no-bid contracts go to friends of friends and most of the friends were connected to the board chair. The chair was also the college's legal counsel.
"Nicholas at State University of the North"
The president of a large, multicampus public university had a reputation as an "arrogant, aloof chancellor" and he "lived large on the university's dime." This was not new behavior on his part -- at his previous presidency, he had accepted gifts, including cash, from corporations. The search process he got the job through was "conducted in haste to remove the bad taste from problems with the previous president," but Nicholas fared little better. After investigations revealed he had violated purchasing policies at North, he was gone.
"Calvin at Cypress Community College"
A college in a "laid-back" tourist community hired Calvin to turn the place around. Within two years, half the faculty were gone. He failed to renew the contract of an administrator whose family's construction company "had, literally, built the town." When the board changed, he knew he lacked votes and began to negotiate his exit.
"Charlie at Central Plains State University"
Charlie arrived at the small, public master's-level university in a rural area. He had a background in law and government and political connections. He made some unpopular tenure decisions and ended up getting sanctioned by the American Association of University Professors and was the target of racial discrimination lawsuits. The board tried to find a way to keep him there and put a vice president in charge of operations and asked Charlie to focus on external relations. That also didn't work and he was gone.
Generally, the book suggests some relatively common sense tips for presidents: don't sleep with subordinates, don't fly into fits of rage, beware of a former president conspiring with a board member to get his job back, and don't promptly fire a top administrator whose family's construction company literally built the college town you've just moved to. All of these scenarios have ensnared presidents.
The book draws on case studies of unnamed universities, including interviews with key players involved in failed administrations. The case studies, which are written by four other authors, give detailed insight into institutional and human failures. Even people who could do without the tips and tricks of avoiding disastrous presidencies may enjoy the anonymous accounts of things gone wrong. Trachtenberg said people have been trying to guess who the case studies are about. He said his lips are sealed.
The book and Trachtenberg are careful not to blame just the presidents: Boards, too, have their share of problems. One search process described in the book was hastily conducted to remove the "bad taste" of one failed presidency. But the board picked the wrong candidate and ended up with a second failed presidency.
Trachtenberg said boards are often ill-constituted for handling the tasks at hand. He cited, in particular, boards that are designed around inputs – how many minorities or females or people from certain professional background are supposed to be represented  – and not around achieving outputs.
"By the time we have put the board together, it is capable of singing 'Kumbaya,' but it's not capable of doing the oversight of a complex institution," he said.
The book points out the details of so many presidential collapses are hidden by tight-lipped and embarrassed board members and presidents – if not non-disclosure agreements.
"You can't learn anything from that," Trachtenberg lamented.
But is the advice too late for the university president who might currently need it most?
Evan Dobelle, the president of Westfield State University in Massachusetts, recently contacted Trachtenberg for advice. Dobelle is in hot water for charging personal expenses to the university and foundation credit cards.
Trachtenberg, who received an honorary degree last year from Westfield, said Dobelle seems to be doing well as president, other than that. "You have the feeling if he can get past this, he still has a contribution at Westfield," Trachtenberg said during a three and a half hour interview in his office this week.
Still, he wondered just why Dobelle had repeated some of the same mistakes that cost him his last presidency at the University of Hawaii.
Trachtenberg's advice? Be paranoid about spending – "that's always your Achilles heel, because it's your auditable trail," said Trachtenbetg, who has never hesitated to defend high salaries. Also: "If you have to explain it in more than a sentence or two, you probably ought to not do it."
Dobelle, for what it's worth, has sought to get whistle-blower protection for himself for self-reporting some of his financial indiscretions.
Trachtenberg cited the experience of Benjamin Ladner, the former president of American University, who was ousted after he charged the university for a personal chef, vacations in Europe and an engagement party for his son.
When Trachtenberg had his son's wedding on campus, he said he paid the caterer and the vintner and for the rooms and flowers – and "left a paper trail as bright as I could imagine."
 "I would have had to be in the negative-numbers IQ not to protect myself in that way after a week of stories above the fold in The Washington Post about AU," he said.
Other presidents get ousted because they have not earned the trust of key constituencies and then have no one to throw them a rope when their boat overturns.
That, Trachtenberg said, is what happened to Michael Garrison, the former president of West Virginia University, who gives his side of his derailed presidency in the book. Garrison stepped down after the university awarded an unearned master's degree to the daughter of then-Governor and now U.S. Senator Joe Manchin.  Garrison was hired over the objections of some faculty because he had lacked a Ph.D. and was a well-connected lobbyist with political ties. He didn't have faculty on his side when the scandal erupted.
"Had he been president longer, the relationships would have been different," Trachtenberg said.
Garrison came to Washington last week to talk to Trachtenberg's leadership class.
While some presidents may not have enough time to find friends, other presidents may lose them by overstaying their welcome. That may be what happened to The Rev. Lawrence Biondi, who ended a quarter-century at Saint Louis University amid no-confidence votes and considerable criticism from students and faculty members.
"My preference is to go out with a big chicken dinner," Trachtenberg said.