You have /5 articles left.
Sign up for a free account or log in.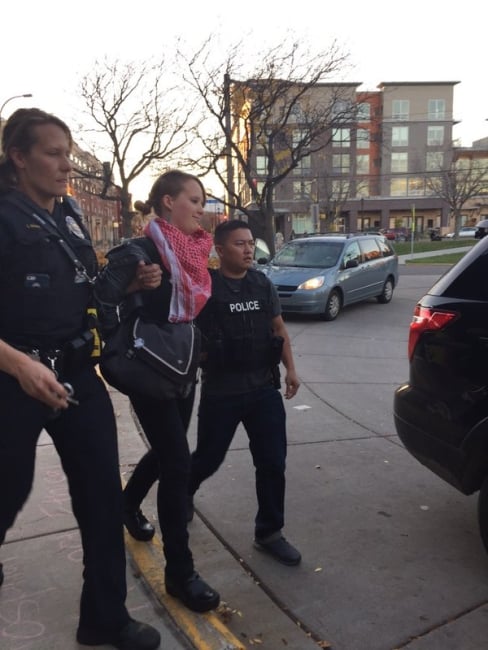 Many a campus speaker draws protests, with students and others picketing outside or otherwise criticizing a speaker or organizing a counterprotest. And then of course there are cases where invitations are withdrawn due to controversy over the speaker.
But a particularly controversial reaction to speakers -- one that is relatively rare, but that appears to be on the rise with speakers from Israel -- is when protesters repeatedly interrupt speakers, making it impossible for them to talk. That happened Tuesday at the University of Minnesota, when an Israeli law professor, currently teaching at New York University, was prevented from starting his talk for 30 minutes while protesters interrupted his attempts to begin speaking.
Those arrested -- apparently not students but backed by a pro-Palestinian group on campus -- are claiming their free speech rights were violated. Meanwhile, university officials are saying that the protest crossed the line past acceptable forms of protest.
And the incident has revived a debate in higher education over use of the "heckler's veto," in which protesters take their shouts into the lecture hall. In recent years, there have been major debates over such incidents at Brown University, Florida Atlantic University and the University of California at Irvine. (The Florida Atlantic and Irvine incidents also involved speakers from Israel.)
At Minnesota, the lecturer who was protested was Moshe Halbertal, a professor at NYU law school and a professor of Jewish thought and philosophy at Hebrew University of Jerusalem. He also helped draft the Israeli military's ethics code. His lecture topic was "Protecting Civilians: Moral Challenges of Asymmetric Warfare." When Halbertal eventually spoke, attendees said, he didn't focus on the Israeli-Palestinian conflict, and he argued that militaries have a moral obligation to consider and minimize civilian deaths. (He has been both critical and supportive of Israel's governments, although protesters characterized him as someone entirely supportive of the actions of Israel's government and military.)
When Halbertal started speaking, protesters began screaming criticism of Israel until they were removed and arrested, delaying the lecture for more than half an hour.
David Wippman, the law school dean at Minnesota, issued a statement criticizing the form of protest used Tuesday. "As members of a university community, we should welcome -- indeed, insist -- on hearing a wide range of viewpoints, and we should condemn any efforts to silence free speech through protests of the sort that took place at the law school yesterday," he said. He added that it was "unacceptable" for protesters to "deny other students" the right to hear a guest lecture.
Wippman said that the protesters also may have missed the value of the event. "After the lecture concluded, audience members, including some quite critical of Israel, had an opportunity to ask questions and engage Professor Halbertal in discussion. Ironically, the central theme of Professor Halbertal's talk was that the military should be prepared to accept greater risks to its own forces in order to enhance protections for civilian noncombatants, not something one would expect to generate much protest."
Late Wednesday, Minnesota President Eric W. Kaler and Provost Karen Hanson released this joint statement: "A commitment to freedom of speech and thought is absolutely fundamental to the University of Minnesota. Our university is and must be a place where people can explore ideas, engage in vigorous debate and learn from one another's perspectives. We all have a responsibility to ensure an open and nonthreatening environment for education, research and dialogue -- for all our students, faculty and staff, and for the general public."
But the protests are drawing campus support. The Minnesota chapter of Students for Justice in Palestine posted to Facebook: "At a time when institutions around the world are joining the call for the international boycott of Israel, our campus invited a war apologist."
The group that organized the protest, called the Anti-War Committee, posted repeatedly to Twitter that the arrests of the protesters were a denial of free speech.