You have /5 articles left.
Sign up for a free account or log in.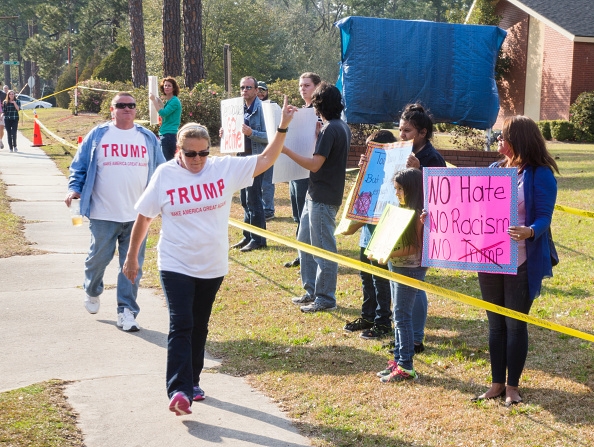 Mark Wallheiser, Getty Images
Is Donald Trump scheduled to appear on your campus? Watch out.
The list of incidents at rallies for the leading Republican presidential candidate has been growing over the past few months, and college campuses haven't been immune.
Audience members have physically attacked protesters at Trump's events on a number of occasions ("Maybe he should have been roughed up," Trump said about a black protester who had been knocked down and kicked). One of Trump's bodyguards snatched a sign from and punched an immigration activist after another event, and a photographer was slammed to the ground by a Secret Service agent during a rally at Radford University last week.
Many students opposed to Trump have attended his rallies, especially when they have been held on campuses. Student protesters from Virginia Commonwealth University were pushed, shoved and spat on during another rally in Richmond, and 30 black students, who said they weren't there to protest, were ejected from an event at Valdosta State University, in Georgia.
Now Trump is headed to the University of Illinois at Chicago campus, and students there, as well as faculty and staff, are none too pleased.
A petition calling on the university to cancel the event garnered almost 50,000 signatures, and more than 8,000 people have signed on, via Facebook, to attend a counterprotest. Both cite safety of students and others as a major concern.
"Trump has been known to provoke and encourage violence toward protesters in the past," reads the protest's Facebook page. "Past protests have seen individuals be spit on, kicked, hit, shoved and assaulted in various other ways. With that being said, our strength will lie both in our numbers and our ability to show these Trump supporters a higher class of behavior."
"As an undocumented UIC graduate student, I feel unsafe knowing that Trump along with his followers will be at my university," wrote Jorge Mena Robles, the author of the petition to cancel the rally, in a post on the activist organization Mijente's website. "His rants go against UIC's core values of freedom, equality and social justice and the violence he incites endangers its student body …. For the people targeted by Trump and his followers, increasing policing at the event isn't how we'll be made safe. We'll be made safe by it being canceled. It is a student safety and a university standards, not a free speech, issue."
In a message sent to students over the weekend, the chancellor, Michael Amiridis, rebuffed calls to cancel the rally. "It has been our standard practice for decades to rent available space on campus to any political candidate when requested," he wrote. "As a result, we have a long history of campaign events on campus, and no legal basis to exclude any candidate because of the views he or she expresses." On the topic of safety, Amiridis only wrote that, "we want to ensure everyone that security plans are in place to address the safety of our campus community during this event."
Most legal experts agree that Amiridis is correct that a public university can't let one politician rent space on campus but turn away others. Where the Trump rally raises issues, however, is that there is a pattern of students and others -- many of them minority students -- being ejected from or harassed at campaign events. Further, Trump campaign security isn't necessarily going to worry about the same issues as would the administration at the university, an institution with a diverse student body.
The university did not return requests for comment, and the Trump campaign did not respond to requests sent via email. A spokeswoman for the Chicago Police Department declined to comment on security for the event, citing a policy not to publicize security procedures, including how responsibilities will be divided among the various parties and whether Chicago police officers would remove students at the behest of the campaign.
Shortly after an open letter of concern from faculty and staff members regarding safety at the rally was sent to the administration Sunday evening, another statement, this time from Mark Donovan, vice chancellor for administrative services, was circulated around campus. "Many people have voiced concerns about safety," Donovan wrote. "UIC Police have started working with, and will continue to work with, local law enforcement, the Trump campaign, protest organizers and the U.S. Secret Service to ensure that security plans are in place to address the safety of the UIC community."
"My fear is the UIC police are not in fact going to be in charge, that it's not their command," said Jennifer Brier, associate professor of gender and women's studies and history at the university and one of the authors of that letter. "I'm worried that whatever security forces or personnel or agencies -- Secret Service or somebody else -- won't be working to protect the safety of our students, and if they're told to eject people from a protest, I'm worried that that is going to happen, and that's a complete contradiction to the mission of this university."
"Our students are organizing really creative protests, and I want to make sure the administration recognizes those protests as being protected," Brier said. "They're here to learn, they're here to grow, and that's our job. That's our mission, and this is part of that. Protesting is part of that."
That's on top of safety concerns, Brier said, for students on a campus that is mostly not white and boasts a very active community of undocumented students.
"We don't want them to be targeted verbally or physically attacked for their protest," she said. "I believe in free speech, but I don't understand why this [event] has to happen. But if it's going to happen, the right to protest has to be protected as purely as the right to rent the space."