You have /5 articles left.
Sign up for a free account or log in.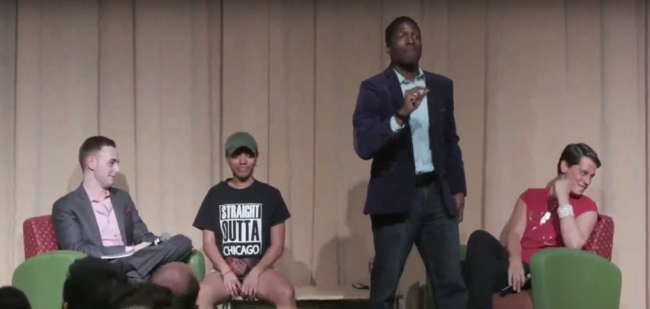 Sitting on the stage at DePaul University Tuesday, Milo Yiannopoulos spoke without incident for around 15 minutes, offering his trademark inflammatory criticisms of feminism, the transgender rights movement and campus politics. And then the conversation turned to microaggressions.
"They're called microaggressions because you can't even see them," Yiannopoulos, a pundit at the conservative website Breitbart.com, told the crowd. "And the reason you can't see them is because they're not there. Nothing happens."
Which is when something happened: blowing a whistle, a student walked down the center aisle of the auditorium until he reached the stage. He sat on the table between Yiannopoulos and a student from the College Republicans, who was moderating the event, and began speaking to the crowd.
"Please, sir," tried the student moderator. "Sir, please."
"We'd like to ask you to please -- " began another.
But a second student had joined the first on stage, and at once, the event became a protest.
It wasn't the first time college students protested Yiannopoulos. He is a divisive figure. He is, as a writer for Fusion put it, "the sort of frustrating troll who, for instance, might declare his birthday World Patriarchy Day, suggest Donald Trump is 'blacker' than Barack Obama or, although he is gay himself, assert that gay rights have 'made us dumber.'"
Those protesting at DePaul -- in a rally outside and during the disruption -- said Yiannopoulos was engaged in hate speech that made minority and other students feel unsafe and unwelcome at their own institution. They argued that Yiannopoulos shouldn't have been invited.
The DePaul protesters grew in ranks, and the College Republicans who organized the talk were unable to regain control of the event. The event was cut short.
For free speech advocates on both sides of the political spectrum, the event was fraught with tension: What happens when a protest prevents an event from taking place and blocks ideas from being heard?
DePaul's president, the Reverend Dennis Holtschneider, was out of town during the event, but was briefed on it.
"Generally, I do not respond to speakers of Mr. Yiannopoulos's ilk, as I believe they are more entertainers and self-serving provocateurs than the public intellectuals they purport to be," he said in a statement.
And yet: "Those who interrupted the speech were wrong to do so," he continued. "Universities welcome speakers, give their ideas a respectful hearing and then respond with additional speech countering the ideas."
Speech and Safety
Six days before Yiannopoulos's speech, a group of Jewish students at the University of California at Irvine gathered for a film screening. Called Beneath the Helmet, the film documents the lives of five Israeli soldiers.
In the middle of screening, a group of student protesters appeared outside the classroom door.
"This was not a peaceful demonstration," said Lisa Armony, executive director of Hillel Orange County. "This was an angry, screaming, large group of people trying to get into a room of students sitting and watching a movie."
Armony called the police.
So did one of the students who had been watching the film and who had gone into the hall to make a phone call before the protesters showed up. "She got scared and tried to get back into the room to be with us," Armony said, "and they wouldn't let her in." According to Armony, the student hid in a nearby classroom until she felt it was safe.
After police arrived, the group finished the film. According to Hillel Orange County, one police officer remained in the room until the film was over, at which point police officers escorted the students to their cars.
Law enforcement officials and student affairs officials are conducting two parallel investigations. If the administration concludes that the protesters did disrupt the screening, they will be disciplined.
"We are not in the business of allowing folks to disrupt events," said Thomas Parham, UC Irvine's vice chancellor for student affairs. "We do not approve of free speech that seeks to shut down anyone else's right to free speech."
The Irvine chapter of Students for Justice in Palestine posted a note on its Facebook page that expressed pride in the protest but did not address the criticisms. "Today we successfully demonstrated against the presence of IDF soldiers on campus. We condemn the Israeli 'Defense' Forces, better defined as Israeli Occupation Forces (IOF), because they enforce Zionist settler colonialism and military occupation of Palestinian land by the Israeli nation-state," the statement said. "Not only does the IOF commit murders and several violences against the Palestinian people, including its use of Gaza as a laboratory for weapons testing, but it enforces militarization and policing all over the world. The United States send [sic] delegations of police forces to train in Israel by the IOF, such as the LAPD and NYPD for example. The presence of IDF and police threatened our coalition of Arab, black, undocumented, trans and the greater activist community. Thank you to all that came out and bravely spoke out against injustice."
The group has since posted a longer statement in which it says that actions that make minority or pro-Palestinian students feel unsafe are ignored, unlike the speedy reaction to the complaints last week. "In talking about providing a safe environment for all students on campus, administration's double standards must be acknowledged," the statement said.
Jewish groups on campus had been holding a series of events that week. Administrators had anticipated some dissent, and they created a space near the events for protesting students to use. But according to Parham, the film screening was moved on campus at the last minute. If the administration had known about the event, it would have put proper security measures in place.
Predicting Protest
Shutting down a protest is tricky. When college authorities act too quickly, they infringe on the rights of peaceful demonstrators who are doing exactly what they're taught to do, in these cases voicing peaceful opposition to a conservative writer or Israel's treatment of the Palestinians. Even the sponsors of the events say that protests outside -- however strong the language used -- would have been a different matter.
"We've seen protests against events that were completely nondisruptive shut down inappropriately," said Ari Cohn, a free speech lawyer at the Foundation for Individual Rights in Education. "But if those protests are disruptive to the extent where the students they are protesting against are not able to carry out their event, that's when the university has to step in."
Kevin Kruger, president of NASPA: Student Affairs Professionals in Higher Education, said colleges should try to anticipate in advance whether an event or speaker might provoke a strong reaction. But still, that kind of anticipation is easier said than done.
"You can't always predict what's going to happen," he said. "It could start out as peaceful and become violent."
But when student groups need more security, who pays for it? At UC Irvine, the Jewish groups did not have to pay for the extra security. But at DePaul, the College Republicans and Breitbart were required to contribute.
Now, Breitbart is demanding its money back. After paying the required fee, the organization is angry that security officials didn't do more.
Cohn disagrees with any requirement that campus groups pay for security. While they aren't required to provide the security themselves, he said, "colleges should not charge student groups for protecting themselves because somebody might protest at their event."
Others say if nobody has an obligation to pay for security, students will be left in vulnerable situations.
"If we know that a certain speaker or event might increase the likelihood of some kind of violence, I think it's reasonable to ask the sponsors to underwrite some of the security at that event," Kruger said. "That's been happening for decades."
At DePaul, the College Republicans haven't yet decided whether to reschedule the event, according to club member Benjamin Cohen. But going forward, they hope the university improves its policies. At UC Irvine, pro-Israel groups are trying to bring the film back to campus.
"The best thing we can see from the school as a response to this is a policy and commitment on the school's end, from now going forward, that the school will take an active role in ensuring that events are allowed to proceed," Cohen said.