You have /5 articles left.
Sign up for a free account or log in.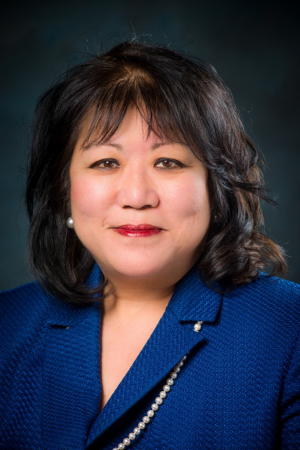 The California State University System has named women to lead campuses in five straight presidential searches in 2016, nearly doubling the number of women presidents at the 23-campus system in what some hope signals an accelerating trend toward diverse higher education leadership.
The latest hiring for the 475,000-student university system came May 25, when it named Ellen N. Junn the next president of California State University at Stanislaus. Junn is currently at Cal State Dominguez Hills, where she is provost and vice president for academic affairs. She will take over at Stanislaus State after President Joseph F. Sheley retires at the end of June.
Junn's appointment comes after Cal State named four other women to presidential roles starting in January, three of whom will be replacing retiring male presidents. It also means the Cal State system will have women presidents at 11 of its 23 campuses. That's a significant difference from the end of the 2014-15 academic year, when just six of its presidents were women.
Also of note is that Cal State will go into the next academic year with four Asian-American presidents, up from two last year. The change comes at a time when many Asian-Americans have worried they're underrepresented in administrative ranks despite broad success in higher education. The Cal State system also has five Latino and three African-American presidents.
More broadly, the hiring string is a high-profile development for one of the country's largest higher education systems at a time when women's leadership at colleges and universities has remained strikingly -- and to many observers disturbingly -- low. In 2011, 27 percent of college and university presidencies were held by women, according to the American Council on Education. That's sharply out of step with student body compositions at large. The portion of women enrolled at postsecondary institutions has hovered around 57 percent for nearly 20 years, according to the National Center for Education Statistics.
Experts hailed the hirings as having the potential to spark more applications from women for high-level positions at Cal State and across the country. Cal State leaders said they were possible after the system took steps that increased diversity in its applicant pools.
Junn, for her part, is focused on Stanislaus State issues. But when asked, she also said it is important for organizations to find ways to recruit emerging leaders from all backgrounds, genders and ethnicities. More and more, higher education institutions are coming to realize that they have to invest in a new generation of leaders, she said.
At the same time, the national statistics showing a gap between the diversity of student populations and campus leaders speak for themselves about the state of leadership.
"We're still a long way off," Junn said. "And so the fact that the CSU is making these significant gains is quite remarkable, and I think it's noteworthy from that standpoint."
It is also noteworthy because the direction of higher education in California is often an early indicator of the path the rest of the country will take, said Molly Corbett Broad, president of the American Council on Education. Broad was executive vice chancellor and chief operating officer for the Cal State system in the mid-1990s before leaving to become University of North Carolina president in 1997.
"California has historically been a leader in change," she said. "Especially given the population of California, where in the next decade or so, the majority of the workforce will be persons of color, California plays this kind of role to be a leader."
The diversity gains reflect efforts to broaden applicant pools, said Timothy P. White, California State University System chancellor. Cal State didn't stack the deck or set out with the specific intention of appointing five consecutive women presidents, he said. It hired the strongest candidate for each position.
But the chances of hiring women or minorities for leadership roles are higher when the applicant pool is more diverse.
So the diversity gains prove Cal State's search process deepened the pool, said White, who has been chancellor since the start of 2013. Cal State has paired open campus forums with confidential searches. The goal is to give deans, provosts and sitting presidents the ability to safely apply for new positions while still receiving feedback from campus constituencies.
Open forums take place early in the search process, White said. They allow students and faculty members to tell trustees' search committees what they want to see in a new president and what they view as campus needs. Videos from the forums are then posted so potential applicants can hear from students, faculty members and others they would be interacting with as president.
That allows prospective applicants to gauge the job and the campus at a time when they're deciding whether their skills line up, White said. In addition to the public forums, which are open to communities at large, Cal State pairs trustees' search committees with advisory committees including faculty, staff, students, alumni and others. It's an attempt to keep hearing from key groups while maintaining confidentiality during the hiring process.
White acknowledged the practice of conducting confidential searches can be controversial. Students and faculty members often seek to give input throughout the search process and want to know who is being considered for a job. Cal State's solution is a balancing act of sorts.
"It creates a safe place for people to come, to both learn about the place beyond what you see written and to have a chance to be reviewed and interviewed in a safe environment," White said. "From that, we're getting diversity of gender and diversity of race and ethnicity in ways that we have not been able to do in the past."
More colleges and universities are moving toward confidential searches, according to recruiters. Public searches tend to draw fewer applicants from comparable institutions as well as fewer applicants who are women or minorities, said Jan Greenwood, an executive search consultant who is co-owner and partner at Greenwood/Asher & Associates in Miramar Beach, Fla.
"I think perhaps women and minorities are more concerned about a backlash if they are a candidate for a position and don't get the offer, and possibly being damaged back on their home campus," she said. "It's not a matter of better or worse, one way versus another. It's simply a matter of, 'Do you want to see people from all kinds of backgrounds in the pool?'"
Questioning the number of women and minorities in leadership roles often dredges up a discussion over the talent pipeline. The common talking point has argued that the pipeline is narrow -- the relatively low number of women and minorities in leadership roles can't be changed until their representation increases in lower-level positions that feed those top jobs. In other words, there will be fewer women presidents until more women rise to become provosts.
But there have been many qualified women in the pipeline for decades, Greenwood said. She recalled resistance among some trustees and search committees to women and minority candidates gaining more opportunities in the 1990s.
"I can remember crazy conversations then, which were, 'If we have a woman president, then we don't need a woman provost,'" she said.
Long-running cultural shifts toward more representative leadership have accelerated in recent years, Greenwood said. Simply put, attitudes today are different. Yet more men still hold the roles that tend to be stepping-stones to presidencies, according to Jamie Ferrare, managing principal of AGB Search, a Washington, D.C.-based higher ed executive recruitment firm.
"Most presidents come from senior-level administration work," Ferrare said. "Boards are looking for fund-raisers. Generally, fund-raisers have been male over the years. They're looking for people who have strong academic backgrounds -- provosts, academic deans. If you look at who the provosts are in the country, it's dominated by males."
Many have contested the pipeline argument's legitimacy. There are more than enough qualified women to step into available leadership roles, the American Council on Education has argued. The group pointed out that more women than men have earned bachelor's degrees for 30 years and that more women currently earn doctoral degrees than men.
Studies have pointed to other reasons women may not be making it to the top. A 2014 study showed two-thirds of female college and university administrators reported being discouraged or sabotaged as they pursued leadership roles. Two-thirds also felt expectations were different for women and men, according to the study, based on interviews with women college leaders conducted by researchers from the Center for Creative Leadership, the University of Colorado at Colorado Springs and Higher Education Resource Services, or HERS.
Regardless of how accurate concerns over the talent pipeline have been in the past, Ferrare said more qualified women are available today for leadership positions. Essentially, the pipeline today has widened.
"Good institutions are beginning to recognize talent at the junior level, at the faculty level, at the department chair level and the dean level," Ferrare said. "They're starting to, in essence, prepare candidates who are employees, professionals, on their campus for the next level of leadership."
Such institutional support could be key to more balanced university leadership. The American Council on Education and Colorado Women's College have recommended support for women advancing to positions like chief academic officer or provost. They've also recommended reviewing hiring and promotion policies -- including for tenure-track positions, more diverse search committee composition and making sure candidate pools are diverse.
But some hope Cal State's string of hiring women presidents could create a needed level of attention on diversity at the top. They could make it clear leadership positions are attainable for women and minorities, which could in turn lead to more women and minorities seeking leadership roles. Thus the Catch-22 of many women not applying for or winning leadership positions until there are more women in leadership positions could be wiped away.
In theory, at least, that could create more interest in systems like Cal State that have made high-profile shifts toward more diverse leadership. But the largest state systems can also lead a trend in public and private universities across the country, Ferrare said.
"You're going to see women from California and New York looking at positions in the middle of the country and around the country as well, because they begin to get excited at the opportunity," Ferrare said. "I think they're going to start feeling a lot more comfortable."
Still, it's too early to say whether Cal State's hiring marks the start of a real transformation, the acceleration of a trend that many have predicted for years, or a bright blip on an otherwise bleak radar. Broad, the American Council on Education's president, said a series of moves in a short period of time does not necessarily have an outsize lasting impact.
"The best evidence that this is a real transformation of opening up opportunity occurs when a woman or a person of color is followed by a woman or person of color," she said. "Once this becomes an ongoing part of who comprises the faculty and who comprises the vice presidents and presidents, it becomes real."
Cal State's other presidential appointments this year include Gayle E. Hutchinson, who is Cal State Channel Islands provost and vice president for academic affairs and will take over for the retiring Paul Zingg in Chico. Erika D. Beck, provost and executive vice president of Nevada State College, will take over for the retiring Richard R. Rush at Channel Islands, and Judy K. Sakaki, the vice president of student affairs in the University of California's Office of the President, will take over for the retiring Ruben Armiñana at Sonoma State University. Finally, Mary Papazian, president of Southern Connecticut State University, will take over for Susan Martin at San Jose State. Martin was an interim president starting in August of 2015 after Mohammad Qayoumi departed for a senior government position in Afghanistan.