You have /5 articles left.
Sign up for a free account or log in.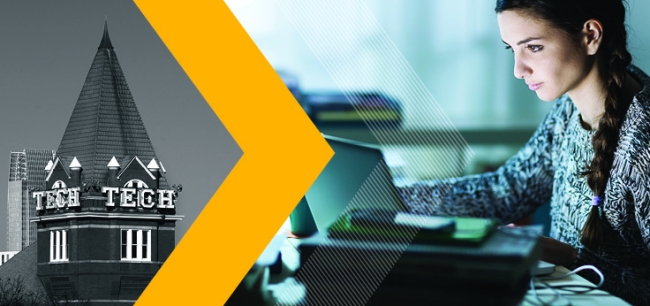 The Georgia Institute of Technology will this fall offer an online master's degree program in analytics for less than $10,000, a new investment in the institute's model for low-cost, online graduate education.
The interdisciplinary program, called OMS Analytics, follows the blueprint the institute created with its online master's degree program in computer science, known as OMSCS, which launched in 2014 and has grown to about 4,000 students. Last year, Georgia Tech announced plans to expand the model into new fields.
Since offering the program online greatly increases the number of students Georgia Tech can enroll, the institute will charge students a fraction of the cost of the residential program to study the same curriculum online. The 36-credit-hour program, split into 10 courses and a semester-long analytics capstone project, will cost in- and out-of-state students "less than $10,000," the institute said. Georgia residents and out-of-state students pay about $36,000 and $49,000, respectively, for the yearlong residential program.
"Analytics is now a subject that touches practically every field and every problem that we face," said Rafael L. Bras, provost and executive vice president for academic affairs at Georgia Tech. "We live in an era of data, and the ability to extract data … is where the action is these days."
The Board of Regents of the University System of Georgia on Wednesday afternoon approved the discounted price, clearing the way for the program to launch in August.
The announcement is perhaps the clearest indication yet that Georgia Tech views OMSCS as a successful model for delivering graduate education. The program hasn't lived up to best-case projections -- early on, the institute said it could grow to as many as 10,000 students in its third year -- but it has generated a positive cash flow, positive evaluations and plenty of buzz in higher education circles.
After launching and running OMSCS for three years, the institute is hoping the analytics program will do just as well -- if not better.
"When we went into OMSCS, we didn't quite get it completely right in terms of the expected population," Bras said. "Our original targets were wrong. The mix of international and national populations were wrong. … All that has been lessons learned that are really and truly invaluable."
Applicants to OMSCS were more likely to be men and U.S. citizens than the institute had anticipated. Georgia Tech plans to tweak its communication strategy to target different prospective student populations for the analytics program, Bras said.
The program launched on campus in 2014, and faculty members have been eager to offer the program online due to a crush of applicants looking for an education in a relatively new field, said Joel Sokol, the Fouts Family Associate Professor who serves as the analytics program's director.
This year, Sokol said, Georgia Tech expects to receive more than 1,000 applications for the residential program, which can only fit about 70 students. That means the institute must turn away about 800 qualified applicants, he said.
"We just can't take them all," Sokol said. "The demand is out there. The need is out there."
Faculty members were "nearly unanimous" in their vote to move ahead with the online program, Sokol said.
The program spans three of Georgia Tech's six colleges: business, engineering and computing, the latter of which houses OMSCS. Some of the faculty members developing OMS Analytics will therefore bring years of experience gained from building and teaching courses in the online computer science program.
While Georgia Tech worked with the online learning company Udacity for OMSCS, it has chosen to partner with massive open online education provider edX for the analytics program. As a result, it will for $1,500 offer three of the courses in the program as a MicroMasters, an edX credential targeting learners who may be interested in some professional development but not a full degree.
Nelson Baker, dean of professional education, said continuing education is becoming increasingly important for Georgia Tech. Last year, about 20,000 working professionals in nearly 100 countries enrolled in the institute's courses and programs.
That's the same demographic Georgia Tech is pursuing for OMS Analytics. Target students are in their 30s or 40s with full-time jobs that prevent them from enrolling in a residential program, Baker said. The institute will also market the program to people who have shown an interest in OMSCS, he added.
Bras said the decision to partner with edX over Udacity was a "complicated" one, but that the institute prefers to "diversify our relationships." He pointed out that Georgia Tech also works with Coursera, another online learning platform. The institute last year said it would work with edX to offer for-credit courses for undergraduates.
"We do something with each of them now," Bras said.
Unlike with OMSCS, Georgia Tech does not have one major corporate sponsor lined up to support the program. AT&T subsidized OMSCS with a total of $3.9 million, and Bras said Georgia Tech is looking to raise a sum that is of the "same order of magnitude" from a combination of corporate and individual donors.
Asked about plans for future degree programs following the OMS model, Bras said he believes Georgia Tech should only create online programs in fields where studying on campus will remain an attractive option to certain students, and where the institute can enroll enough students to price the program affordably.
"Not every master's degree [program] generates that kind of volume," Bras said. "There has to be a different population out there that hasn't been tapped."