Racist video at Old Dominion, blackface controversy at Spring Arbor and anti-immigrant posters at the University of Texas.
In the weeks after the election of President Trump, many campuses experienced racial and anti-immigrant incidents. While the incidents quieted at the end of last semester and the beginning of this one, a new flurry is hitting campuses now.
Numerous colleges -- including Hebrew Union College, the University of Florida, and the University of Minnesota -- have seen incidents involving swastikas in recent weeks. A neo-Nazi website has also been hacking into printers at prominent universities and printing out anti-Semitic fliers.
This week, Old Dominion University has been shaken by a video (designed to appear to be made by someone affiliated with the university) full of racist comments. Spring Arbor University is debating whether campus administrators should be revealing how they punished a woman who posed in blackface with racially offensive captions. And the University of Texas at Austin is planning a meeting after anti-immigrant posters appeared on campus.
When Inside Higher Ed reports on such incidents, some comments suggest that the incidents are "fake news." While some facts are indeed unclear about these incidents, they are all situations in which the universities have verified the basic facts, and many students have felt hurt or unwelcome because of what happened. In one case, a student has been found responsible. In another, a hate group has claimed responsibility.
A Video Spreads at Old Dominion
At Old Dominion, students were stunned when a video on YouTube circulated Monday night and Tuesday morning. It showed a woman (her head covered or obscured) first dancing in a university shirt and then in a "My President Is White" T-shirt featuring a Trump image. YouTube pulled the video for violating its standards, but not before many at the university viewed it. In the video, the woman uses racial slurs, encourages the killing of black people, holds what appears to be a gun at one point, and puts out a cigarette on a "Black Lives Matter" napkin. The person who posted the video indicated that she was an Old Dominion student, but neither the university nor authorities have figured out who she is.
Even after YouTube removed the video, snippets and photos have appeared all over social media.
The university and local police are investigating.
The university's president, John R. Broderick, and student government president, Rachael Edmonds, issued a joint statement. "This morning, the university community learned of an extremely offensive video circulating online that features a person wearing an Old Dominion University branded shirt. This is an outrageous act of hate and intolerance and we are sickened by this vile video. There is no place on this campus for hate and divisiveness," the statement said.
Blackface at Spring Arbor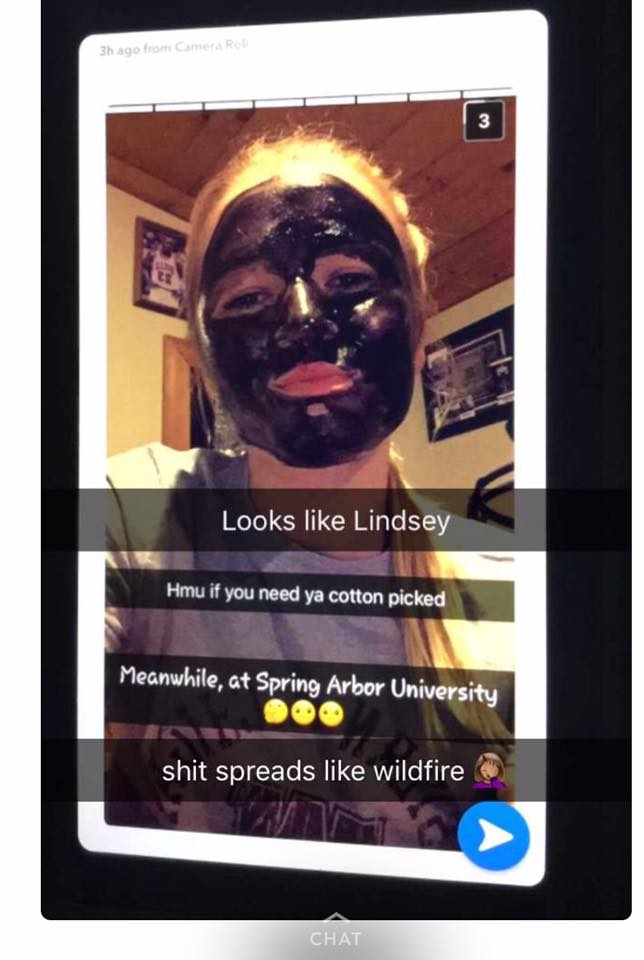 At Spring Arbor University, in Michigan, students have been discussing social media posts showing a woman (at right) who the institution has confirmed is a student, in blackface, along with captions about cotton picking.
The university has confirmed that it has punished the student in some way, but will not say how it has done so. A full statement issued by an outside public relations firm said: "Spring Arbor University is committed to fostering a diverse learning environment that values the dignity of every human being. SAU takes seriously the nurturing of our Christian community so that all students regardless of their background are respected. The university is aware of a recent racially insensitive post on social media connected to an SAU student. This posting is upsetting and is not aligned with our core values. Due to the Family Educational Rights and Privacy Act, we cannot comment about specific disciplinary actions. We do not condone this behavior. We take this matter seriously and are addressing this situation with the student."
On social media, some students are asking whether the punishment was serious and why more cannot be shared about the university's response.
Last month, Oklahoma State University had two incidents involving students posing in blackface in a single week.
Anti-Muslim Posters at UT Austin
At the University of Texas at Austin, President Gregory L. Fenves has announced a special town hall meeting today to discuss anti-immigrant posters that appeared on campus last week. The posters had tag lines such as "Imagine a Muslim-Free America."
A white supremacist group has claimed responsibility:
The university removed the posters quickly, noting rules that limit non-university affiliated groups from posting on campus.
In his statement to the campus, Fenves stressed that the university remains committed to free exchange of ideas, but within limits, such as on who can post where (regardless of the content).
"Last week, an organization unaffiliated with UT posted signs that directly targeted immigrants and minorities. The words and ideas contained within these posters were hateful, divisive and deeply offensive to me and to many members of our community. Their message runs counter to the values of our university and our commitment to diversity and inclusion," Fenves said. "The nation and world have seen an increase in emotional — and too often ugly and contentious — discussions about immigration, race, religion and gender-identity. The discourse has frequently been most vigorous on university campuses, where students, faculty members and staff members of diverse backgrounds come together in the pursuit of knowledge."
He added: "Free speech is critical to the exchange of ideas that must happen at a university. We don't learn by quieting voices. We learn by listening to one another and, when we disagree, by engaging in thoughtful dialogue. Protecting free speech means protecting the rights of every perspective, even if that perspective is objectionable. Sometimes, our collective dialogue has its limits, especially when it involves outside groups. Posters from non-UT organizations, including the ones we saw last week, are not allowed under our rules and will be taken down. They have no place on the Forty Acres. As a university community, it is up to all of us to define a culture that protects the right to free speech and supports our right to learn, teach and work in an inclusive environment."
In inviting students and others to the town hall, Fenves wrote: "The best response to offensive speech is enlightened dialogue."
You may also be interested in...
Today's News from Inside Higher Ed
Inside Higher Ed's Quick Takes