You have /5 articles left.
Sign up for a free account or log in.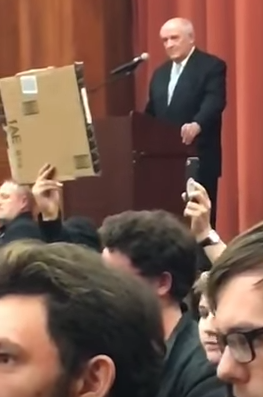 Hundreds of students at Middlebury College on Thursday chanted and shouted at Charles Murray, the controversial writer whom many accuse of espousing racist ideas, preventing him from giving a public lecture at the college.
Murray had been invited by Middlebury's student group affiliated with the American Enterprise Institute, a think tank at which Murray is a scholar. Many of his writings are controversial, but perhaps none more than The Bell Curve, a book that linked intelligence and race and that has been widely condemned by many social scientists (even as Murray has been supported by others).
Prior to the point when Murray was introduced, several Middlebury officials reminded students that they were allowed to protest but not to disrupt the talk. The students ignored those reminders and faced no visible consequences for doing so.
As soon as Murray took the stage, students stood up, turned their backs to him and started various chants that were loud enough and in unison such that he could not talk over them. Chants included:
"Racist, sexist, anti-gay, Charles Murray, go away."
"Your message is hatred. We cannot tolerate it."
"Charles Murray, go away. Middlebury says no way."
"Who is the enemy? White supremacy."
"Hey hey, ho ho. Charles Murray has got to go."
The scene was recorded and posted to YouTube. Murray appears around minute 19.
After the students chanted for about 20 minutes, college officials announced that the lecture would not take place but that Murray would go to another location, which the college didn't name, and have a discussion with a Middlebury faculty member -- livestreamed back to the original lecture site.
According to Middlebury officials, after Murray and the professor who interviewed him for the livestream attempted to leave the location in a car, some protesters surrounded the car, jumped on it, pounded on it and tried to prevent the car from leaving campus.
Laurie Patton, president of Middlebury, attended the attempted lecture and spoke before Murray took the stage. She received some boos from the crowd, although she was applauded when she said she disagreed with Murray's views. Patton said she attended because students invited her, and she tries to attend events when invited -- regardless of her views of a speaker. She said that "the very premise of free speech on this campus is that a speaker has a right to be heard."
In a statement Friday morning, Middlebury said, "We're deeply disappointed that Charles Murray was not permitted to give his talk in the way it was intended. A large group of students took it upon themselves to disrupt the event, which forced us to move Mr. Murray and Professor Allison Stanger, the moderator of the Q&A, to another location. Thanks to some advance planning, we were able to livestream Mr. Murray's talk and his conversation with Professor Stanger. We will make a recording of that available as soon as possible so the members of our community who came to the event wanting to hear Mr. Murray will be able to do so."
Middlebury officials said that while they expected a protest and possible disruption, the size of the protest was unexpected, making it impossible to clear the hall.
College officials framed the decision to allow the event to take place as being about free speech.
But critics said that Murray shouldn't be treated simply a person with whom they had differing political views. Many noted that he is classified as a white nationalist by the Southern Poverty Law Center, which sums him up this way: "Charles Murray, a fellow at the American Enterprise Institute, has become one of the most influential social scientists in America, using racist pseudoscience and misleading statistics to argue that social inequality is caused by the genetic inferiority of the black and Latino communities, women, and the poor."
An open letter by hundreds of Middlebury alumni says in part, "This is not an issue of freedom of speech. We think it is necessary to allow a diverse range of perspectives to be voiced at Middlebury …. However, in this case we find the principle does not apply, due to not only the nature, but also the quality, of Dr. Murray's scholarship. He paints arguments for the biological and intellectual superiority of white men with a thin veneer of quantitative rhetoric and academic authority. His work, including 1984's Losing Ground and 1994's The Bell Curve … misinterprets selective, uncorrected statistics and other faulty data to argue for the genetic inferiority of people of color, women, people with disabilities and the poor. This is the same thinking that motivates eugenics and the genocidal white supremacist ideologies which are enjoying a popular resurgence under the new presidential administration."
Murray has said that critiques of The Bell Curve are incorrect. He issued a letter defending the book last year -- at a time when some wanted Virginia Tech to call off an appearance there (it did not).
Via email Friday morning, Murray declined to comment on what took place at Middlebury, but he posted several comments on Twitter, including this one.