You have /5 articles left.
Sign up for a free account or log in.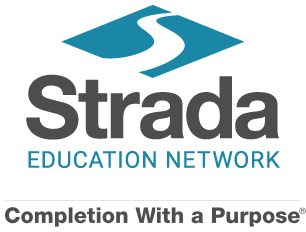 A majority of Americans who attended college say they received a quality education. But half would change at least one of these three decisions if they could do it all over again: the type of degree they pursued or their choice of major or institution.
Those are among the key findings from a new annual survey conducted by Gallup and Strada Education Network, the former USA Funds.
While 51 percent of the nearly 90,000 respondents said they would change one big decision, the most common regret was their choice of major, with 36 percent saying they wish they'd chosen differently.
The survey found that 40 percent who pursued or completed a bachelor's degree would pick a different field of study compared to 31 percent of those who hold a technical or vocational certificate.
Over all, 28 percent of respondents said they would choose a different institution, while 12 percent said they would pursue a different level of degree.
The report said these findings suggest that people's regrets about higher education are not driven entirely by their thoughts about the colleges they attended.
"Rather, individuals' desires to change their education decisions may be a function of having made decisions without comprehensive information, such as an understanding of employment opportunities, earning potential or the implications of long-term student debt," said the report. "In short, education consumers' regret about their previous decisions could be read as a signal to improve the resources available to inform future education decisions."
Respondents who attended college but did not receive a degree were the most likely to say they would change at least one of three education decisions. That's understandable, given that students who take out loans for college but never graduate are three times more likely to default, according to federal data.
What is surprising about that finding, the report said, is the relatively small gap between those with regrets who don't hold a degree and those who do.
For example, 59 percent of respondents without a degree would change a decision compared to 52 percent with a bachelor's degree and 54 percent with an associate degree. Respondents who attended graduate or vocational programs were the least regretful.

Debt also is a driver of regrets. Not surprisingly, respondents with more student loan debt said they would make different decisions.
However, there was very little variation by debt level among respondents on whether they would pursue a different major, with an overall three-percentage-point range across all five quintiles of debt level. But large debt holders were more likely to say they would attend a different institution or pursue a different type of degree.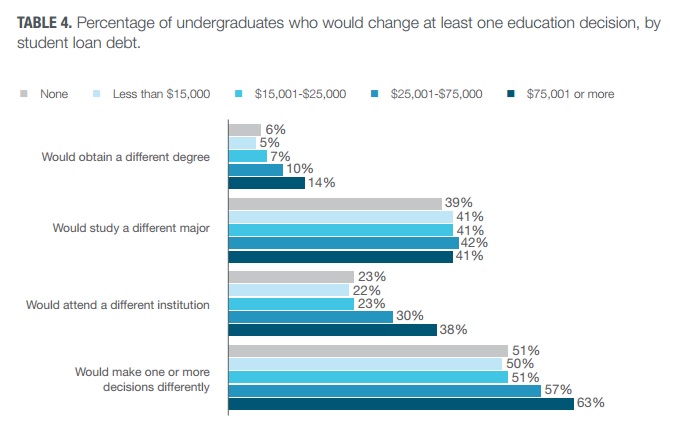 On the optimistic side, at least from the academy's perspective, the quality of the education former students received does not appear to be a major concern for most American college goers.
The survey found that four of five respondents who completed a credential or degree program said they received a high-quality education, ranging from 81 percent of vocational or technical credential holders and 81 percent of associate degree holders to the highest approval, 95 percent, among graduate degree holders.
Even 70 percent of respondents who attended college but did not complete said they received a high-quality education.
"This is a positive outcome for current postsecondary leaders," the report concludes, adding that "however, the fuller picture of education consumers' experiences reveals there is room for improvement in guiding them to and through their paths to successful completion and on to rewarding careers."
Strada and Gallup said the report would be the first of many from a three-year survey, dubbed the Education Consumer Pulse. The survey will be conducted daily, with a goal of asking 360,000 current, past and prospective college students about their experiences in higher education.
"We hope the Education Consumer Pulse will serve as a catalyst for deeper exploration and application of consumer insights to help solve the critical challenges facing our postsecondary education and work force development systems," Bill Hansen, Strada's president and CEO, said in a written statement.