You have /5 articles left.
Sign up for a free account or log in.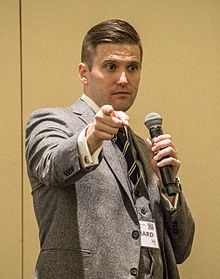 Texas A&M University late Monday said it would not permit a "White Lives Matter" event -- featuring white supremacist Richard Spencer -- to take place on campus on Sept. 11.
Spencer appeared at Texas A&M in December. At that time the university's leaders said they deplored his ideas but had to give him the right to appear because Texas A&M is a public institution, governed by the First Amendment. Monday's announcement may reflect how things have changed since the events of Charlottesville, Va., this weekend, when white supremacists not only spewed hateful messages, but one drove a car into a group of counterprotesters, killing one woman. Organizers of the Texas A&M event explicitly said that they saw Charlottesville as a model, issuing a press release that said, "Today Charlottesville, Tomorrow Texas A&M."
"Linking the tragedy of Charlottesville with the Texas A&M event creates a major security risk on our campus. Additionally, the daylong event would provide disruption to our class schedules and to student, faculty and staff movement (both bus system and pedestrian)," said the statement issued by the university.
The statement added, "Texas A&M's support of the First Amendment and the freedom of speech cannot be questioned. On Dec. 6, 2016, the university and law enforcement allowed the same speaker the opportunity to share his views, taking all of the necessary precautions to ensure a peaceful event. However, in this case, circumstances and information relating to the event have changed and the risks of threat to life and safety compel us to cancel the event."
The university statement did not cite Spencer by name or mention his ideology. The statement only referred to security issues, post-Charlottesville.
Texas A&M changed its policies on outside sponsored events after the December appearance by Spencer. Under the new policy, reserving rooms or facilities requires the sponsorship of a university group. Organizers of the planned Sept. 11 event lacked such sponsorship, and so planned an outside event.
Preston Wiginton, a former Texas A&M student who organized Spencer's December appearance and was planning the September event, told The Houston Chronicle that he expected to sue, saying that Texas A&M officials "think they're above the law" and that "the First Amendment in America doesn't mean anything." (A Texas Tribune profile of Wiginton describes his campaign to bring incendiary speakers to Texas A&M.)
How a court would rule on the issue isn't certain. Generally, federal courts have backed the right of speakers -- however odious -- to speak on public college and university campuses. Auburn University in April tried to block a Spencer appearance, and a federal judge ordered the university to let him speak, which he then did. But that was before Charlottesville.
A History of Hateful Statements
In November, Spencer announced that one of the targets for his efforts would be college campuses, and that he was planning an appearance at Texas A&M University in early December. To understand why so many people are upset about Spencer, consider these background reports from the Anti-Defamation League and the Southern Poverty Law Center, both of which note that he has called for the creation of a white state of America. He regularly includes references in his speeches that suggest his admiration for the Nazis. For instance, he says that most journalists are part of the Lügenpresse, a term the Nazis used to mean "lying press."
On Saturday night, with the violence in Charlottesville fresh in people's minds, the president of the University of Florida, Kent Fuchs, announced on Facebook that Florida had been contacted by the National Policy Institute about arranging a Spencer speech on Sept. 12. Fuchs noted that university regulations permit its facilities to be rented, provided that groups cover rental fees and security costs. He said the university was working on a security plan.
In another sign of how Charlottesville may have changed the debate about white nationalists on campus, the Foundation for Individual Rights in Education declined on Monday night to comment on Texas A&M's decision. FIRE is normally outspoken in defending the idea that public universities should generally be open to all speakers.