You have /5 articles left.
Sign up for a free account or log in.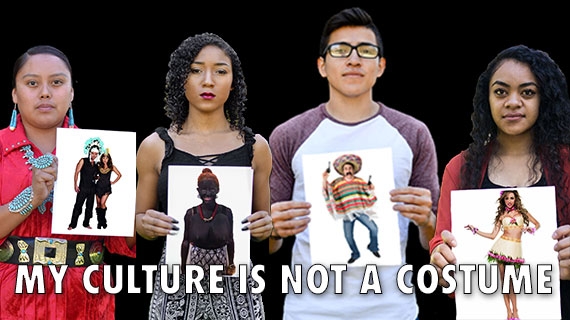 Liberal students and colleges are at it again. Or are they?
The TV program Fox and Friends recently ran a segment on Ohio State University students creating a flowchart to help others determine if their Halloween costumes are racist. A student-run magazine, hosts said, created the chart, which ignored "real problems," and, as one guest put it, helped fuel a "hierarchy of oppression" present on college campuses these days.
"There's almost nothing to go as [for Halloween] this year -- you can't even go as yourself, or people would be offended by that, too," said Cabot Phillips, a guest on the program and media director for conservative news outlet Campus Reform.
The hosts pointed out that the flowchart deemed it OK to make fun of President Trump, and then raised a question: Is it OK to dress up as President Obama if you're white? (While the hosts couldn't seem to come to an agreement, numerous students and professors alike have landed themselves in trouble for dressing up in blackface over the years due to its racist history and messaging.)
A story running on Fox News Insider was filed under the tag "Outrageous" and the headline "College Halloween Costume Guide Says No Indian Headdresses, but Ridiculing Trump Is Fine."
Except the story didn't unfold quite the way Fox made it appear.
It wasn't Ohio State students who were responsible for the origin of the flowchart. It was an Ohio State alumnus writing a satirical piece for a local magazine (one that is student and millennial focused, and has student writers). Moreover, the flowchart didn't signify any campus consensus, much less any hard-and-fast rules, even if many students do increasingly avoid costumes based on others' ethnicity -- and even as parties this time of year inevitably feature such costumes and themes.
Students' costumes have come under increasing scrutiny over the last few years as social media has become more prominent, and images can be shared with and commented on by the entire internet. Last year, a white University of Central Arkansas student was expelled from his fraternity by the national chapter after photos surfaced of him dressed as Bill Cosby, in blackface. Sombreros and Native American headdresses have also drawn outrage, as critics say they belittle minority communities and perpetuate stereotypes.
While stories -- whether originating on social media or in conservative news outlets -- about oversensitive students or university policies that supposedly coddle them are common around Halloween each year, they can sometimes paint a misleading picture about how much colleges actually control students' costumes. In practice, though many colleges share information with students about why some costumes may be offensive, they often don't regulate what students wear.
Last year, for example, the University of Wisconsin La Crosse faced accusations that it was reviewing students' costumes ahead of Halloween. In fact, a department -- not the university itself -- had scheduled an optional event open to students to discuss Halloween costumes and what people might perceive as racist.
The Ethnic and Racial Studies Department, which hosted the event, is not hosting the event this year, Dan Modaff, department chair, said in an email. Modaff, who became chair in July, said that programming for outside events didn't come up in the department's planning meetings this year, which he attributed to the department's small size and the fact that one of the faculty members is on family leave.
"Any backlash or support from last year's event was not a factor, since there was no decision-based discussion regarding the event for this year," he said.
At the University of Florida last year, officials wrote a blog post asking students to be thoughtful about their costumes. They also used the blog post to advertise contact information for university counseling services and the Bias Education and Response Team.
"If you choose to participate in Halloween activities, we encourage you to think about your choices of costumes and themes. Some Halloween costumes reinforce stereotypes of particular races, genders, cultures or religions," the post read. "Regardless of intent, these costumes can perpetuate negative stereotypes, causing harm and offense to groups of people. Also, keep in mind that social media posts can have a long-term impact on your personal and professional reputation."
The post did not specify rules or regulations about costumes.
In response to the blog post, however, far-right news site Breitbart ran an article that misleadingly claimed "students offended by insensitive Halloween costumes are being provided with around-the-clock counseling services." (The counseling services are available year-round and are not specific to Halloween.)
This month, Southern Utah University's Center for Diversity and Inclusion launched an ad campaign to promote awareness about cultural appropriation and offensive costumes. Like many other colleges', Southern Utah's ad campaign was a messaging effort put out by a specific campus center or group, rather than a top-down enforcement mechanism.
The "My Culture Is Not a Costume" campaign featured four Southern Utah students holding photos of costumes that perpetuated stereotypes about the respective students' ethnic backgrounds. A Latino student, in one example, holds a poster of someone dressed up in a sombrero and a poncho waving two pistols.
"We hope people do more research, ask questions, learn correct and appropriate cultural terminology with the goal to bridge the gap from narrow-minded stereotypes to appropriate cultural respect," university spokeswoman Nikki Koontz said in an email.
"This is not an enforced initiative from upper administration."
A blog post on the University of St. Thomas's website, written by Amaris Holguin, a program intern with the university's Student Diversity and Inclusion Services, carries a similar tone. A disclaimer at the bottom of the post, which is titled "Costume or Cultural Appropriation," notes that the Minnesota university doesn't have an official policy on Halloween costumes. The blog post, however, asks students to think critically about their costumes.
Cultural appropriation is defined as "the act of taking intellectual and cultural expressions from a culture that is not your own, without showing that you understand or respect the culture." This can be as simple as wearing a dashiki without knowledge or respect to West African culture, and as serious as wearing a fake Native American headdress without any regard of its sacredness. It generally incorporates a history of prejudice and discrimination by perpetuating longstanding stereotypes.
There have, of course, been cases where a costume did become something reviewed by a university, but these cases are not the norm. At the University of Oregon last year, a law school professor was found to have violated the university's policies against racial harassment for her costume, although the case was somewhat unusual.
The professor, Nancy Shurtz, apologized for wearing blackface for her costume. She was trying to dress as a book, Black Man in a White Coat, Damon Tweedy's memoir about a black man starting his medical career. Her costume, she said, was intended to draw attention to the book and its antiracist message.
Shurtz wore the costume at a party hosted at her home, to which she had invited students. Some reported feeling offended or uncomfortable but obligated to stay, since Shurtz was still grading papers. Shurtz is still employed at the university, and the institution said that any disciplinary action would be confidential. The issue had to do with her role as a professor. A student in the same costume might have been criticized but not investigated.
Even so, spokesman Toby Klinger said he wasn't aware of any specific communications coming out of the university about Halloween costumes this year. He also said that he couldn't speculate on whether a student could run afoul of the code of conduct if they found themselves in a similar situation.
There aren't blanket, cut-and-dried rules or bans, he said.
"I'm not aware of any specific communications coming out about that," Klinger said via email. "Nor would I really be able to speculate on whether a student would run afoul of the code of conduct under a similar circumstance, given the complexities of individual incidents."