You have /5 articles left.
Sign up for a free account or log in.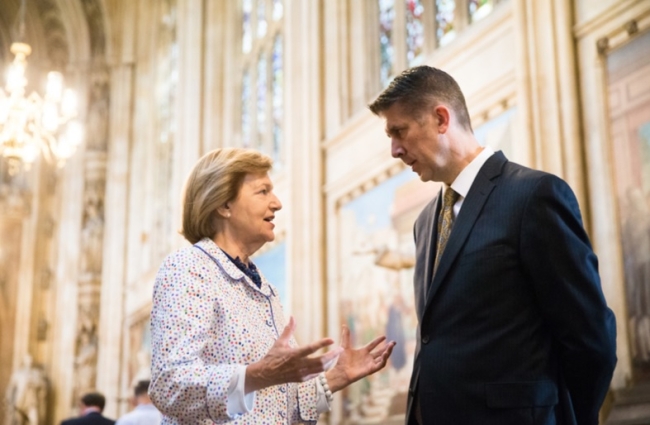 Matthew Holland was on sabbatical at the University of Oxford last summer when he was asked to speak to members of Parliament at the Palace of Westminster about how to bridge the divide between vocational education and the traditional four-year degree.
It's a hot issue on both sides of the pond, as policy makers push apprenticeships and other alternatives to college degrees amid worries about a dearth of skilled workers. But Holland, as president of Utah Valley University since 2009, knows vocational and liberal educations can coexist.
The fast-growing Utah Valley, which enrolls 37,000 students, became a university a decade ago, having previously been a technical and community college. It began issuing four-year degrees in 1993 and master's degrees in 2008, a year before Holland became the university's president.
Such conversions often are accompanied by worries about "credential creep," where the ambition of an institution's leaders outpaces demand for advanced degrees and leads to neglect of technical programs.
"There's a lot of Harvard envy out there," said Holland.
Some critics of the move by an increasing number of states to allow community colleges to offer four-year degrees argue that the two-year institutions will neglect their missions and end up competing with nearby universities for the same students.
When UVU became a university, some faculty and staff members wanted the new president to keep moving toward research university status. Many institutions over the years have worked their way up the degree and prestige ladder, from community college to four-year university, teacher's college to comprehensive university or regional undergraduate-focused university to national research institution. Instead, UVU has doubled down on two-year degrees and certificates.
"We're going to keep our community college role," Holland said. "We're not going to go the Ph.D. route."
To preserve its open-door admissions policy, UVU has a "structured enrollment" approach in which underprepared students are placed in one-year certificate programs, where they are backed by various student success resources from the university, such as regular meetings with academic counselors. After completing a certificate, they can move up to an associate-degree program and, eventually, to a bachelor's.
"The certificates and degrees stack on top of each other, thus all credits move up with the student. For example, all of the certificate classes are required in the associate's degree, and all of the associate classes are required in the bachelor's degree," a university spokesman said via email. "If the student doesn't do well in the certificate track, university counselors will circle back to try to find a better fit."
The university's commitment to vocational education has paid off in many ways.
Perhaps most importantly, it allows students to pursue credentials at the community-college level and then move over to the university side without having to transfer or lose credits. A growing body of research has identified leaky transfer pathways between community colleges and four-year institutions as primary barriers to increasing student completion rates.
At UVU, students can enroll in 84 bachelor's, 62 associate and eight master's degree programs, as well as 44 certificate programs. Tuition prices are the same for all undergraduate degrees ($5,652 per semester for in-state students). And credit transfer is truly seamless for students on the community college side, who earn associate degrees and certificates that come with the "imprimatur of a university," Holland said.
In addition, he said, the "cultural validation" of vocational education cuts both ways. Students who enroll in bachelor's degree programs get more socioeconomic diversity and access to the practical learning of community college-style courses, which in turn helps make technical education more relevant at the university.
A 'New Beast'
UVU has some advantages in pursuing its dual-role mission that other institutions do not. It's a teaching university in one of the nation's fastest-growing states, with strong support from Utah's Legislature.
But experts said both community colleges and public universities could learn from UVU's successful model. This is particularly true as some states, including Wisconsin and Georgia, have begun consolidating community colleges and four-year institutions.
Josh Wyner, founder and executive director of the College Excellence Program at the Aspen Institute, called UVU's dual-role approach exciting, particularly because it doesn't treat two-year students as an afterthought. And Wyner, who lately has been focused on transfer problems, said there can be benefits to offering both associate and bachelor's degrees at one campus.
"The big problem with transfer is that students enter one institution seeking a degree that only another institution can offer," he said.
It's rare that faculty members, administrators and state lawmakers agree on the mission for a "new beast" like UVU, said Joe Garcia, president of the Western Interstate Commission for Higher Education and a Democratic former lieutenant governor of Colorado. But he praised the model.
"This is the next step in the evolution," he said. "The results speak for themselves. They've been able to do both."
And given the demographic pressure of flat or declining numbers of high school graduates in many states, where lawmakers are focused on work-force demands and not on four-year degrees, Garcia said the combined mission is worth a look.
"We're going to see more states looking at mergers," he said.
Equity and Prestige
Utah has the opposite problem of most states, with one of the fastest-growing populations of college students. The National Student Clearinghouse Research Center identified an increase of 4.2 percent in college enrollments last year for the state, with a 7.2 percent jump the previous year.
At UVU, which is already one of the nation's largest open-admissions universities, enrollment is projected to grow to more than 46,000 students by 2025. Almost 30 percent are older than 25, while 27 percent work more than 31 hours per week. Fully 38 percent are first-generation college students.
"A relentless part of my job is staying ahead of that growth," said Holland.
For example, three years ago the university bought a former steel-manufacturing site to expand its campus footprint. It also is offering more online and hybrid courses.
The growth also means UVU can be selective as it adds new academic programs. The university draws job-market data from Burning Glass and the U.S. Department of Labor when looking at additions, while also working closely with its many industry partners and advisory boards. The focus, Holland said, is making sure every new program offers its graduates a solid return on investment.
"An institution is only young once," he said. "We're not going to approve every program. We say no to a lot of proposals."
When community colleges seek to add four-year degrees, they typically are responding to market demand, said Mike Hansen, president of the Michigan Community College Association and of the Community College Baccalaureate Association. A common example is when employers in health fields require more advanced credentials.
"It's the best of both worlds if it can work," Hansen said of the dual-role institution, though he added, "it has to be right for the situation."
UVU so far has been able to resist the call of becoming selective at the expense of its community college operations. But it hasn't always been easy.
"If you were only worried about image, you wouldn't be doing what we're doing," said Holland.
Even so, the siren call of prestige in higher education increasingly appears to be somewhat mitigated by the nation's focus on work-force development and equity, particularly in helping more lower-income students and those from underrepresented minority groups earn credentials that help them get to the middle class.
Wyner said good equity numbers are becoming more of a badge of honor for colleges. "The societal value of serving more students and serving them well is providing a counterweight" to prestige, he said.
That interest was evident during Holland's discussion last year at Westminster.
Baroness Emma Nicholson, a member of the United Kingdom's Parliament, said in a written statement that Holland had helped tackle this "whole great problem" of the "gulf between vocational and academic education."
Holland, a political scientist who took the sabbatical to reconnect with his academic roots and is stepping down this year to become mission president for the Church of Jesus Christ of Latter-day Saints, said he was glad to be able to share what he's learned as UVU's president.
"We're on the front end of something of a movement," he said.