You have /5 articles left.
Sign up for a free account or log in.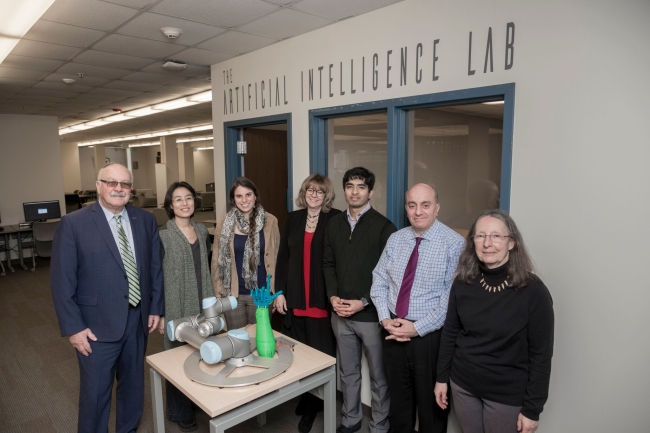 Artificial intelligence laboratories have been cropping up with increasing frequency on campuses in recent years. By and large, though, these labs have been located in computer science or electrical engineering buildings, providing a space for researchers and graduate students to develop computer algorithms that can learn or exhibit intelligent behavior.
The University of Rhode Island is taking a very different approach with its new AI lab, which may be the first in the U.S. to be located in a university library. For URI, the library location is key, as officials hope that by putting the lab in a shared central place, they can bring awareness of AI to a wider swath of the university's faculty and student body.
"When you have an AI lab in a specific college, the impression is that access is only for students of that college," said Karim Boughida, dean of libraries at the University of Rhode Island. "Even if students are told they can use the space, there may be a percentage that may feel unwelcome, or that it is 'not for me.' In the library it will be different," said Boughida.
Inclusivity in AI is important to Boughida. Recent media reports of racist chat bots, faulty facial recognition software and racist criminal profiling have already pointed to the kind of issues that can arise when you don't have a diverse group of people working on the technology of tomorrow. Without explicit countermeasures, machine learning and AI could magnify existing patterns of inequality in our society, says Boughida.
The library, as an interdisciplinary space that values inclusivity, is the ideal place for people of all backgrounds to learn about AI, says Boughida. The University of Rhode Island's AI Lab, due to open this fall, will be located in the Robert L. Carothers Library and Learning Commons on the university's main campus in Kingston.
Unlike a typical AI lab focused on research, the URI AI Lab will offer students and instructors the chance to learn new computing skills, and also encourage them to deepen their understanding of AI and how it might affect their lives, through a series of talks and workshops.
The 600-square-foot AI lab will be located on the library's first floor and will offer beginner- to advanced-level tutorials in areas such as robotics, natural language processing, smart cities, smart homes, the internet of things, and big data.
The lab will also provide a space for faculty members, students and the local community to discuss the social and ethical implications of these technology developments. Faculty may also use the space for teaching, and will be encouraged to incorporate AI topics into their syllabi, said Boughida.
The lab has received support across university departments and counts faculty members from engineering, computer science and philosophy backgrounds among its co-founders. The lab will be built with funding from the Champlin Foundation, donors and funds from the university's engineering department. It will be staffed by instructors and grad students and be stocked with multiple high-powered computers and laptops, in addition to various robots and Amazon Echo, Google Home and IoT devices.
The desire to learn more about AI is high among students, Kunal Mankodiya, a co-founder of the AI Lab initiative and assistant professor in URI's Department of Electrical, Computer and Biomedical Engineering, said in a press release. A contest run by the university's enrollment department last year asked students to write about the issues they most wanted to study in college. "Artificial intelligence was at the top of the list," said Mankodiya. "Our team came together to create a space for that."
The Library's Changing Role
Could AI labs, like maker spaces before them, become the next hot library trend? Chris Bourg, director of MIT Libraries, said that she hopes that news of the AI lab at Rhode Island will inspire other libraries to offer spaces and resources to support exploration of AI. She said that the library was an ideal place to foster interdisciplinary conversations about AI, but noted that MIT already has a long history of interdisciplinary research at its AI labs, the earliest of which was founded in 1959 and is located in the Stata Center for Computer, Information and Intelligence Sciences.
"Within the MIT context, the role of the libraries in supporting AI and machine learning is less about providing the kind of exploratory lab that URI libraries are creating and more about reconceiving our collections as data that can be used to train machine-learning algorithms," said Bourg.
Andromeda Yelton, a senior software engineer at MIT Libraries and president of the Library and Information Technology Association, intends to establish a machine-learning interest group at the association soon. Yelton is currently working on an application called Hamlet, which uses machine learning to explore MIT's thesis collection, and said she had heard of several libraries working on interesting AI initiatives. While AI may not yet be a mainstream interest for all librarians, Yelton said that the number of librarians talking about AI has "skyrocketed" in recent years.
As people who work with data and information daily, it is essential that librarians start to take note of AI, Boughida said. "If you're not at the table, you're on the menu."
More from Tech & Innovation