You have /5 articles left.
Sign up for a free account or log in.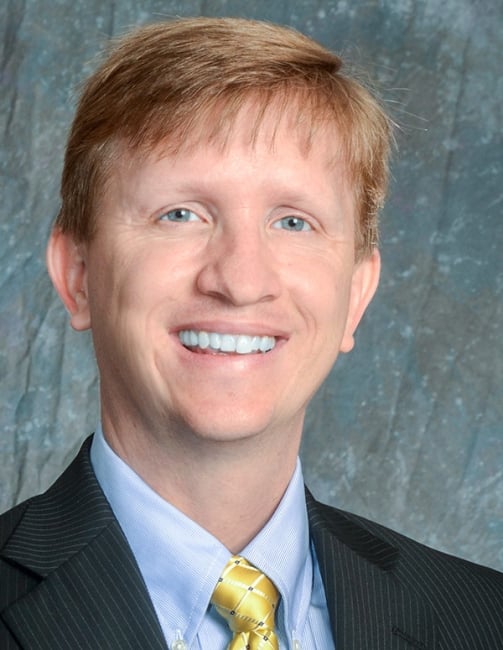 In mid-February, Matthew J. Wilson sent a letter to the University of Central Florida's presidential search committee, saying he was excited by an invitation to apply and expressing his interest in the job.
"Our family has always planned on returning to our Orlando roots," he wrote. "I am excited about the prospect of leading UCF to even greater heights on a state, national, and international scale."
Two weeks later, Wilson was one of four finalists for the position, and he spoke in a candidate forum broadcast online. The University of Central Florida has incredible potential, he said. He again raised his deep connections to the Orlando area, saying he practiced law there before leaving to pursue an academic career in 2003.
"Fifteen years ago I made my wife a pledge when we left -- and she didn't want to leave -- that we would return to Florida one day," he said, according to Cleveland.com. "I hope this is the opportunity to do that."
It was a strong, personal pitch. Only it didn't play particularly well at Wilson's current home, where he is the president of the University of Akron -- a position he's held for less than two years.
Wilson didn't end up winning the UCF job, which went to the university's current provost, Dale Whittaker. The fallout in Akron wasn't immediate, but it was profound. Last week, Wilson announced he will step down as Akron's president this summer. He also issued a public mea culpa, apologizing for causing concern when he pursued the UCF presidency.
Higher education's history is littered with examples of presidents hurting feelings at home by applying for new positions elsewhere. And it's no secret leaders are jumping jobs more quickly these days, with the average tenure of a sitting president dropping from 8.5 years in 2006 to 6.5 years in 2016, according to a study from the American Council on Education.
Even so, the situation in Akron is a complicated one that has left many on campus feeling conflicted. It also reveals the benefits and drawbacks of the different ways colleges search for new leaders -- and the personal ramifications of presidential ambition.
Many colleges choose to hold open, or public, presidential searches -- or, if they are public institutions in states like Florida, they are required to hold open searches because of strong sunshine laws. Such public searches, in which applicants' names -- or often, finalists' names -- are not shielded, can allow candidates to meet with campus constituencies and help all involved judge whether a president would be a good fit for a campus.
But open searches can affect candidate pools, according to experts. Sitting presidents often think twice about throwing their hat into the ring for a presidency at another institution if their name is going to be revealed, and so do candidates who feel insecure in their current positions. Even in the best circumstances, it's uncomfortable for someone who is the face of a university to be seen chasing another job. In the worst cases, presidents fear applying elsewhere could cost them their current position.
Wilson's short time as Akron president is another important factor in this particular case. He was the dean of Akron's law school before being asked to become interim president in July 2016, shortly after the end of former Akron president Scott L. Scarborough's rocky tenure -- which was marked by clashes with faculty, budget concerns and the purchase of a $556.40 olive jar. After Wilson was on the job for three months, trustees removed his interim tag.
That means he applied at UCF after serving as Akron's permanent president for only 16 months.
"It didn't play out well for Matt or for Akron," said William Rich, an associate professor of law and chairman of Akron's Faculty Senate. "I'd be reluctant to chalk that up to the public nature of the process. I think it has to do with the timing of his application. If this were three years from now, I don't think it would be as big of a deal."
Those at Akron would still feel disappointed if Wilson had applied for another job in three years, Rich said. But four years seems like a more reasonable period for someone to stay in a presidency. People reacted to the fact Wilson was at Akron for such a short period of time, Rich said.
Many consider presidents unproven until they've held a position for five years. But with presidents changing jobs more frequently these days, three to five years might be am more realistic amount of time to expect.
By either measure, Wilson was looking to jump quickly. Nonetheless, he pointed out he'd been at Akron for about four years, counting both his presidency and his time as dean.
He was also essentially swept into the presidency. Wilson didn't have many opportunities to pause and take stock of his career after being called on to take over an institution in crisis. If he could write the script, the UCF position wouldn't have come open for another few years, Wilson said. Instead, UCF president John C. Hitt announced that he is retiring this year after 26 years.
"My mind-set was, 'All right, so here's a position in a place that's one of our homes, and it's been filled for 26 years,'" Wilson said. "When you've got that type of a position that makes sense from a family and personal standpoint, when it's been closed for that long, when is that opportunity going to come along again?"
Akron's board did not ask Wilson to leave, he said. It was his decision to step down, after which he will return to the law school's faculty. Nonetheless, he told Cleveland.com that Akron's trustees questioned his commitment when he returned from Florida.
Wilson could have been effective continuing as Akron's president, he said. Until he leaves the role, he will still be working full speed.
Wilson was also considered well liked by students, the type of president who would stop to take a few shots while walking by the basketball court or who would help carry boxes on student move-in day. His brief time at Akron included popular moves like adding a varsity esports program and bringing back baseball, which had been cut during Scarborough's brief and controversial tenure. He also tried to schedule classes so that students would have Fridays free for experiences like mentoring or career work.
"He's really done a good job of building up, among the students, that this is a place you want to be," said Constance Bouchard, former vice president of the Akron chapter of the American Association of University Professors and a retired professor of medieval history.
"He would visit dozens of high schools, and he would give cookies in the shape of a kangaroo, because a kangaroo is Akron's mascot," Bouchard said. "It's kind of hokey, and some of the faculty aren't convinced, but it's certainly appealing to the students."
Those intimate connections can cut both ways, though. Did Wilson need to make such a personal appeal to UCF, extolling the idea of moving back to Orlando -- and, by extension, away from Akron?
Wilson can also see how his political capital on campus might have been eroded by his application to UCF.
"I can't speak for others," he said. "I'm sure others are like, 'OK, if he applied for one, is he applying for others? How many?'"
Some faculty members are trying to focus on the road ahead for Akron. They want the search for an interim and eventually a permanent president to be open. They say it's especially important because the process of finding a new president after Scarborough's departure had to be rushed.
Many faculty members were unhappy with what they believed was a lack of input when Wilson was selected permanent president. They weren't unhappy with the result of him being picked, but they were unhappy with the process, said Pamela Schulze, a professor of child and family development who is president of the Akron AAUP.
The fact that Wilson will continue as president until the summer could help.
"We've got four months, and that's enough time, I think, to engage in this process in a way that's not rushed," Schulze said. "It is really important that we have a real shared governance process where all the relevant constituencies, especially the faculty, are engaged and involved."
There may be some irony in calling for an open search at an institution that has been roiled by information divulged in another open search.
Often, faculty members believe open searches are in their best interests, though. That's true even if they aren't necessarily in the best interests of candidates.
Across the entirety of a college or university, it's impossible to label an open search as strictly good or bad. There are advantages and disadvantages to both public and confidential searches.
Universities need to understand that their expectations about a president's proven skills and track record are tied to the type of search process they pursue, said Jan Greenwood, an executive search consultant who is co-owner and partner at Greenwood/Asher & Associates in Miramar Beach, Fla.
"We've done searches that are confidential and we've done searches that are open," she said. "We've done a lot of Florida searches, so we understand the dimensions of state law. But it does impact the development of the pool of candidates. For those who take a risk if they are already a president, it raises the question of whether or not coming back home is viable."
Some institutions might be accepting if their administrators are seen interviewing for a position at a university considered more complex or prestigious. Some will be unhappy if a president is seen interviewing for a less prestigious position at an institution considered a few rungs down the ladder.
Sitting college presidents and high-level administrators aren't the only ones affected. Company owners might not want to risk angering clients by applying to an open search. Politicians don't run to lose, either, Greenwood said.
Other criticisms surfaced during the UCF presidential search. Candidates hold off on applying until the end of a public search because they want to keep their names from surfacing as long as possible, said Laurie Wilder, the president of the firm conducting UCF's search, Parker Executive Search.
"Our biggest concern from candidates right now is clearly the open process that is required in the state of Florida," Wilder said in January, according to the Orlando Sentinel. "That is clearly giving some individuals great pause. As we talk to sitting presidents, that is obviously a massive concern for them, and so we're working through that and we're talking about how we go about creating a very transparent process, but also ensuring that we have the best pool of candidates."
In response, some argue women and minority candidates are likely to feel less secure in their current positions and are therefore less inclined to apply for other jobs to be filled with public searches. They believe closed, or confidential, searches that shield candidates' names are more likely to attract diverse applicant pools. Timothy P. White, California State University System chancellor, has credited a confidential search process with helping the system attract more diverse presidential applicants. By that measure, it seems to have paid off -- more than half of the system's campuses are about to be led by female presidents.
College presidents have been ruffling feathers by applying for other jobs for decades. Florida State University president Dale Lick famously resigned in 1993 after secretly applying for -- and not winning -- the presidency at Michigan State University.
More recently, the president of the University of Idaho, Chuck Staben, has faced tough questions after he was a candidate for president at the University of New Mexico. In November, after New Mexico went in a different direction, Staben said he regretted "any distraction" his candidacy caused.
Staben has had to answer questions about statements he previously made saying he planned to stay with the University of Idaho for at least 10 years. He has been president there since 2014.
"Sometimes plans change," Staben said, according to The Spokesman-Review. "You saw that with the University of New Mexico application. That plan might change. But that had been my plan, yes."