You have /5 articles left.
Sign up for a free account or log in.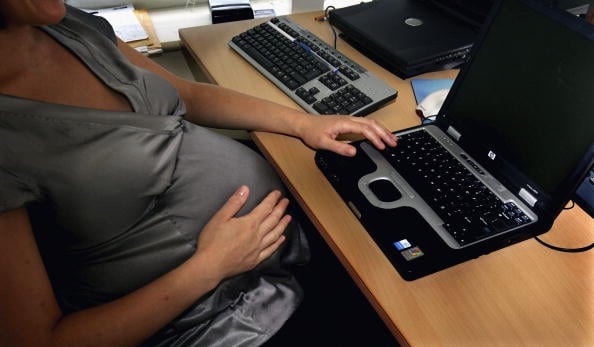 A doctoral student at Fairleigh Dickinson University who complained to administrators about being penalized by a professor for missing classes while on maternity leave plans to file a formal gender-discrimination complaint against the university. The student says the professor refused to accommodate her request to miss class so she could give birth, a denial that would be a violation of federal law.
Gayla Toledano, a student in the university's graduate psychology program, requested the time off in writing from her professor, Jennifer Cleveland, who told Toledano she could not miss class without it affecting her final grade. Toledano emailed Cleveland in January, after classes had already begun, to explain the arrangement she made with the director of the psychology program allowing her to miss the first two weeks of classes and then Skype in for four more weeks. Three out of four of Toledano's professors accommodated those absences, but Cleveland told Toledano in an email that she should have contacted her before the class started to make such arrangements, in which case she would have suggested another option.
"I would have recommended that anyone in your position wait to take the course next spring," Cleveland wrote in a detailed response to Toledano. "Having said that, I would consider allowing you to stay in the course with the condition that your grade may reflect your absences."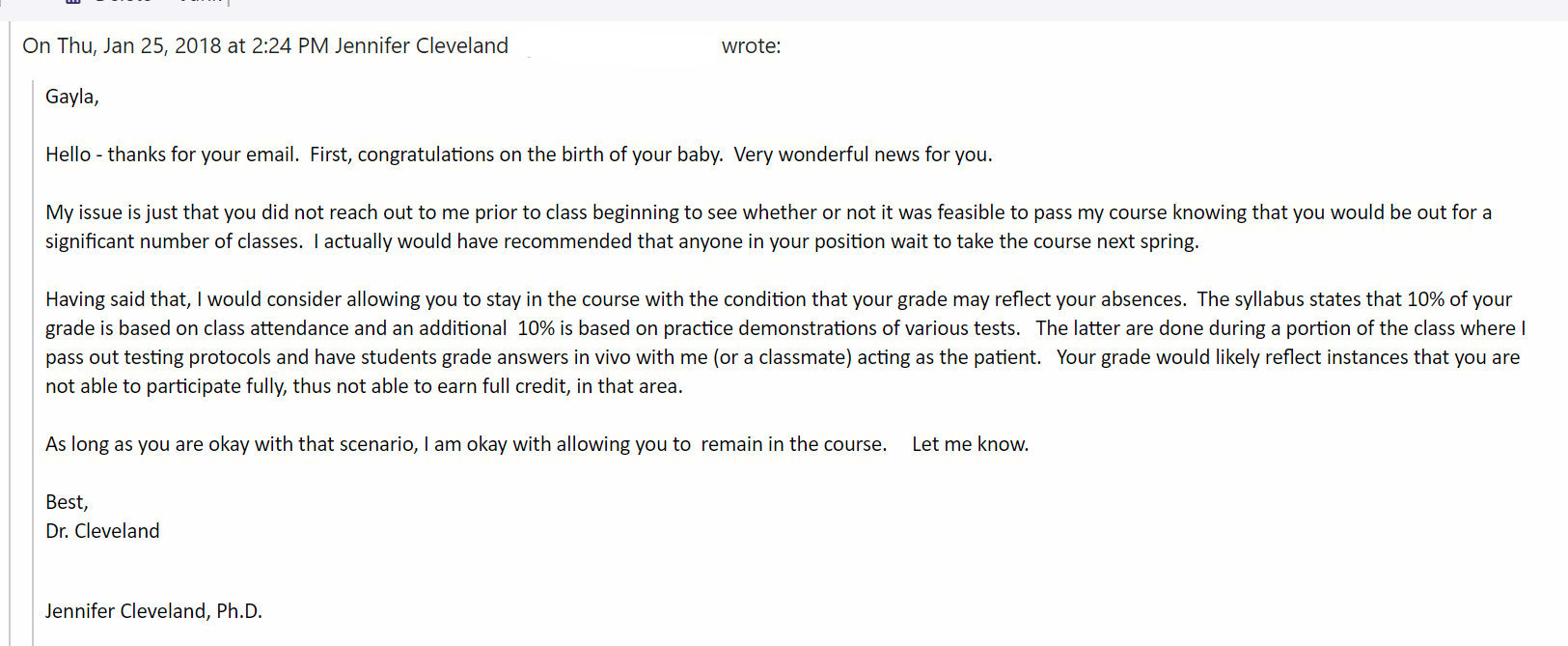 Class participation makes up 20 percent of the grade in Cleveland's class.
Title IX of the Education Amendments of 1972, the federal law that specifies pregnant students are a protected class, prohibits gender discrimination in education and stipulates that absences related to pregnancy should not interfere with a student's ability to participate in class. According to a National Women's Law Center Title IX fact sheet for pregnant and parenting students, "Schools must reschedule exams missed due to pregnancy or childbirth. When you return, your college must allow you to return to the same academic and extracurricular status you had before you left. The college must also give you a chance to make up missed work."
The Fairleigh Dickinson University nondiscrimination and antiharassment policy states similar protocol.
"In accordance with federal and state law, the University prohibits any member of the faculty, staff, administration, student body, volunteers or visitors to campus, whether they be guests, patrons, independent contractors or clients, from harassing and/or discriminating against … pregnancy status," Fairleigh Dickinson University's policy reads. The policy also specifies that pregnancy should not interfere with "a student's or admission applicant's ability to participate in, access, or benefit from educational programs, services, or activities."
Toledano contacted Rose D'Ambrosio, the university's Title IX coordinator, about the situation in May, but D'Ambrosio responded that she did not believe Cleveland violated Title IX.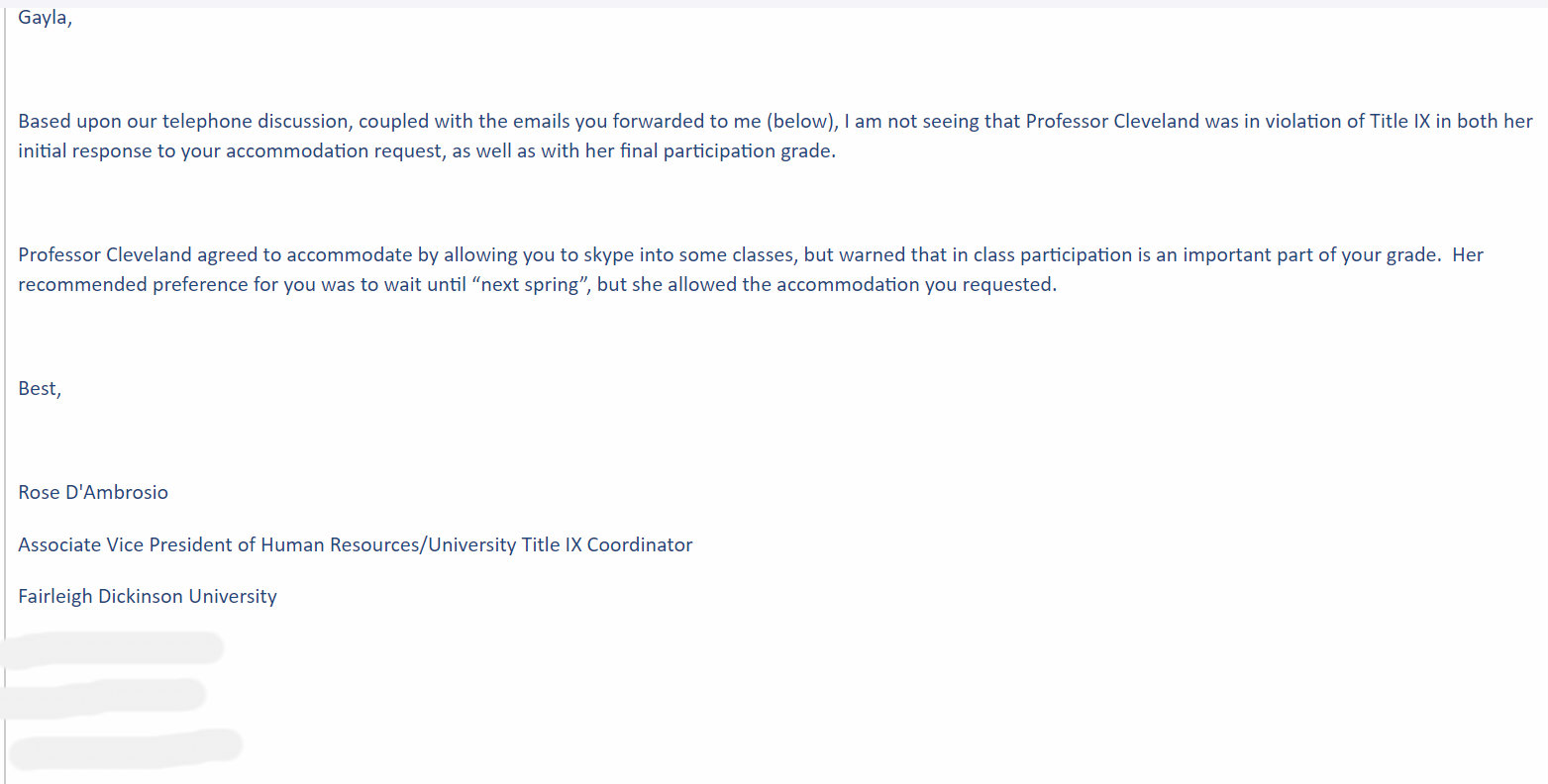 "I am not seeing that Professor Cleveland was in violation of Title IX in both her initial response to your accommodation request, as well as with her final participation grade," she wrote in an email.
After Toledano was made aware that she should have been protected under Title IX, she reached out again to D'Ambrosio.
"I had not been informed of my Title IX rights by my professors, academic advisor, or school administration," she wrote in an email on May 15. "[Cleveland's] statements were a prima facia [sic] violation of the protections afforded to individuals under Title IX. It is the schools [sic] responsibility to educate professors about excused absences and medical leave."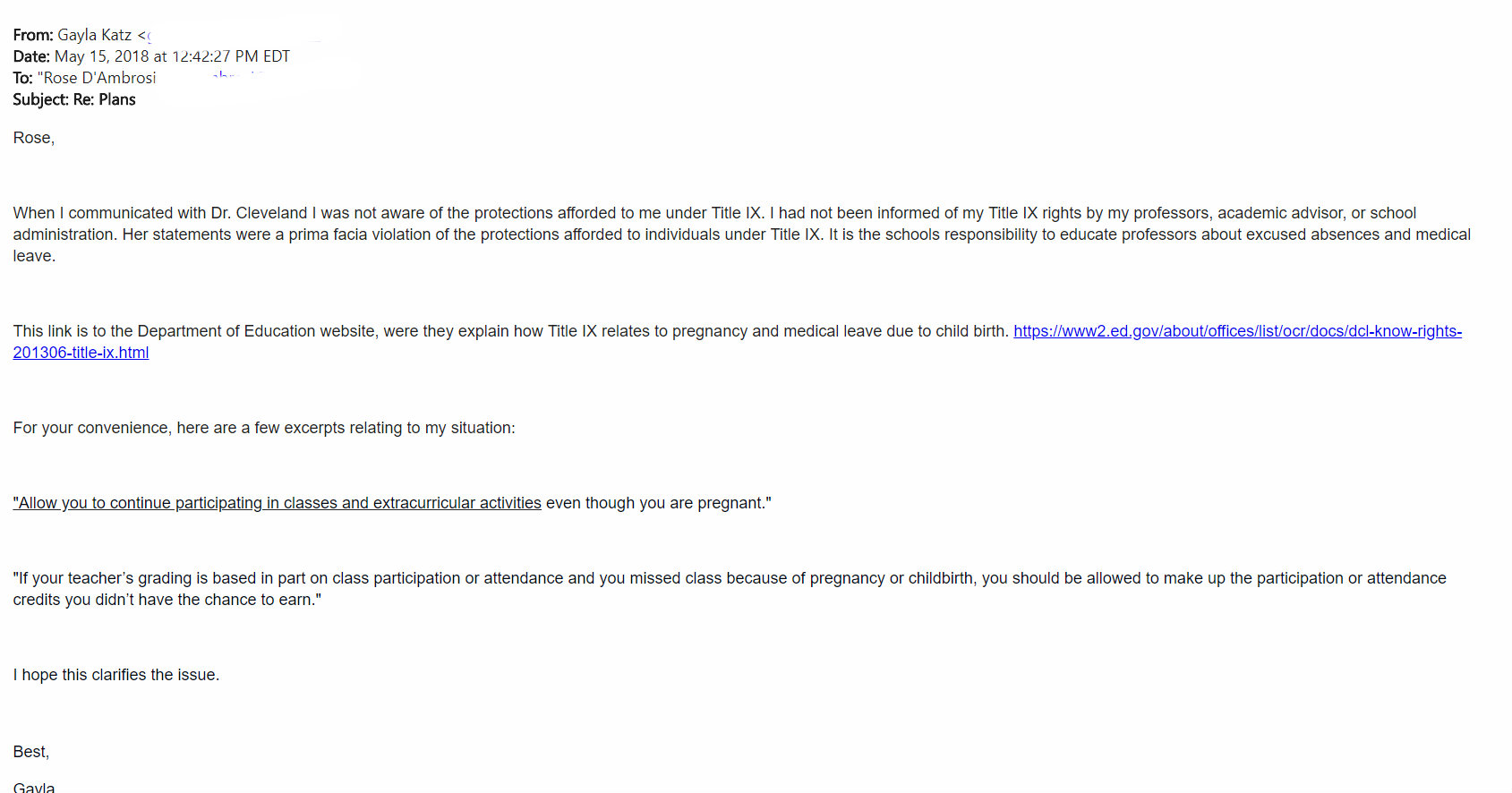 It's not clear if Toledano, who declined to discuss her complaint in detail, heard back from D'Ambrosio.
Toledano has not filed a formal complaint, but if she does, it would be valid, said Elizabeth Tang, a legal fellow at the National Women's Law Center.
"Title IX requires schools to allow students to make up any work that they missed because of a pregnancy-related reason, so it's a pretty black-and-white scenario here," Tang said. "All absences must be excused, even if the school has a policy of not excusing other types of absences."
Cleveland and D'Ambrosio did not respond to requests for comment, but Fairleigh Dickinson University issued a statement saying that administrators are aware of the issue but would not comment on the specific case.
"The University is aware that student Gayla Tolendano [sic] is contemplating filing a claim of discrimination and has been in contact with the University's Title IX Coordinator, but she has not formally submitted one yet," the statement read. "These matters are extremely sensitive, and because we do not want to deter our community from reporting them, as well as for considerations related to student privacy laws, the University does not comment on individual student's [sic] cases."
Toledano's case was made public by the anti-abortion group Students for Life of America, which a relative suggested could give her legal advice. The group's Pregnant on Campus Initiative aims to "create a culture on campus that is accepting of pregnant and parenting students, and works with them to help them both parent and complete their education," Kristan Hawkins, the group's president, said in a press release. A New Jersey newspaper wrote about the situation, and Inside Higher Ed also received materials about the case from the group.
Toledano said Thursday that she did not intend for her dispute to become public and stressed that she does not blame Cleveland for what happened to her. She said it is the responsibility of the university to train its faculty and staff about Title IX and how to adhere to the law.