You have /5 articles left.
Sign up for a free account or log in.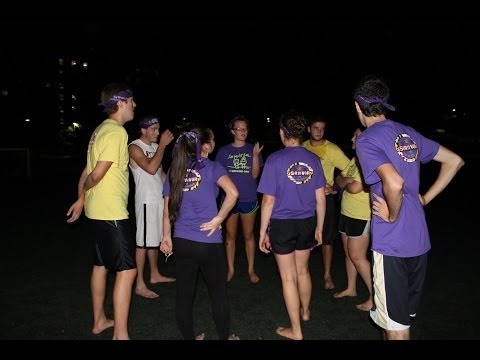 A knockoff version of Survivor filmed by students at the University of Maryland, College Park, contains all of the elements that made the original CBS series a powerhouse pioneer in reality TV.
Deceit and psychological warfare. Surprise twists. Even a devoted and occasionally rabid online following, despite only being a YouTube phenomenon, not one broadcast on major network television.
But there are aspects of Survivor Maryland that college administrators would probably feel more comfortable seeing off campus. In the opener of the second season, contestants scramble in a grassy scrum with little protection from injury. And students have been injured -- concussions, a sprained ankle -- not just at Maryland, but on campuses all over the country, where collegiate versions of Survivor continue to spring up.
At Maryland, there's an open flame in every episode at the hallmark "tribal council." In one episode, a competitor promises to "gut" another in a particularly eye-popping confessional after she had helped orchestrate the elimination of his friend. In the same episode, that same competitor writes a death threat on a third contestant's door.
These types of activities could present a problem for colleges and universities -- students have never faced life-threatening injuries on the college shows, at least not at Maryland, nor with the imitators at the other campuses that Inside Higher Ed investigated. But lawyers said that, depending on the state where the shows are being filmed -- and especially when they're affiliated with the campus as a student club, as Maryland's version is -- institutions could potentially open themselves up to liability if a student is hurt.
Reality TV contracts protect producers of the professionally produced shows, releasing them of any liability (they're so prescribed they cover everything from being sued to if a contestant contracts a sexually transmitted disease). But none of this applies to Maryland, where Survivor appeared to have little to no administrative oversight.
The student creators of these series, though, said they are merely having fun, and that these fan tributes have grown increasingly popular and helped forge deep relationships among contestants.
Austin Trupp, a Maryland graduate and the show's original host and mastermind, grew up a Survivor fan relatively late in life -- he began watching in high school and wondered, after he was accepted to Maryland, in 2011, whether he could replicate the magic. After all, the parallels were there: a dormitory is relatively isolated, not unlike the wildernesses and deserts where the real show places its contestants, he said. It would be interesting to know who would stab whom in the back in these microcosms, Trupp thought.
His first attempt was more of a trial run -- it was filmed in part but never edited or published. The second season Trupp captured almost entirely himself -- the late-night meetings of the tribes, challenges all over campus and interactions between the contestants. Despite graduating three years ago, he's still had a hand in molding subsequent seasons.
University of Maryland officials declined to comment for this story but said the institution asks all students to adhere to filming guidelines put in place to protect privacy. Students are expected to fill out a filming agreement detailing what they're doing and where and turn it in to the communications office 10 days in advance of filming, but Trupp said, "I've never heard of literally anyone doing that."
"It was so under the radar, and maybe we'd be doing these ridiculous things on campus, but it never really pervaded the entire campus community," Trupp said. "There was such a lack of awareness that I don't think an administrator even knew of it."
His version was set up similar to the original -- an initial challenge, such as figuring out word puzzles, eating stale chicken fingers or arranging dominoes in a line so they fall perfectly all at once. The tribe that lost would need to vote one member out. In the final rounds, the tribes merged, and eliminated contestants would return to decide who won the show. Instead of weeks, as in the original series, the competition stretched for months on Maryland's campus, which seemed to magnify and at times exacerbate the mind games that have become the series' trademark.
And fans have noticed. On Reddit, they pick sides and analyze contestants' motivations and personal lives. Once, when viewers posted about the series on Reddit, one of them said he was "up in arms" and called what Trupp was doing "hazing."
It might seem slightly ridiculous -- comparing consensual game playing to a fraternity member forcing a pledge to down a bottle of liquor -- but in some states, the Survivor challenges could be considered hazing, said Jonathon Fazzola, an attorney with the Fierberg National Law Group in Washington and a specialist in fraternity hazing cases.
"To the extent that contestants are participating as a part of a club … or even a group of like-minded individuals, and they're being required to do things that might lead to physical or mental distress or harm, depending on state law, even though it's not a fraternity, it could constitute hazing," Fazzola said, adding that even though students agreed to the challenges, that's not a legal defense in every state.
Whether a show is under the purview of universities, as a student club, or merely a project filmed on campus, could also affect if they're liable, said Jim Newberry, a lawyer who heads the higher education practice at Steptoe and Johnson, a law firm based in Kentucky. Administrators could mitigate that risk by getting liability insurance or asking contestants to sign waivers, he said. If a show wasn't in any way officially connected to an institution, liability would depend on how much administrators knew of the activities, Newberry said.
While it's generally established that colleges and universities don't have a legal duty to protect their students in the same way as in a K-12 setting, their role as a caretaker is shifting. The California Supreme Court ruled earlier this year that colleges must protect their students from potential violence in "school-sponsored activities."
Trupp said he could understand why someone could spin Survivor negatively, but he believes there's so much positive about the game.
"I can't think of another example of a club or anything like it," Trupp said. "And the colleges I've heard that started it also had incredible experiences."
The entire process was relatively casual -- Trupp recruited mostly friends for the show early on, and when he was a campus resident assistant, he recruited dorm dwellers on his floor. He never wanted the show to be cheesy -- that's the key, he said: finding passionate players who meet the scheduling demands.
Trupp operated without much fanfare. He never sought official recognition as a club until a couple of seasons in -- and even then he didn't rely on many of the perks that came with university affiliation, such as fund-raising mechanisms. He did receive a $500 grant given to student groups (Maryland is a Pepsi-sponsored institution and hands them out).
He recalled there was remarkably little paperwork involved in his endeavor. Trupp carried a fire permit with him at all times -- and a bucket of water for the tiki torch at the regular tribal council that ends each episode, in which a contestant is voted out. And he adapted a safety waiver that stated contestants would be engaging in physical challenges. Securing pool privileges for a couple of challenges in the water proved to be difficult, so he didn't do that much.
He said only one time in the fourth season did someone sustain a concussion -- other than that, there have been no injuries.
Trupp's iteration has inspired more than a dozen spinoffs across the country -- with varying degrees of success. And administrators there also appear unaware of the activities.
Officials didn't respond to a request for comment at the University of Michigan, where George Jayne, a recent graduate, took inspiration from Trupp and filmed a Survivor his senior year. It will be posted on YouTube in August or September, he said.
Jayne considered turning the effort into a club but ultimately decided against it. He also didn't talk with staff at Michigan much about what he was doing -- in the event he needed to use a room, he would just check with the appropriate official to make sure no one else was using it. He also worked at the campus ice rink, so it was easy to hold his tribal councils there and explain to his higher-ups what he was doing with a tiki torch.
Most of the challenges didn't involve university facilities, either. The Michigan campus is so expansive that a scavenger hunt was successful, though for one final challenge (which Jayne didn't want to spoil yet, given that the season hasn't been released) the contenders would cling to a statue for an extended time.
He said -- with a chuckle -- that police did come by a couple of times while he was filming that scene. But he didn't want to try anything too physical, despite basing it on the Maryland version, because he and his contestants weren't an official organization. "It would be on us" if someone got hurt, Jayne said.
The concept was extraordinarily popular -- he had advertised for contestants on Facebook and received 140 applicants. He whittled these down to 18.
Casey Abel, a graduate of Northeastern University, has recorded a version of Survivor, which she recently rebranded as Survivor Northeastern, for four seasons. A Northeastern spokeswoman said she was unaware of the project.
Police have stopped her groups before, during particularly crazy challenges -- they've hung lines of string among trees and made the contestants weave through without touching them, for instance. Abel had to retire "Steal the Bacon," a type of Capture the Flag-style game, because one contestant got a concussion and another sprained an ankle.
Despite no longer being an undergraduate (she's now a graduate student there who helps out with Survivor part-time), Abel said that she and others are working with administrators to get the show officially recognized as a student group. They will be having conversations about safety considerations and more, Abel said. "It's grown into a beautiful, weird sort of cult."
In a "nightmare scenario," though, a student could be seriously injured or killed during these types of events, said Erin A. Hennessy, vice president at TVP Communications, where she focuses on higher education policy and crisis communication. In that case, parents and lawmakers would be questioning whether they were sanctioned projects, and if not, how much administrators knew.
She said institutions have come under fire for not shutting down student-run "traditions" that they didn't directly sponsor -- for instance, at the University of Oregon, where a fraternity member died earlier this year on a trip to a local lake. The institution in that case sidestepped responsibility, saying students have a history of poor choices at the annual Lake Shasta weekend. College leaders need to be aware of such long-standing campus activities, even if they are unauthorized, Hennessy said.
"Parents especially want to know: 'Are you capable of keeping my child safe?'" Hennessy said. "And No. 2, 'Am I making a smart investment in the dollars to educate my child?' Is this a smart investment of taxpayer resources? I think it really raises a lot of questions for an institution that are hard to answer, and it all feeds into this ongoing skepticism about the value of higher education."