You have /5 articles left.
Sign up for a free account or log in.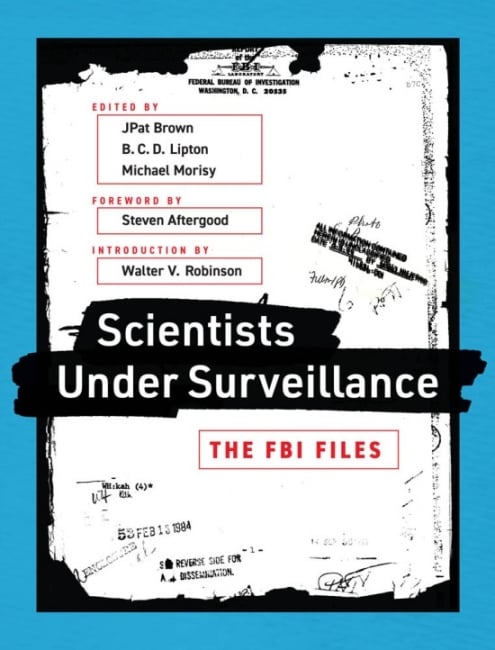 During the McCarthy era, the Federal Bureau of Investigation spent a lot of time and money investigating prominent scientists, viewing them as potentially sympathetic to or spies for the Soviet Union -- despite a lack of evidence in most cases other than views that might not have been completely consistent with those of FBI leaders. Albert Einstein, Richard Feynman and Alfred Kinsey are just some of those monitored.
Scientists Under Surveillance: The FBI Files (MIT Press) consists of the actual files on these and other scientists, along with commentary. The documents were obtained by MuckRock, a nonprofit that helps people seek federal records. The book is edited by three MuckRock leaders: JPat Brown, executive editor; B. C. D. Lipton, senior reporter; and Michael Morisy, the co-founder. Morisy responded via email to questions about the book.
Q: What gave you the idea of seeking these records?
A: One of the things that drew me to the Freedom of Information Act was an opportunity to dig through history before it had received its coat of varnish. It quickly becomes clear that government records aren't unbiased narrators or even better narrators [than others], since the documents are products of the time, place and people who wrote them, but they're a very valuable way to explore history through the lens of the bureaucrats of the day. FBI files, in particular, are fascinating to read. You have conservative, buttoned-down G-men with a front-row seat to history being made, social norms changing and so on, and their priorities and focus are always at least slightly off from how history is taught today, whether it's a paranoid focus on Hannah Arendt's popularity among college students or how often cocktail party chatter would send multiple agents on a months-long wild goose chase. Getting to explore our history in this way is endlessly fascinating.
Q: How difficult was it to use FOIA to gain access to these records?
A: The key ingredients to successful FOIA work are generally time, persistence and attention to detail. MuckRock just celebrated our ninth birthday, and we have now helped our users file just about 60,000 requests, and one of the great things about FOIA is that anyone can do it. It doesn't require being a lawyer or a journalist, so while compiling this volume has taken us years of research and follow-up, our hope is the project will showcase how valuable transparency is -- and inspire others to start requesting information they're interested in.
Q: Do you have a favorite example or two in the documents that shows how foolish it was to presume that these prominent scientists were somehow acting against the United States?
A: Richard Feynman's files always crack me up. You have a key figure not only for the Manhattan Project but also who helped made science more accessible for so many, really inspiring a generation. But it was the same curiosity and puckishness that made him effective in those roles that drove the FBI nuts: Why was this guy trying to crack safes all the time? What scandals are going on in his personal life? So they keep snooping around everything he does, usually in comically poor fashion until he ultimately just reaches out and tells them to cut it out.
But I also think it's an interesting case because, while the FBI was trying to dig up information on him, the Soviet Union was trying to flip him -- they were just even worse at it. So it's a bit [of] Cold War Keystone Kops all around, right on the periphery of our history books.
Q: Do any of the documents give doubt to whether the scientists sufficiently resisted the pressures of McCarthyism?
A: I think that's one of the things that really excited us about this project, to highlight, even if half a century later in some cases, that surveillance has a high cost in terms of chilling effects. Trips canceled, collaborations stalled, people hounded out of positions in government and academia. There was definitely self-censorship and professional repercussions. It's impossible to calculate what knowledge we were ultimately robbed off.
Q: Today we are in an era when scientists are not trusted by many federal leaders. Are there lessons from the era of these documents for those who believe scientists are entitled to privacy and presumption of innocence?
A: So many of these files are from J. Edgar Hoover's long reign of the bureau, where checks and balances really broke down to the point where there wasn't really anyone he had to answer to. Reading through these files is an excellent reminder of why we have those checks and balances in the first place, and how without transparency -- and a public that is trained to care about these issues -- things can go wildly out of control in all sorts of surprising and negative ways. I think that's a lesson that matters a lot at this political moment, but also a lesson that every generation needs to work to learn again.
More from Books & Publishing