You have /5 articles left.
Sign up for a free account or log in.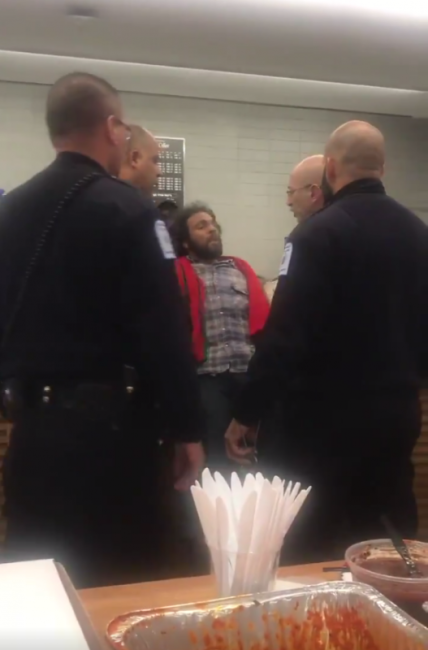 Barnard College has placed on leave campus safety officers who physically stopped a black student from entering the library building Thursday night. The incident, videotaped and shared by Barnard students on social media, has led to protests and a quickly organized campus meeting, and to a promise by the college to fully investigate what it is calling an "unfortunate incident."
The student is enrolled at Columbia University, with which Barnard is affiliated. Columbia students are permitted to use Barnard's library. Video shows him objecting to being asked for his identification and also for being restrained by officers. After he gave the safetey officers his ID, they said they needed to check his status and asked him to leave the building.
Barnard has a policy of checking IDs as people enter various facilities after 11 p.m., and this incident took place close to midnight. But many students said that the policy is inconsistently enforced, and that applying it to a black person -- particularly in this way -- constitutes racial profiling.
Barnard's president, Sian Leah Beilock, has sent two messages to the campus about the incident. In the first, she said in part, "As many of you are aware, there was an unfortunate incident last night in the Milstein Center that has raised concerns about our safety and security policies and how they are enforced. I have spoken to Roger Mosier, our vice president for campus services, about last night's events. We deeply regret that this incident occurred, and we are undertaking a thorough review of our public safety officers' actions, and will address our processes and procedures and how they are applied."
In that message, she invited students to a "listening session" Friday evening.
In the second, she said, "The college is hiring an independent investigator to review what transpired Thursday night and to provide us with recommendations for further action. The public safety officers involved, as well as the public safety supervisor, have been placed on administrative leave pending the outcome of this investigation."
Students have continued to protest over the incident.
Racial profiling is a major national issue, but many minority students and employees have been stunned to find that colleges that pride themselves on inclusivity can be places, in encounters with local or campus police, where nonwhite people can be questioned for, in effect, being on or near campus while black.
Yale has seen two incidents involving black students. In 2015, a black student was briefly detained by campus police officers who were looking for another person. The student's father is a New York Times columnist, who wrote about his anger about the incident. Then last year, a white Yale University student called the campus police upon finding a black graduate student taking a nap in the student's dormitory common room. The police came, and the black student needed to get her identification card to show that she belonged in the building.
Also last year, police were called at the University of Massachusetts at Amherst over a longtime employee, walking to his office. While police questioned him (and found nothing questionable), they sealed off the building.
Not all of the investigations have found wrongdoing in the way black people were questioned.
Smith College found last year that there was a "legitimate, nondiscriminatory" reason for an employee to call campus police on a black student who was eating her lunch in a residence hall living room. Some questioned the findings.
And not all of the incidents involve African Americans.
At Colorado State University last year, a woman called police on two Native American brothers she believed were not really part of a tour group, but who were doing nothing wrong. They were for a time separated from the group so police could question them.