You have /5 articles left.
Sign up for a free account or log in.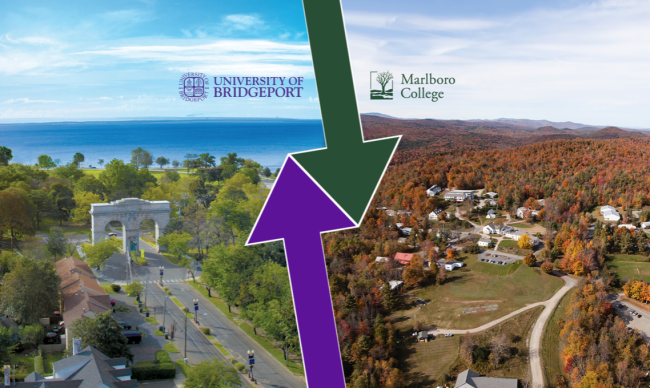 It wasn't the right fit after all: two months after announcing their merger, the University of Bridgeport and Marlboro College are calling it quits.
Details about the failed deal are few, as both institutions signed nondisclosure agreements prior to signing a letter of intent to merge in late July. But Marlboro has said it sought to preserve its self-directed curriculum, self-governance structures and bucolic Vermont campus through the deal. And Laura Skandera Trombley, Bridgeport's president, said in a campus memo that Marlboro's "challenges are too great for us to proceed."
Trombley said in an interview, "We have enormous respect for Marlboro and we looked to come up with a plan that would keep the campus intact and would allow them to continue the Marlboro promise. We especially appreciate their pedagogy."
However, she said, "moving through the months of negotiations, we became increasingly concerned and decided that it was probably in our best interest to withdraw." Trombley declined to elaborate.
Kevin Quigley, president of Marlboro, said in a separate interview that "just like in any breakup, it's pretty common in mergers that one side will claim that they're the one who broke up with the other first. But it's much more complicated than that."
Quigley continued, "We were really attracted by the compelling vision that Bridgeport had for us, but despite our repeated efforts to understand how that vision would be implemented programmatically and financially, we really never got any details over three months of negotiations. We wanted to understand how Marlboro endures."
The weekend marked a deadline for a memorandum of understanding, Quigley said. With that deadline now past, Marlboro remains optimistic it will be able to leverage its assets of people, place and purpose into a new deal -- perhaps with some of the institutions that previously expressed interest in a merger.
Marlboro has a $35 million endowment and relatively little debt but dwindling enrollment, at about 150 undergraduates, and discounted-tuition woes. It hired a consulting firm last year to find potential merger partners and engaged in discussions with a number of institutions before Bridgeport -- about 150 miles south -- emerged as the one. They had hoped to start joint operations next year.
Both institutions worked "diligently and in good faith" on a deal that would have seen Marlboro become Bridgeport's Marlboro College of Arts and Sciences with locations and programs at both campuses, according to information from Marlboro.
Trombley said that Bridgeport recognizes the difficulties small liberal arts colleges face, especially in Vermont. Indeed, Southern Vermont College, Green Mountain College and the College of St. Joseph closed this year. Burlington College closed in 2016. Goddard College is on probation with the New England Commission of Higher Education.
Originally, in July, Trombley announced Bridgeport's and Marlboro's plans to "create an expanded university with deeper connections between professional programs and the liberal arts."
Both institutions prepare students for "lives of purpose and meaningful work," she said then, anticipating faculty exchanges, partnered courses and Bridgeport's greater access to outdoor facilities -- including Marlboro's organic farm and 18 miles of cross-country trails.
Quigley said the "right partner" may want Marlboro's campus to be an immersive retreat or something similar. Some 130 acres are designated as an ecological reserve. In any case, he said, the "relationship has to be built on trust and mutual respect."
Even as more colleges close, mergers are on the rise. In a successful example of these unions, Boston University and Wheelock College joined, starting in 2017.
Rosario de Swanson, professor of Spanish, Latin American literature and gender studies at Marlboro, said it's admirable on one hand that the college "walked away from the merger because it means that perhaps it was not the best for the integrity of our program and faculty." On the other hand, she said, "we still have to address the issues that prompted the merger, which means there is a lot of work ahead of us."