You have /5 articles left.
Sign up for a free account or log in.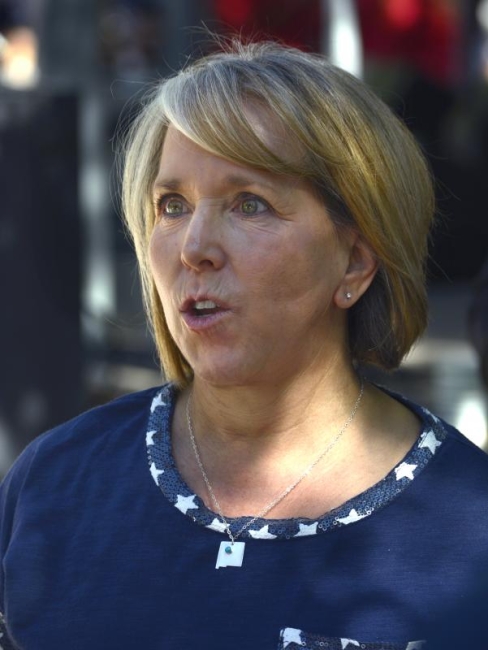 New Mexico governor Michelle Lujan Grisham, a Democrat, is asking the state's Legislature to fund a scholarship program that would cover tuition and fees for all in-state residents at New Mexico's public higher education institutions.
The New Mexico Opportunity Scholarship, announced Wednesday, would make it the second state after New York to cover tuition for residents over four years at all in-state public institutions.
"This is an unprecedented opportunity for students to attend college tuition- and fee-free," said Carmen Lopez-Wilson, deputy secretary of the state's higher education department.
​While the state says the program will encourage more students to attend college, some who research higher education question its potential.
Who Will It Help?
The scholarship would be available for recent high school graduates, GED earners and returning adults, as well as undocumented students. While adults who previously enrolled in college could return and be eligible under the scholarship to attend college part-time, other students are expected to enroll full-time, according to Lopez-Wilson. Students also must maintain a 2.5 GPA.
Like many other free college plans, New Mexico's is a last-dollar program, meaning the scholarship will cover tuition and fees for students after they use up federal and state aid, including the New Mexico Legislative Lottery Scholarship Program. On average in New Mexico, federal grants and the lottery scholarship leave an unpaid tuition gap of about 25 to 40 percent, according to a news release from the governor's office.
Several experts say last-dollar programs don't help low-income students.
"First-dollar is the way to go from the state perspective," said Wesley Whistle, senior adviser for policy and strategy in the Education Policy Program at New America, a think tank located in Washington. "The federal government created the Pell Grant to level the playing field. By just doing a last-dollar approach, it nullifies what the federal government did."
A first-dollar program pays for tuition and fees up front, allowing students to use Pell Grants and other aid to cover expenses like housing, food and books. For community college students, tuition is only 20 percent of the total cost of attending college, according to Tiffany Jones, director of higher education policy at the Education Trust, a nonprofit that works to close opportunity gaps.
"In a place like New Mexico, where the average tuition for a two-year college is $3,000, that means if you qualify for [a Pell Grant] your tuition costs are already covered," Jones said. "This new policy doesn't translate to any additional support for you."
Lopez-Wilson said that while the argument against last-dollar programs might be true elsewhere, it isn't true in New Mexico. The state has a "robust infrastructure" of scholarships, such as the Legislative Lottery Scholarship Program, Grow Your Own teachers' scholarship, New Mexico Scholars scholarship and other programs that provide books or supplies. As the state has increased these offerings, it has seen a response from students, she said.
Tamara Hiler, director of education at the think tank Third Way, said the Opportunity Scholarship could reinforce inequity even further because it provides money to students regardless of their family's income. Because of this, high-income students who don't get Pell Grants would get larger subsidies from the state to cover tuition costs, while Pell Grant recipients would get a smaller slice or potentially nothing.
"Because it's universal, it's actually going to end up being regressive," Hiler said. "The students who will most likely benefit are likely to be wealthier students."
Lopez-Wilson disagreed and said the program will work for the state, which has the second-highest poverty rate (19.7 percent) in the country, according to 2017 U.S. Census Bureau data, and relatively low tuition rates at public colleges.
"We want to make sure that every student in New Mexico who graduates from high school knows they can go to college," she said.
The Importance of Messaging
Morley Winograd, president and CEO of the Campaign for Free College Tuition, said first-dollar programs and income caps don't work.
Winograd believes New Mexico's program, if approved by the Legislature, will become a "benchmark" for states to create tuition-free programs for four-year colleges. One of the most important parts of the governor's proposal is its simplicity, he said.
"The broader, simpler and more universal the program, the more it communicates directly to the state's families and potential students the message that tuition is free," he said.
By making the program universal, more students will consider going to college, he said, and enrollment and accessibility at public institutions will increase as a result.
For example, he cited the Excelsior Scholarship, the free tuition program in New York that includes income caps. However, the program has been criticized for its low participation rate.
Jones said students have been interested in Excelsior, but they realize they wouldn't be eligible because of requirements that students enroll directly from high school, have a certain GPA and stay in the state to work after graduation.
While she agrees that clear messaging is key to increasing enrollment, Jones said that "free tuition does not mean free college."
As a first-generation college student herself, Jones said she was blindsided when she received a bill for room and board after receiving scholarships to cover her tuition. She almost had to leave college because of the unanticipated cost.
Research shows that targeting money toward low-income students helps more students of color, she said, while programs without income caps help higher-income and white students more.
Other research and programs, such as the Accelerated Study in Associate Programs at the City University of New York, show that helping students with costs other than tuition increases student success, she said.
Some also argue that just increasing enrollment isn't enough.
The state's flagship university, the University of New Mexico in Albuquerque, has a six-year graduation rate of 47 percent, according to federal data. Central New Mexico Community College has a three-year graduation rate of 20 percent. Only 23.2 percent of Latinos in New Mexico have a college degree. And the state has a degree-attainment gap of 27.2 percentage points for Latino students, according to data from the Education Trust.
Joshua Goodman, an economist at Brandeis University, said these graduation rates aren't good, and he's concerned that the program won't help students in the long run.
"If all you're doing is trying to pull new people onto campus, you need to be careful you're not doing it at the expense of the quality of the institution they're attending," he said. "I wish the state would focus on investing more in these campuses and improving their quality, because my guess is that would make a bigger difference in terms of who is graduating."
Lopez-Wilson said a loss of services to help students graduate is a "real and significant problem" in New Mexico. Higher education has lost more than 30 percent of the state budget it had before the recession, she said, which resulted in cuts to student services.
But increasing enrollment and recruitment opportunities could help colleges get more revenue to build up these services again, she said. "We have to rebuild the college infrastructure, and this is one way, but we have a lot to do."
Funding Stability
Another point of contention is how New Mexico intends to pay for the program.
If the Legislature decides to appropriate funds for the proposal, it would be paid for with the general fund. New Mexico is experiencing record growth in its oil and gas industry, resulting in more state revenue to help pay for programs like this, according to the Associated Press.
However, Hiler assumes the state will have to take another look at the program in the future, as Oregon did when it faced a budget shortfall for its free tuition program.
New Mexico estimates it will have 55,000 students participating in the program by next fall, at an estimated cost of $25 million to $35 million, which Lopez-Wilson called a "very realistic" estimate. The general fund's diverse set of revenue sources should insulate it from dips, she said.
If, for example, there was a bust in the oil and gas industry and thus in the state's revenues, the Legislature would have to decide on whether to continue funding free college.
A large increase in enrollment could also affect funding for the program, but Lopez-Wilson said that's a problem they'd like to have.
The public education department in New Mexico also is investing in infrastructure to increase completion of the Free Application for Federal Student Aid and bring more federal funds to colleges, she said.
Relying on general fund revenue in states is always a concern, Winograd said. But he thinks establishing free tuition programs ensures they are sustained, citing a Century Foundation study that found states with free college promise programs increased funding per full-time-equivalent student more than states without those programs.