You have /5 articles left.
Sign up for a free account or log in.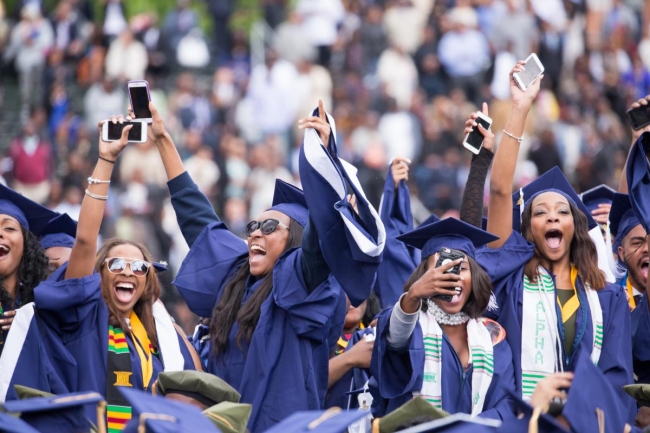 President Biden has announced a plan intended to help narrow the racial wealth gap, but it doesn't include any cancellation of student loan debt -- which some are arguing is necessary to make meaningful steps toward closing the wealth divide.
The plan, which Biden unveiled Tuesday on the 100th anniversary of the Tulsa Race Massacre, includes a total of $25 billion in community revitalization and transportation infrastructure and $31 billion in programs for small businesses, among billions more dollars to "reinvest in failed communities that have been left behind by failed policies." The administration's proposals are aimed to shrink the wealth disparities between Black and white households -- the median wealth for a Black family is about 13 cents for every dollar in wealth held by white families, according to the administration.
But omitting student loan debt cancellation from the actions the administration wants to take won't do enough to address the wealth gap, NAACP president Derrick Johnson told The Washington Post.
"Components of the plan are encouraging, but it fails to address the student loan debt crisis that disproportionately affects African Americans," Johnson said. "You cannot begin to address the racial wealth gap without addressing the student loan debt crisis."
Black college graduates have an average of $52,000 in student loan debt and owe an average of $25,000 more than white college graduates, according to data from the National Center for Education Statistics. Four years after graduation, almost half of Black borrowers owe 12.5 percent more than what they borrowed due to interest, while 83 percent of white borrowers owe 12 percent less than they borrowed. And over half of Black students say that their student loan debt exceeds their net worth.
The lack of generational wealth means that Black households pay off their student loan debt slower than non-Black households, said Andre Perry, a senior fellow at the Brookings Institution. That affects the ability for Black borrowers to acquire assets that accelerate wealth.
"When you have more student loans, you have less buying power," Perry said. "You have lower credit scores. It's a barrier to homeownership. If we really want to help close the racial wealth gap, we would include some provision around student loan cancellation."
Despite campaigning for president on the cancellation of student loan debt, Biden has yet to make any moves to do so, either through executive action or by proposing it to Congress for legislative action in his recent budget document. Biden said that he supports canceling $10,000 in student loan debt per person and has directed the Department of Education and the Department of Justice to examine his legal authority to cancel up to $50,000 in student loan debt via executive action.
But blanket debt forgiveness may not be the best solution for decreasing the racial wealth gap, said Matthew Chingos, director of the Center on Education Data and Policy at the Urban Institute.
"Basically, if you forgive the same amount of debt for everybody, you're going to forgive a lot of white people's debt," Chingos said, given that white students hold the most cumulative amount of debt, according to the NCES. "Black Americans hold a disproportionate share of debt, but in terms of addressing the gap, debt forgiveness in many cases could be like three steps forward, two steps backward."
Debt forgiveness should only be one piece of the puzzle in addressing the structural problems with the student loan program, said Chingos. And that forgiveness could be targeted so that the racially disparate impact of student loan debt is addressed.
For example, a student debt forgiveness program could be targeted based on income, similar to what Democratic senator Elizabeth Warren of Massachusetts proposed during her presidential campaign. Warren called for forgiving up to $50,000 of debt for individuals with household incomes under $100,000 and incrementally smaller amounts of debt forgiveness for individuals in households with incomes between $100,000 and $250,000.
Others -- like Perry and his colleague Carl Romer, a research assistant at the Brookings Institution -- argue that canceling student loan debt should focus on the wealth of borrowers rather than their income. Even if Black borrowers have high incomes, they still often have low wealth, which makes paying back student loans more difficult, said Perry and Romer.
Another possibility would be retroactively applying a doubled Pell Grant award -- which Biden said he plans to accomplish during his presidency -- and wiping away the amount of student loan debt that their Pell Grant would've been worth, said Chingos. So, if a student would've received $10,000 in Pell Grant funding, they would receive $10,000 in student loan debt forgiveness.
"We haven't modeled exactly what that means for racial wealth gaps, but because it's more targeted, it would certainly go to students who came from lower-wealth families," Chingos said.
Though it's still unclear how it would or should be accomplished, canceling student loan debt is a basic necessity because attending college is a basic necessity, said Perry.
"Student loans are something that we are told we have to do to become middle-class," Perry said. "Much of this debt should be canceled because postsecondary education is foundational to economic growth."