You have /5 articles left.
Sign up for a free account or log in.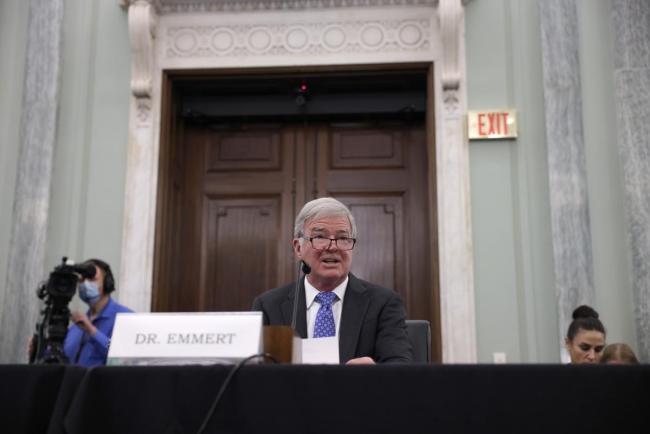 Anna Moneymaker/Getty Images
Pressure is mounting on Congress to pass a federal law allowing college athletes to profit from their name, image and likeness, known as NIL, as numerous state laws regarding NIL rights are scheduled to go in effect July 1.
While the laws differ between states, they'll generally allow athletes to sell rights to their name, image and likeness while playing college sports -- such as by signing endorsement deals, selling autographs or monetizing social media fame. Current rules of the National Collegiate Athletic Association prohibit athletes from doing that.
The NCAA is asking Congress to create a uniform federal law because a patchwork of state laws would create an uneven playing field for student athletes across the country, said Mark Emmert, president of the NCAA, during Wednesday's hearing held by the Senate Commerce, Science and Transportation Committee.
Only athletes who attend colleges in states with enacted laws -- which on July 1 will include Alabama, Florida, Georgia, Mississippi and New Mexico -- will be able to participate in NIL deals. That could harm recruiting prospects at colleges in states without NIL rules, stakeholders say.
"We can't run competitive, fair championships if every state has a different rule," testified Mark Few, head men's basketball coach at Gonzaga University. "Only action here by Congress can maintain some sort of semblance of a level playing field."
At the hearing, there was consensus among the six witnesses that congressional action was necessary. A federal NIL rule also has bipartisan support, with both the Democratic chair and Republican ranking member of the Senate committee stating that it was time for Congress to make progress on the issue.
"There is broad consensus that Congress should pass a law that guarantees college athletes the right to enter into NIL agreements with third parties -- the same right that all nonathlete students have," said Senator Roger Wicker, the Republican ranking member from Mississippi.
But Congress would only have three weeks to pass legislation and beat the July 1 deadline to pre-empt state laws. A group of senators from both parties has been negotiating legislation, but a full compromise has yet to be reached.
Some senators, like Democrats Richard Blumenthal of Connecticut and Cory Booker of New Jersey, want Congress to pass a comprehensive College Athletes' Bill of Rights that, in addition to NIL rules, would address health and safety standards, medical costs, and accountability by athletic departments. During the hearing, Booker encouraged his colleagues to focus on the broader concerns, stating that "to race to just an NIL bill and not address these injustices is tragic."
On the other hand, an NIL-only bill is the goal for Wicker, who said the other issues surrounding college athletics could be addressed in later legislation. He introduced a narrow bill, the College Athlete and Compensation Rights Act, at the end of last year.
"Unlike NIL, these issues are not subject to a July 1 deadline," Wicker said. "Based on our discussions, I think we can reach consensus on a focused bill addressing NIL on a much faster timetable."
A few senators appeared frustrated that the NCAA waited too long to attempt to update its NIL rules, leaving Congress as the only clear option for a national standard on a deadline.
"The NCAA is at the table only because it's been hauled kicking and screaming here after dithering and delaying too long," Blumenthal said. "They're here only because they fear that patchwork -- the states are, in effect, running to the top while the NCAA and its rules is racing to the bottom common denominator."
Senator John Thune, a Republican from South Dakota, was skeptical whether the federal government was the best party to handle the issue, calling it "complicated" and "one I really wish the NCAA would have been able to figure out."
The NCAA's Division I Council -- the decision-making group for Division I athletics -- will meet June 23 to discuss the NIL rule. But the association is expected to not make any changes to its NIL policies as it awaits a ruling from the Supreme Court in the Alston v. NCAA case, which will decide whether the NCAA's rule prohibiting compensation for student athletes violates federal antitrust law. The ruling is expected by the end of June.
In the meantime, the NCAA may choose to file an injunction in court to block the state laws from going into effect, but Emmert refused to tell senators whether the association is leaning toward or away from that option.
Throughout the hearing, one message was clear -- come July 1, whether Congress acts or not, the college athletics landscape will be monumentally different.
"The cat is going to be out of the bag," testified Matthew Mitten, a sports law professor at Marquette University Law School. "And I don't think you can put it back."