You have /5 articles left.
Sign up for a free account or log in.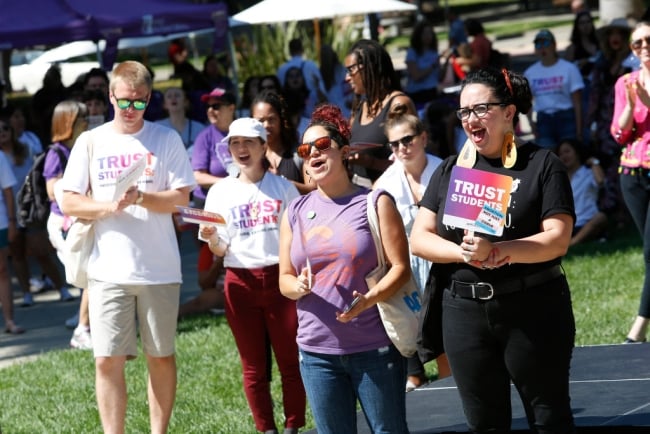 Lea Suzuki/The San Francisco Chronicle via Getty Images
A lot has changed since 2019, when California passed SB 24—which requires public colleges and universities to supply medication abortions in their health centers.
First the COVID-19 pandemic hit, diverting attention of the state's university health centers from the planned rollout of SB 24 to testing and vaccinating students against the coronavirus.
Then last year, the Supreme Court ruling in Dobbs v. Jackson Women's Health Organization ended federally protected abortion rights, leading many states to ban or severely limit terminating a pregnancy—and making abortion access even more urgent for reproductive rights activists.
Now, more than three years after the bill passed, all 10 University of California campuses and all 23 California State University campuses are officially required to offer medication abortions. Since the law went into effect Jan. 1, any public university student in the state can simply walk into their university's health center and request a course of the two abortion pills, mifepristone and misoprostol, that can be safely taken at home.
California's move to facilitate abortion access for young people comes at a time when many states are instead revoking or limiting a right that was federally enshrined for nearly 50 years. Twelve states have fully banned abortion since the Dobbs decision, while one, Georgia, forbids abortion after six weeks—earlier than some people know they're pregnant.
The road toward implementing SB 24 hasn't been without bumps; activists say they're still clashing with universities over one central detail: pricing. Still, many university leaders and activists alike see the implementation of SB 24 as a major win for reproductive health, even in a state where abortion is widely available. Having medication abortion available on campus removes barriers like transportation—which is especially vital on rural campuses that aren't near a drugstore.
"I think it's absolutely amazing to have it on campus. If you have a sprained wrist or a hurt ankle or pink eye, guess what? You go to your student health center," said Tifani Bartow, deputy director of operations and grants at the California Commission on the Status of Women and Girls.
Other states are looking to replicate California's success. In 2022, Massachusetts passed a bill requiring each public college and university in the state to create a medication abortion readiness plan, detailing how they will either provide abortions on campus or help students access them off campus.
In New York, legislation that mirrors California's has been on the table since 2019. But one of the bill's sponsors, Assemblyman Harvey Epstein, said he thinks it might gain more traction this year, following the Dobbs decision.
"In the post-Dobbs space, there's a lot more interest in making sure abortion services are available all over the state," he told Inside Higher Ed. "I think it's critical that our students have access to care … and this is one way of doing it. Abortion is really critical. So, I have no doubt in my mind that this bill will help countless numbers of people."
Still, not every college—even in blue states—is enthusiastic about this trend. According to a New York Times article about how colleges are handling reproductive health in the post-Roe era, some administrators are wary of acceding to student demands.
"Providing the abortion pill on campus rather than referring students elsewhere enmeshes colleges in a personal, sometimes emotionally and physically taxing medical decision," it read.
Upgrades and New Tech
Preparing to offer medication abortions on campus required improving facilities at the health centers and providing training for physicians and other health-center employees.
SB 24 mandated that the California Commission on the Status of Women and Girls administer $200,000 of funding to each campus. Bartow said that those funds were used for everything from new security to ensure student safety to better signage to help students more easily locate their campus's health center.
Some colleges with older, more outdated health centers needed to be enhanced to afford students more privacy when discussing abortion with their health-care providers—improvements that Bartow thinks will be beneficial for all types of treatment and counseling.
"We're in 2023 now. We shouldn't have these ancient rooms," she said.
Two individuals affiliated with California's public universities declined to describe the security enhancements they implemented to protect patients seeking an abortion, to avoid publicizing them. According to a 2021–22 report by the CCSWG outlining the universities' implementation progress, many CSU and UC campuses had campus police or outside consultants conduct security reviews of their health centers. In the report, some campuses reference purchasing new security cameras.
Many campuses purchased ultrasound machines, which are used to check how far along a pregnancy is and to verify after the fact that the process has been effective (although recent research shows it is not necessary to undergo an ultrasound before a medication abortion). Some also invested in same-day laboratory equipment, which allows the health centers to more quickly receive blood test results—another way of telling if an abortion was successful.
Staff Training
Essential Access Health, a nonprofit that promotes sexual and reproductive health care, provided training for staff on both CSU and UC campuses. The training was split into two portions, one focused on teaching the full health-center staff about medication abortion and another aimed at health-care providers that detailed the process itself.
The training explained what medication abortion is and dispelled misconceptions about the process. It also sought to help health center employees come to terms with being part of an organization that gives abortions, whatever their personal views.
"A large part of that orientation training was spent doing something called a value clarification exercise, which is, in essence, an opportunity for people to process their feelings about abortion," said Annie Sumberg, Essential Access Health's senior director of medication abortion access. "It allowed people to dig into what common beliefs there are and allowed us an opportunity to inform, if the understanding was incorrect, and also for people to let themselves talk about how they feel about that and not be judged."
Even so, providers at California university health centers who don't want to dispense the medication due to religious or ethical concerns don't have to. Carolyn O'Keefe, CSU's director of student wellness and basic needs, said that the system worked with its unions to ensure providers can opt out unpenalized.
"We do have some providers across our system that have utilized that process and have excluded themselves, but on the campuses where they have those providers, they certainly have worked to have the service available through other providers," she said.
The training sessions, which occurred both online and in person, were similar to the ones that Essential Access Health administers to any primary care provider about to begin offering abortion medication—with one exception. The organization asked students to participate in the training and share feedback before they delivered it to university employees. They also included a video of a student discussing the importance of SB 24.
"When we did share student voices in our actual training materials … those were really impactful," Sumberg said. "Some of the staff hadn't been aware of what student involvement had looked like in the lead-up to the bill. The students are why we got here, and they're the reason we're doing this, and they're the ones impacted more profoundly."
Cost Concerns
The implementations largely went off without a hitch. Some institutions were even able to begin distributing abortion pills ahead of the Jan. 1 deadline; according to the CCSWG report, UC Berkeley, UC Irvine and UC Santa Barbara all began offering the service in the 2021–22 fiscal year, facilitating a total of 72 medication abortions that year.
The biggest hurdles still to overcome are outreach and pricing.
Colleges must make sure students are aware that their health centers now offer this medication, Bartow said, which is in part why the state is tracking how often the colleges distribute the pills.
"For us, for the commission, it's useful to know. Out of a campus that has 10,000 students, [if] in a year you've only provided 33, do students know you provide this service?" she said.
Unite for Reproductive and Gender Equity (URGE) California, a reproductive rights nonprofit that pushed for the passage of SB 24, has been working to teach students about on-campus medication abortion access through social media campaigns and other outreach.
"Essentially, the goal at that time was just … to talk to other students, to find out if they knew about this bill," Valorie Battle Haddock, a former member of URGE's Pro-Abortion Student Advisory (PASA) Board, said of her time on the board.
PASA has also been trying to reach out to each UC and CSU health center to learn more about the costs associated with the pills. One concern emerged when the UC system told the organizers that abortion pills would cost more than $500 per course of treatment—about what it costs when purchased at an off-campus pharmacy, according to Faith Garcia, an organizer with URGE.
"It is not convenient. Why bring this to campus if you're going to make it inaccessible to students?" they asked.
Although SB 24 doesn't outline how much the pills should cost, the language of the bill seems to indicate that it's designed to make the pills affordable to students.
"Because abortion by medication techniques is both a recognized treatment for the medical condition of pregnancy and a health service every pregnant person in the state has the legal right to choose, it is the intent of the Legislature that public university student health centers make abortion by medication techniques as accessible and cost effective for students as possible," the bill states.
Heather Harper, a spokesperson for UC Health, said in an email that students on the UC student health insurance plan should not need to pay any out-of-pocket costs for medication abortion. All students are enrolled in the university system's health insurance plan unless they receive approval to waive coverage; costs associated with the insurance vary by campus. 
For anyone without a UC insurance plan, Harper confirmed that a medication abortion pills themselves cost about $50 and the whole procedure, including before and after care, would  cost between $500 and $600, depending on the campus, as UC's health centers "do not have the infrastructure for accepting insurance coverage other than the UC Student Health Insurance Plan." (This paragraph has been updated to clarify the estimated cost.)
"The fees were determined by evaluating reimbursement amounts paid by commercial insurance plans for this procedure in each market region and setting our fees accordingly," Harper said. "We are exploring possible ways to reduce the out-of-pocket cost or provide financial support for students for this service."
The CSU system is planning to charge $50 for the abortion pills, the wholesale price of the medication.
"Most of the CSU student health centers source their medications through the California Department of General Services and pay wholesale prices," said Hazel Kelly, a spokesperson in the chancellor's office. "Most of our health centers do not cover the cost of medications for students, whether that be an antibiotic or the medication abortion pills. Our health centers then provide those medications to students at wholesale prices."