You have /5 articles left.
Sign up for a free account or log in.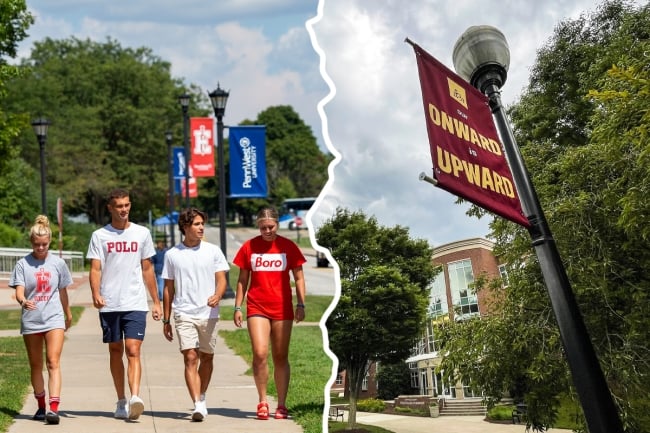 Photo Illustration by Justin Morrison for Inside Higher Ed | Pennsylvania State System of Higher Education
The Pennsylvania State System of Higher Education has had its fingers crossed, hoping for an enrollment bump since undertaking an ambitious redesign three years ago, including the consolidation of six campuses into two new universities.
Enrollment at the public university system, one of three in the state, had plummeted by over 30 percent since 2010, and leaders' arguments for its sustainability—without significant budget and program cuts—hinged on the results of this evolution.
Those hopes largely materialized this fall: PASSHE saw an overall enrollment bump of 3.4 percent, adding up to a nearly 10 percent increase since 2021. System chancellor Dan Greenstein chalked the gains up to the system campuses' lower price than many other public institutions in the state, which is the third most expensive in the country for public higher education. He said PASSHE's new strategic plan allowed it to freeze tuition and increase financial aid.
But the impact of that transformation on its twin mergers, the newly formed Commonwealth University and PennWest University, is less clear, considering the two institutions saw opposite enrollment trends this fall.
First-time enrollment at Commonwealth—which is made up of the former Lock Haven, Bloomsburg and Mansfield University campuses in the rural center and northeast of the state—rose by 11.8 percent this fall, even as total enrollment fell by a little over 8 percent. At PennWest, a union of the former Clarion, California and Edinboro University campuses in the more sparsely populated western regions of the state, the news was more bleak: first-time enrollment dropped by over 20 percent, contributing to an 11.5 percent overall enrollment decline.
Enrollment returns have been mixed for other public university consolidations. Vermont State University, which began its inaugural semester in August, experienced a 15 percent enrollment drop and a surprise slate of additional spending cuts after months of controversy tainted its opening. Meanwhile, Georgia State University, which merged with Georgia Perimeter College in 2016, welcomed its second-largest class in 2022, despite continued enrollment declines in the larger University System of Georgia.
Ricardo Azziz, director of the Center for Higher Education Mergers and Acquisitions, has been studying the link between mergers and enrollment for an upcoming white paper from his organization. He said the divergence of PASSHE's consolidated institutions raises questions about the impact of consolidation on head count and the ability to overcome entrenched external circumstances like demographic declines.
"The efficiency measures and financial savings that consolidation offers to institutions can be a life raft away from closure," he said. "That doesn't mean the impact on enrollment is always going to be positive … It's kind of unpredictable, what that impact is going to be."
A Tale of Two Mergers
Bashar Hanna, Commonwealth's president, said the mood was one of relief and "cautious optimism" at the university's campuses, where the prolonged consolidation process has at times provoked anxiety and frustration. A spokesperson for PennWest's interim president, Lorraine Bernotsky, did not respond to an interview request, but it stands to reason the reaction to this fall's enrollment numbers was decidedly less celebratory.
So why the major discrepancy at PennWest? Azziz speculated that PASSHE's consolidation efforts have been too half-hearted, its colleges too hesitant to shed their historic identities. He also said years of negative, or at least skeptical, news media coverage and uncontrollable demographic challenges probably contributed, but as far as elements within the system's control, commitment to transformation was the most likely culprit for the divergent enrollment trends.
"Often the consolidation efforts don't result in a true merger: the institutions will still be largely separate, hesitant to shed their own identities. I think that's a little bit of PASSHE's issue," he said.
But Greenstein said it was PennWest, not Commonwealth, that committed more aggressively to its rebranding.
This was an issue of necessity, he explained; PennWest, in more dire financial straits than Commonwealth, was more willing to commit wholeheartedly to any potential solution. Commonwealth, whose largest campus at Bloomsburg was financially stable before consolidation despite precipitous enrollment declines since 2010, is still easing into its new identity.
Commonwealth also has more resources for marketing, scholarships and retention initiatives—all efforts that Hanna credits for bringing in the wave of new students this fall, in addition to the new direct-admissions policy for eligible local high schoolers that Commonwealth adopted in the spring.
Ultimately, both Azziz and Greenstein said the most likely culprit for the enrollment divergence was demographics. Population declines in western Pennsylvania have been more pronounced, and more detrimental to the traditional population that attends four-year colleges, than anywhere else in the state and many parts of the country, according to 2022 census data.
Some institutions in the region have experienced enrollment growth despite those challenges. About 50 miles east of Pittsburgh, Indiana University of Pennsylvania, part of the PASSHE system, saw total enrollment growth of 5 percent from fall 2022 to 2023, and a 16 percent increase in first-time students—its first increase in a decade. But plenty of others were hit even harder by enrollment losses. Enrollment at Pennsylvania State University's campus in the northwest city of Erie fell by 24 percent.
Overcoming those trends, Greenstein said, will be a matter of pivoting to serve nontraditional students. Currently, PASSHE's students are 90 percent traditional age, meaning 18 to 20 years old and shortly out of high school. That traditional-age population is set to shrink significantly in the next 25 years, especially in the western and rural parts of the state; according to data from the Center for Rural Pennsylvania, residents age 65 and older could outnumber those 20 and younger as soon as next year.
"When it comes to making that shift, we gotta boogie," Greenstein said, "because it is coming up on us fast."
Politics and Priorities
Greenstein doesn't actually see the enrollment nosedive at PennWest as a failure; in fact, the new-student head count at the institution is above what the system projected and budgeted for by about 1 percent. For him, the goal at the consolidated institutions is stability, not necessarily growth.
But he acknowledged there are other constituents invested in growing the number of degree earners at all PASSHE campuses, namely the state politicians who have proven time and again to be deeply skeptical of their public universities and eager to slash budgets.
Roger Schonfeld, vice president of organizational strategy at Ithaka S+R, said that at times those political considerations can come into conflict with the sustainability and strategic goals of institutional leaders. That's been the case in Wisconsin, he said, where consolidations in 2018 were the result of fraught negotiations between university leaders and lawmakers—and where another proposed merger, supported by the state GOP, was vetoed this summer by Governor Tony Evers, a Democrat, to the relief of system leaders.
"The fundamental driver of consolidation is usually a mismatch between capacity and demand for higher education … and political constraints are particularly challenging when demand is declining drastically, as is the case in Pennsylvania and Wisconsin," he said. "Lawmakers want more degree earners, but sometimes they're just not there."
Greenstein said one potential way to have the best of both worlds could be to substantially beef up PennWest's credentialing capacity, mostly through short-term online and hybrid degree programs. But setting up the infrastructure for that kind of a shift takes time, and Greenstein said it would be unlikely to produce dividends for at least a few more years if PASSHE officials decide to head in that direction.
Azziz, who oversaw a public merger within the Georgia system that resulted in what is now called Augusta University, said in his experience a short-term dip in enrollment is not a bad sign if it's accompanied by a bump in retention and new commitments to student support—which occurred in Georgia in 2019.
"All mergers today should be primarily about student success, not enrollment growth," Azziz said. "That requires a more long-term view and a comfort with shrinking."
Greenstein seemed perfectly comfortable with that strategy.
"We'll stay the course," he answered without hesitation when asked about his plans for PennWest moving forward.
Schonfeld said that long-term strategy would only be meaningful, however, if supported by state legislatures, which are not known for patience or stability.
"It really depends how much runway system leaders have to see things through," he said. "But these universities are organs of the state. They are rarely left alone for five years to strategize."