You have /5 articles left.
Sign up for a free account or log in.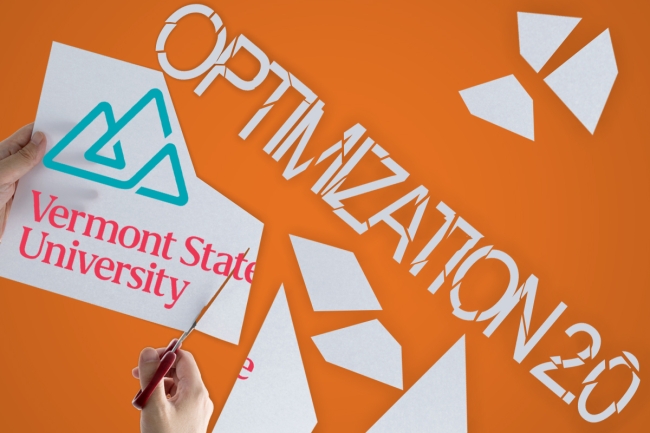 Photo illustration by Justin Morrison/Inside Higher Ed | Getty Images
The Vermont State University System officially launched on July 1, bringing Castleton University, Northern Vermont University and Vermont Technical College together as one public institution spread across three campuses. But mere months later, cuts are already looming at VTSU.
Plans to consolidate the three universities into one have been in the works since late 2020. And when the Board of Trustees for the Vermont State College System signed off in early 2021 on a plan to merge the three campuses, administrators had significant leeway to make changes amid the transition to VTSU.
Leaders initially proposed cutting athletics and removing books from the libraries in a quest to go all digital, before quickly backtracking in the face of staunch opposition. The system's first president, Parwinder Grewal, resigned abruptly in April before Vermont State officially launched as a consolidated entity. Now, under interim leadership—and a few months into life as one institution—cuts are coming to VTSU.
The plan that will soon reshape VTSU is known as Optimization 2.0.
Program and Faculty Cuts
Based on details released last week, VTSU will seek to cut 10 academic programs and up to 33 faculty positions. The administration has also proposed consolidating another 13 degree programs and reconfiguring 11 more, to be spread across the system's three campuses.
Faculty and programs cuts are expected to save the system up to $3.3 million annually, according to figures in a report sent to faculty and staff earlier this month.
Academic programs on the chopping block as part of Optimization 2.0 are: agriculture, applied business, climate change science, computer engineering technology, forestry, landscape contracting, music, performance arts and technology, photography, and school psychology. In a report justifying the cuts, administrators noted that all programs have low enrollment numbers.
The changes—slated to take effect in 2024—are necessary, administrators argue, because the system faces heightened economic pressures due to inflation, increased operating costs and dwindling enrollment—issues that many other U.S. colleges are also struggling with.
"There are two critical and equally important reasons for this work; 1) it's the right thing for our students. Simply put, in too many of our academic programs, we have too few students enrolled … We currently offer 99 programs while our peers offer closer to 50. And 2) it is fiscally unsustainable. We must realize efficiencies now that we are unified," VTSU interim president Mike Smith wrote in the draft proposal sent to faculty and staff earlier this month.
VTSU will hear feedback on the proposal until Oct. 27, with final recommendations coming later this month.
In an interview with Inside Higher Ed, Smith said that Optimization 2.0 is focused on improving "operational management" and setting up the system's campuses for long-term sustainability. And the proposed changes are only the beginning, with other efforts likely to follow sometime in the future.
Smith noted that the plan emerged from a 22-member working group convened in July that included faculty, staff and administrators. The group was tasked with looking for efficiencies at all three campuses, with Smith making the final decision on the proposal.
Enacting cuts after consolidation, Smith said, is part of an ongoing transformation.
"Consolidation is just one part of the transformation process. This is another portion of the transformation. I think transformation will go on for at least one or two more years as we come together, learn how we can work together and learn how we can be more effective and efficient and attract students to our university. I think this is a continuation of transformation," Smith said.
And he has hinted at additional changes in the future—an Optimization 3.0 and even 4.0 to come.
Part of VTSU's overhaul includes faculty buyout options announced Monday. Those who accept the offer will continue to teach through the end of the current academic year and then receive a payment "the equivalent of one-half of their current annual salary," according to a VTSU press release. Faculty members who take buyouts will continue to receive certain benefits, including continued health coverage (for those not eligible for retirement benefits) and family tuition breaks.
Faculty Question Cuts
With cuts looming, some VTSU faculty members want the administration to hit pause and develop a plan that also considers administrative costs across the system.
Linda Olson, a professor at the Castleton campus and co-president of AFT Vermont, the state affiliate of the American Federation of Teachers union, told Inside Higher Ed she had hoped the cuts "wouldn't happen until further down the road," after a more thorough study of VTSU's administrative costs, which she suggested seem high.
She also questioned the data used on overhead costs that helped guide the cuts.
"Faculty were on the 2.0 optimization committee, but it is my understanding that those faculty were handed this metric of 81.3% overhead cost with no real explanation about where that came from. I would have liked to see more faculty involvement in explaining the work they do beyond teaching their majors or doing general education courses," Olson wrote in an email. "I think the metric used is pretty limited and does not include much of the service work we provide."
She expressed dismay that the cuts landed so soon after the consolidation process.
"Faculty have been making so many changes to accommodate the transformation. I would have hoped that they would let the dust settle before making such drastic cuts," Olson said.
She described faculty as "demoralized, frustrated, and angry," noting that in addition to the coming cuts, 47 faculty jobs have been lost to layoffs and attrition since 2015.
But Smith argues that student-to-faculty ratios are too high across the system, currently averaging 13 to one; the report suggests that 18 to one is a more sustainable figure.
However, the acting president does agree with faculty that the institution's administrative costs are too high. He has acknowledged that they need to be reduced without conceding to Olson's suggestion that VTSU should "postpone the cuts for a year until they have had a look at administrative bloat," because "while faculty numbers have dwindled, administrator numbers have grown."
Smith has said he plans to issue a report on cutting administrative costs before the end of the month, when his term as interim president ends and David G. Bergh, a former administrator in the Vermont State Colleges System, steps in as the next interim.
"If we're talking about optimizing our program array, we need to optimize administration as well," Smith said. He declined to elaborate, noting that it is too early to discuss the measures under consideration.
Sectorwide Struggles
VTSU joins numerous other institutions—both public and private—that have enacted deep cuts recently in a sector squeezed by inflation, rising operational costs and nationwide enrollment issues. Foremost on that list is West Virginia University, which made national headlines when officials slashed 143 faculty positions and 28 academic programs amid struggles with enrollment.
But a more drastic fate likely awaits some institutions. Both Fitch Ratings and Moody's Investors Service have predicted that more colleges will close, merge or significantly restructure their operations in the coming years due to enrollment declines and ongoing market pressures. Closures already announced this year include Alderson Broaddus University, Alliance University, Cabrini University, Cardinal Stritch University, Finlandia University, Hodges University, Holy Names University, Iowa Wesleyan University, Medaille University and Presentation College.
In a recent Fitch Ratings enrollment webinar, senior director Emily Wadhwani said the sector will likely see "meaningful shifts around programmatic structure and strategic plans." She added, "We expect to see more scrutiny" of programs with low enrollment or low return on investment for students as higher education institutions navigate a difficult market environment.
With Optimization 2.0 to be finalized at the end of the month, those shifts are just beginning at VTSU.