You have /5 articles left.
Sign up for a free account or log in.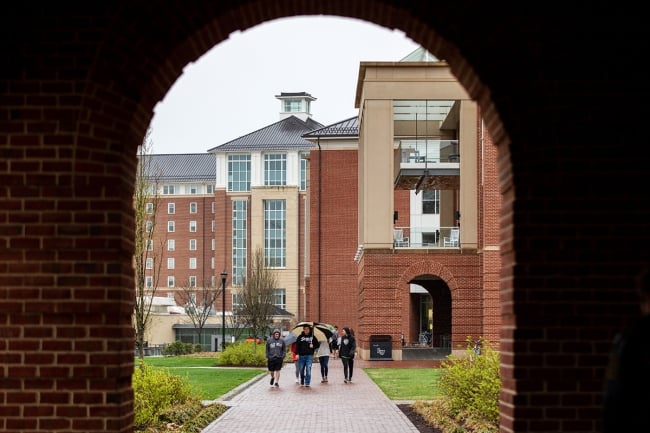 Amanda Andrade-Rhoades/AFP via Getty Images
Liberty University failed to comply with federal campus crime-reporting requirements and for years discouraged victims from reporting crimes, according to the preliminary findings of an Education Department investigation obtained by The Washington Post.
The report has not been made public, and its findings are not final. But according to the Post, it details a litany of offenses that could potentially lead to significant consequences for the private evangelical university in Lynchburg, Va., founded by the late televangelist Jerry Falwell Sr.
Among the key allegations reported by the newspaper:
Victims were discouraged from reporting crimes.
The university systemically underreported complaints about crime.
Liberty did not have adequate resources for investigating complaints.
LU neglected to warn the campus about gas leaks, bomb threats and "people credibly accused" of "sexual violence," including an administrator and an athlete.
The university did not report a stalking incident involving a student athlete. (The athlete, who did not miss any playing time, was arrested in 2021, but a conviction was later overturned).
Liberty retaliated against an unnamed vice president who raised concerns about Clery Act violations by terminating him.
Amid a 2022 Department of Education investigation, Liberty staff members erased the hard drives of senior leaders working in human resources, effectively destroying evidence.
The allegations span multiple years and are part of a Clery Act program review. The report, which the Department of Education did not share with Inside Higher Ed, may be subject to further modification before release.
The Background
The Department of Education initiated an investigation into Liberty in early 2022 after numerous women accused the university of downplaying sexual assault and misconduct complaints. Numerous women alleged that officials weaponized Liberty's strict honor code against them to suppress the reporting of such claims, meting out disciplinary action if the accusers had broken rules related to alcohol consumption (which is barred for students), among other violations.
The first public signs of serious misconduct emerged when multiple Jane Does filed suit in 2021, prompting Liberty to settle last summer with nearly two dozen plaintiffs—both students and employees—for undisclosed amounts. (Similar but separate lawsuits were brought in November 2021 and April 2022.) Many of the plaintiffs alleged that they were threatened with punishment for drinking or engaging in premarital sex (also against LU rules) when reporting sexual assaults, which discouraged them from pursuing legal remedies.
The Jeanne Clery Disclosure of Campus Security and Campus Crime Statistics Act requires colleges that receive federal financial aid, as Liberty does, to inform sexual assault victims that they have the option of reporting such incidents to law enforcement. Colleges must also disclose campus crime statistics and other relevant campus safety information in order to participate in federal financial aid programs.
Liberty's Response
In a statement to Inside Higher Ed Tuesday, a Liberty University spokesperson emphasized that the institution has cooperated with the Department of Education investigation while also suggesting that "significant errors, misstatements, and unsupported conclusions" are contained in the preliminary findings.
"Based on the extensive information and documentation it provided to the Department, Liberty has every expectation that the Department will carefully evaluate the information and documents and correct the errors in the preliminary program review report," the spokesperson wrote.
The spokesperson did not specify any of the alleged errors in the preliminary findings report.
According to details shared by the university, LU received a copy of the investigative report in May and submitted an initial response to the Department of Education on June 30, which included the results of a comprehensive review conducted by an outside law firm. Liberty then provided a "supplemental response" late last month.
Officials admitted in the emailed statement that "Liberty identified historic gaps in compliance," which it acknowledged to the ED. The statement also said that Liberty has made a number of changes to strengthen Clery Act compliance since last October, including "the formation of the Office of Equity and Compliance that encompasses both Title IX and Clery Act compliance; major capital investments in security assets and equipment; along with prevention and awareness trainings and online resources for our University community that promote transparency, accountability, and intervention." Additionally, the university "has provided regular, unsolicited updates to the Department concerning the improvements made to its Title IX and Clery Act programs," the statement said.
The Department of Education did not respond to a request for comment Tuesday.
Reactions
Some in the higher education world found the preliminary report damning.
"This is the most blistering Clery report I have read. Ever," S. Daniel Carter, a campus safety consultant who reviewed the report, told The Washington Post. "I cannot think of a single other comparable case in the entire 32-year history of the Clery Act."
But those in the Liberty orbit seemed unsurprised by the findings.
"The Department of Education's report about @LibertyU finds that LU has consistently violated federal campus safety laws for years. We have repeatedly heard that it will likely involve the largest fine ever imposed by the @usedgov on a university," Save 71, a group composed of alumni and students that has advocated for change at Liberty University, wrote on X.
While the preliminary findings report issued in May—but surfacing only now—lays out the Department of Education's Clery Act compliance concerns, it is not final. The report does not discuss potential penalties, such as fines or monitoring requirements, that the Department of Education may impose. But in conversations with Inside Higher Ed, various sources attached to Liberty have speculated about potentially historic consequences the Department of Education may hand down.
To date, the largest fine for failing to comply with the Clery Act is $4.5 million, a sum leveled against Michigan State University in 2019 after former sports doctor Larry Nassar was convicted of preying upon hundreds of victims under the auspices of medical treatment. The fallout led to the exit of then president Lou Anna K. Simon. Subsequent missteps on various Title IX issues have continued to bedevil Michigan State.
For Liberty, any consequences will likely be unveiled in the final report.