You have /5 articles left.
Sign up for a free account or log in.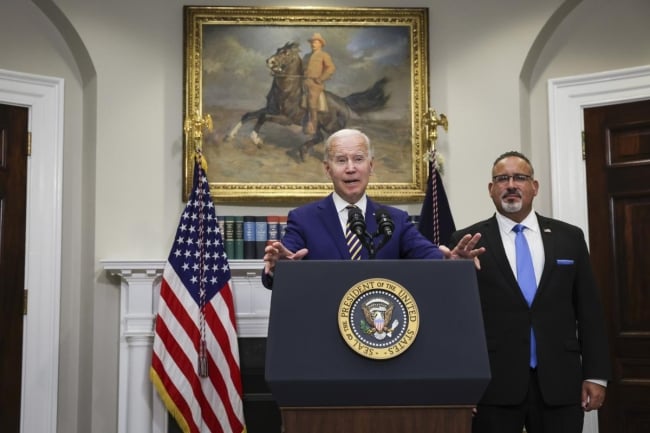 OLIVIER DOULIERY/AFP via Getty Images
As graduate students make up an increasingly larger share of the federal student loan portfolio, the U.S. Education Department is looking to gather more information about the programs receiving federal dollars and how students fare in them—a step that could lead to greater federal and public scrutiny of graduate education.
The department is adding new requirements on graduate and other programs that leave students with debt they can't pay off as part of a new financial value transparency framework and gainful-employment rule released last week. The department and advocates say the new rule will help protect students from programs that leave them with debt they can't afford, or that leave them worse off. Colleges and universities are concerned about unintended consequences and the costs to comply with the new framework.
The department's transparency measures will apply to all programs in all sectors—a shift from previous accountability efforts, which largely focused on for-profit colleges.
Starting in July 2024, institutions will have to report more program-level data—including enrollment figures, total costs and private and institutional borrowing. The Education Department will use that information to calculate whether students can afford their debt payments and whether the investment would be worth their time and money. It will set performance benchmarks for those two metrics to signal to families and students which programs "may have adverse financial consequences to students," according to the final rule.
The department will designate programs that fall below the benchmarks as "high debt burden" and/or "low earning." A program could be considered a "high debt burden" if students' annual loan payments amounted to more than 20 percent of their discretionary income or 8 percent of their annual income three years after completion. For "low earning," the department will compare whether a program's graduates make more than the average earnings of adults in their state who didn't go to college. If the program completers make less than those with a high school degree, the program is considered "low earning."
After that, what the department does will depend on the type of program and whether it's subject to the gainful-employment regulations. For graduate degree and certificate programs that fail the debt-to-earnings test, students will have to sign a form acknowledging they've seen the data before they can enroll. Programs covered by gainful employment—at for-profit colleges and in nondegree programs in any sector—could lose access to federal financial aid if they fail for two consecutive years.
The department will report data on all programs with more than 30 students on a new website that it expects to launch in July 2026. That website will provide more granular program-level data than the College Scorecard and will offer more information about master's, doctoral and professional degrees, which have come under increasing scrutiny. Department officials said in a report released in August that borrowing trends and the outcomes of graduate programs were cause for concern.
"Right now we have very little knowledge in terms of how much graduate programs are actually costing students; the government does not collect that," said Michael Itzkowitz, founder of the HEA Group, a research and consulting agency focused on college access and success. Itzkowitz helped to create the College Scorecard during the Obama administration. "So this will provide actual cost information and will provide a better indicator of whether or not these programs are offering a good bang for students' educational buck."
Diane Cheng, vice president of research and policy at the Institute for Higher Education Policy, a nonpartisan research and policy group that supports the transparency measures, said the website will give students and families more "actionable data" to make decisions.
"College is such a big investment of students' time and money, and so they deserve to know where their investments are likely to pay off," Cheng said. "The information in the new financial value transparency framework would go a long way to providing students that information, which is information they have not had before."
The department had originally planned to do more than make another website. In May, the agency proposed requiring undergraduate degree programs at nonprofit institutions to notify students when they're enrolling in a program considered to have a "high debt burden." However, it backed off that plan following pushback from the higher education industry.
"We believe this change will better target the acknowledgement requirements to programs to which students tend to directly apply," the department wrote in the final rule. "In addition, our empirical analysis shows that high debt-burden programs are relatively rare among undergraduate degree programs outside the proprietary sector."
Several advocates and policy analysts say they understand the department's reasoning but were disappointed in the change.
Rachel Fishman, director of higher education policy at New America, a left-leaning think tank, said that despite the lack of an acknowledgment requirement for undergraduate programs, the rule is still strong.
"As we've dissected the amount of student loan debt that is out there, I think people have become increasingly aware of the amount of originated loans that are going towards graduate programs with very little oversight," Fishman said.
Some people worried in public comments to the department that publicizing the financial value metrics could deter students from graduate education.
"The department aims to provide students with accurate information to help inform their choices," officials wrote in response. "We acknowledge that some students might decide that not attending school might be the best option after obtaining the information."
Shining a Light on Outcomes
About 490 graduate programs would currently fail at least one of the two new tests—mostly falling short on debt-to-earnings—according to an analysis of department data released earlier this year. The failing programs are concentrated at private, not-for-profit universities and are mostly master's degrees. Nearly half of the programs that would fail are in the health professions, while 71 are in psychology. Another 62 are in the visual and performing arts.
"Few graduate programs have median earnings below the typical high school student, but many programs have very high debt levels due to the lack of loan limits," department officials wrote in the final rule. "This can make debt unaffordable even on a middle-class salary."
The department noted that rates of not passing at least one of the metrics are particularly high for professional programs in law, theology and health.
Graduate programs that fail the performance benchmarks received about $4 billion in federal student loans in the past academic year. They account for 63 percent of the student loans and Pell Grants spent over all at failing programs not subject to the gainful-employment rules. (About $4.4 billion in federal student loans and Pell Grants went to gainful-covered programs.) Graduate students can borrow up to the cost of attendance for their program, while undergraduate student loans are capped.
Department officials said that the broader transparency framework "will dramatically enhance the quality of information available to all students so that they may better assess the financial consequences of their education choices."
Tia Caldwell, a policy analyst with New America, agreed. "Just making a website that shows students and schools, everybody, the likely return on investment is a big deal just for fairness and making sure the higher education market functions properly," she said.
Itzkowitz, with the HEA Group, said the department's acknowledgment-form requirement will provide new information and "do a better job of actually putting it in students' hands, rather than leaving it on a website, where folks would have to proactively seek it out."
The College Scorecarad historically has not included as much information on graduate degree and certificate programs as it has on undergraduate programs, so the planned financial value website is a step forward, Itzkowitz said. But "Anytime you shine light on outcomes, it will come with extra scrutiny," he noted.
In a recent report, Itzkowitz found that in nearly one-third of graduate programs, students in a two-year cohort collectively owed more than they borrowed five years after entering repayment.
"So that says that their interest is accumulating and they're not able to make payments large enough to catch up with even their loan principal," he said. "This is going to provide a more nuanced view, and I think that's worth exploring, because right now, there's very little accountability around graduate programs themselves. This is one step in that direction to ensure better outcomes for students and taxpayers that help subsidize those programs."
Amy Scott, associate vice president for government relations and public policy at the Council for Graduate Schools, said the association wants to see more information about how the regulations will be implemented.
"While CGS appreciates the importance of providing relevant information to current and prospective graduate students about the cost of graduate degree programs," Scott said in a statement to Inside Higher Ed, "CGS remains concerned about the reporting requirements in the Financial Value Transparency (FVT) framework."
Barbara Mistick, president of the National Association of Independent Colleges and Universities, said exempting undergraduate programs from the acknowledgment requirement addresses concerns from institutions that worried that it could have become another barrier to the enrollment of low-income students.
Mistick noted that department's data shows that student loan debt among undergraduate students at private nonprofits "is not as big of an issue," while the data on graduate programs "is suggesting a little more caution."
Mistick said the transparency rules would likely deter some potential graduate students—at least for a while.
"This might encourage students to take a pause or a break or do some kind of work experience in between the undergraduate and the graduate experience," she said. "So I think the potential exists for people to enter some of the graduate programs a little later in their career than directly from the undergraduate experience."