You have /5 articles left.
Sign up for a free account or log in.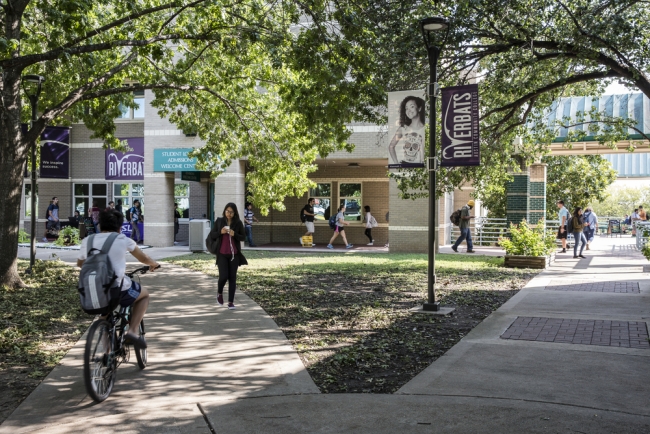 Austin Community College District
Texas is on the brink of instituting a new funding model for community colleges that would base most state funding on student outcomes. State lawmakers sent the bipartisan legislation, House Bill 8, to Governor Greg Abbott's desk last week, where it awaits his signature. Advocates of the new model expect him to approve it in the coming weeks.
Under the current model, most state funding allocated to Texas community colleges is based on the number of credit hours students take, a metric highly dependent on enrollment. Roughly 10 percent is based on student success metrics, including the number of students who earn a degree or certificate or successfully transfer to universities. Colleges also receive slightly over $1.3 million in general revenue funds every two years.
The new model awards most state funds based on student outcomes such as credentials earned in high-demand fields, transfer rates to universities and the number of high school students who earn at least 15 credits in dual-enrollment programs. More funding will also be directed to colleges based on their enrollment of certain student groups, including adult learners and "economically disadvantaged" and "academically disadvantaged" students. Colleges are measured against their own progress on student success metrics, rather than competing with each other for a fixed pool of funds.
Institutions with less funding support from local property taxes also will receive a base amount for operating and instruction costs. Community college advocates say this model offers some financial protection to smaller and rural institutions. The legislation also would establish the Financial Aid for Swift Transfer program to provide free dual-enrollment courses to low-income high school students.
If the governor signs the bill into law, the 2024–25 budget recently approved by the state Legislature would give the state's 50 community college districts more than $2.2 billion in formula funding over two years, compared to about $1.8 billion under the old formula, The Texas Tribune reported. The state's need-based financial aid program is also expected to expand significantly at the same time.
"The new funding model will be a game changer in elevating the capacity of community colleges to build a talent-strong workforce throughout the state," Tarrant County College chancellor Elva LeBlanc said in a press release in April. "More than ever, community colleges have the opportunity to be a vital partner with the communities we serve as an engine for economic development and a pathway for all to high-demand and high-wage careers."
The funding structure has enjoyed overwhelming support from state lawmakers on both sides of the political aisle and among community college presidents eager to see an expected boost in state funding and reduced financial barriers for students.
The impending shifts "will help tremendously to make sure that any student that wants to get on a path towards a credential of value … that we will have the means available, the funds available to be able to make that an affordable pathway for any student that wants it," said Ray Martinez, president and CEO of the Texas Association of Community Colleges. "It's a big deal."
He noted that the leaders of all the community colleges in the state were in favor of the shift.
Renzo Soto, a policy adviser focused on higher education and the workforce at Texas 2036, a state public policy think tank, said such widespread support from campus leaders and state policy makers is rare.
"It's probably one of the biggest pieces of education reform … passed in Texas that had near unanimous consent among all the stakeholders," he said.
The legislation was born out of recommendations made in a report last year by the Texas Commission on Community College Finance, a group of state lawmakers, community college officials, industry leaders and policy experts. The state House of Representatives recently agreed to amendments to the bill by the Senate, which incorporated some provisions from other higher ed bills. Those additions include plans to smooth transfer pathways and to better inform prospective students about the employment outcomes of graduates of specific college programs.
State allocations to Texas community colleges made up just 26 percent of their funding in 2020, down from 68 percent in 1980, according to a report from the Education Trust, a research and advocacy organization focused on closing equity gaps in education. That dynamic makes community colleges more financially reliant on tuition dollars and local property taxes, which vary widely across the state, under the current funding model.
The new model "resolves some of those underlying structural flaws that maybe were causing especially small and rural colleges to really struggle to have some of that baseline funding they need for instruction and operations," said Jonathan Feinstein, Texas state director for the Education Trust. "We will now have a dynamic funding system that really does grow potentially and adapt to the outcomes that matter to students, that matter to employers over time, rather than what we had in the past, which was kind of that fixed pie set by appropriators that was then divided up increasingly into smaller pieces."
Soto said one of the driving forces behind creating a commission on community college finance in the first place was steep enrollment declines among Texas community colleges. Student head count at the colleges was about 642,000 students in fall 2022, down from about 700,000 prior to the pandemic.
"There's still some recovery to be done, but that's a big reason as to the shift to outcomes-based funding," he said. "Even though you have a shrinking population of students, if you can graduate or transfer or just make sure more of them are completing over all, you're still making sure you get a return on your investment from the state side."
He added that the new funding model not only encourages colleges to increase students' degree attainment but counts how many students are earning other credentials as well, which makes it distinct from some performance-based funding models in other states.
"When we're talking about credentials and students graduating, it's not just your traditional associate degrees, a handful of bachelor's degrees and a certain type of certificate," Soto said. "We're talking about all kinds of credentials of value … That includes things like workforce credentials, like licenses, courses that lead to licenses. Things like plumbing licenses or electricians' licenses, those will be incentivized as well."
The new funding system would go into effect on Sept. 1 if approved. The legislation tasks the Texas Higher Education Coordinating Board with determining what credentials count and exactly how much individual colleges get in base funding and performance-based funding, among other details. The state agency will be guided by an advisory committee made up of community college representatives.
Martinez said hashing out how to implement new the model is going to take hard work over the next several months.
"So much of this now has to go through a rule-making process," he said. "It's a time-consuming and very detail-oriented process. Vacation plans were thrown out the window once we saw that this bill was going to become law, because there's so much work that goes into implementation."
Feinstein, of the Ed Trust, said he expects the first couple years of the new model to be a learning period, and state lawmakers may have to make tweaks to it in the next legislative session, "having learned and implemented and figured out how we can improve the policy even further."
But he believes the new funding model has the potential to have lasting, positive effects on Texas community colleges and their students.
"My hope is it enhances the experience of students while they're enrolled and that ultimately students complete and end up better positioned as a result of their postsecondary education to have the economic mobility they want for themselves and their families," he said. "I know that's lofty, but I think that's what has motivated and animated the colleges, advocates and lawmakers themselves to take this kind of bold and kind of transformative approach to how we fund community colleges."