You have /5 articles left.
Sign up for a free account or log in.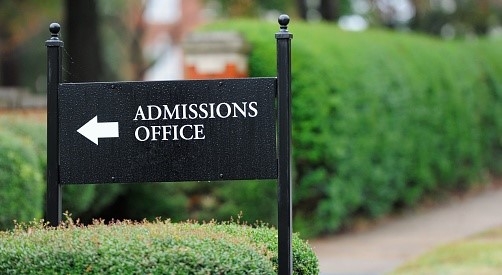 Last week, many top colleges and universities were celebrating their successes in admissions during the pandemic. The Washington Post noted that Harvard University saw applications rise by 42 percent, while the University of Virginia was up 15 percent. The Post credited the fact that many of these colleges were -- for the first time -- test optional this year, meaning students didn't need to submit SAT or ACT scores. The headline: "Applications Surge After Big-Name Colleges Halt SAT and ACT Testing Rules."
In the West, the headline in the Los Angeles Times was "UC's Record-Smashing Applications Put Long-Held Diversity Goals Within Reach." The story detailed the University of California's systemwide increase of 16 percent in applications. But it noted the Black applicants increased by 48 percent at both Berkeley and UCLA. Latinx applicants increased by 33 percent at UCLA and 36 percent at Berkeley. The University of California is test blind this year, meaning that it won't look at test scores in admissions.
Both articles are entirely accurate about what is happening in the top sector of admissions. But both give minimal mention to other realities this year.
Many colleges outside the top ones -- public and private alike -- are not having a good year in admissions. This appears to be especially the case in the Northeast, Mid-Atlantic and Midwest.
Jim Malatras, the chancellor of State University of New York system, wrote a column published in Empire Report in which he said that the SUNY system had seen an application decline this year of "20 percent, one of the largest annual decreases in the system's 73-year history."
And SUNY itself demonstrates the difficulty of coming up with trends this year. Its campus at Binghamton is up 2 percent in applications. Generally, SUNY's university center campuses (at Albany, Binghamton, Buffalo and Stony Brook) operate in a different world from the rest of the system.
What's going on this year?
Application increases at top colleges will not (by themselves) translate into more access to higher education. Most of these colleges are not growing. Plus, the increase in high school graduates this year is expected to be less than 1 percent. The increases in minority applications to Berkeley and UCLA may well result in more of those students getting in, but others will be rejected. But even a seemingly significant change in minority enrollments at these universities won't move the needle much nationally.
Yield will be very difficult for colleges to predict. With applications way up -- Colgate had a 102 percent increase in applications -- the formulas used by many colleges will not be something they can rely on. Some colleges plan to make more use of waiting lists.
Deadlines -- outside of top colleges -- are flexible. Some colleges are open about this, and others are not. But the reality is that for colleges that are seeking students, they are open to talking, even if they had a Jan. 15 deadline (and in all likelihood the Jan. 15 deadlines have vanished for most colleges).
Many colleges (outside the top ones) aren't talking about their admissions year in public. But some are.
What are they saying? It's not desperation. But rather a spirit of looking for positive news amid the chaos.
Jeffrey D. Gant, vice president for enrollment management at SUNY New Paltz, points to a 4.1 percent increase in admitted students and a 5 percent increase in deposits compared to last year. But over all, applications are down 14 percent.
Gant said via email that the decrease was "a function of the many financial, social, health and educational challenges that amount to the hefty toll the pandemic has taken on all students."
"The fact that we're experiencing this increase in admitted students is a testament to our ability to find right-fit students who connect with the mission and culture of SUNY New Paltz," he said.
The university has "worked tirelessly to get acceptance letters in the hands of qualified students as quickly as possible this year," he said. "These students are weighing their options under the difficult circumstances of the pandemic, and we want to be a partner to them in that decision-making process."
He added, "Like many institutions across the nation, we pivoted early to facilitate online and virtual recruitment opportunities for students and families. We have also offered space-limited and socially distanced in-person tours, which follow SUNY and the college's strict COVID-19 safety protocols. We've heard from students and families that they are grateful to be able to experience our campus in-person at a time when so many other institutions have declined or are unable to offer such an option."
At SUNY Oneonta, Kim MacLeod, a spokeswoman, said that application numbers are "in line with what our sister SUNY campuses are experiencing. We anticipate a long cycle of application review moving into the spring."
MacLeod said the campus was engaged in a series of activities:
A "renewed focus" on personalized engagement with potential students.
More communication with high school counselors.
Expanding lead-generation activities.
"Reviewing and revising all communication content recognizing the impact of COVID-19 on the college search and selection process."
Increasing communication with parents.
Developing "meaningful activities and actions throughout the melt process" (from deposit to the first day of class).
The City University of New York said no data were available until the close of applications (today).
The adjustments aren't unique to New York State, or to public colleges -- Loyola University Maryland was down 18 percent on early action (nonbinding) applications.
Eric Nichols, vice president for enrollment management, said the university had responded with a bunch of changes, so that now the college is down 10 percent in total applications.
The university extended its deadline for regular decision from Jan. 15 to today.
"Then we looked back at the composition of our applicant pools the last few years to see where this pool was lagging the most," Nichols said. "For us our application deficiencies this year were concentrated largely in sections of Pennsylvania and New Jersey. Our immediate backyard of Maryland was actually doing quite well."
So, Nichols said, "we put together a plan to target inquiries in these geographic areas that historically tended to convert to applicants. We focused on three things: waiving the application fee, providing a faster notification timeline and putting in front of them their likely range of grant aid they could expect if they were admitted. I think seeing this information up front has prompted some that were on the fence to submit their application."
Harrisburg University of Science and Technology was founded in 2001. Laurie K. Barrow, director of undergraduate admissions, said, "As a young university, Harrisburg University has thrived on grassroots efforts, such as in-person high school visits, to educate guidance counselors, teachers and students about our exciting and affordable STEM bachelor's degree programs."
She continued, "Our ability to capitalize on our boots-on-the-ground efforts has definitely affected the number of applications we have seen since COVID sent us all home last March. However, we have found that our yield is up, and that is great. We have more time for phone calls and texts; we are engaging students earlier in the process and getting them excited, even in the midst of this pandemic. For example, we instituted a new initiative called the 'Preferred Admissions Crew' at HU, which offers some fun perks and activities to students who chose to commit to HU early in the year."
Also in Pennsylvania, Temple University had an increase of 12 percent in early action and, with a deadline this week, is projecting a 3-4 percent increase in regular-decision applications.
The Pennsylvania State System of Higher Education, meanwhile, is expecting a decline of 4 percent.
There are exceptions to the rule on colleges that aren't famous doing well. Western Illinois University this year is seeing applications increase by 24 percent. Eastern Michigan University received 12 percent more applications and has thus far admitted 23 percent more students. Cornell College, in Iowa, is seeing a 6 percent increase in applications.
New Data From Common App
The Common Application is the most widely used college application out there -- with more than 900 institutions participating. No longer just used by liberal arts colleges, its members include many public institutions serving a variety of students.
Newly released data about the Common App show that what has been reported anecdotally in admissions is actually occurring in large numbers. The larger and more competitive colleges and universities are having a good year and getting lots of applications. But smaller and less competitive colleges are not. And first-generation students and those who lack the money to pay for an application are not applying at the same rates they used to.
These data are from after the Jan. 1 and Jan. 15 application deadlines of some colleges. This year especially, that is hardly the end of the admissions cycle. But the Common App administrators said that "alarm bells" were needed for low-income students.
As of last Friday, overall applications were up by 10 percent, reaching 5,583,753, according to the study. There were 989,063 unique applicants who submitted at least one application, an increase of 1 percent over last year. (While the Common App grows by a few dozen colleges a year, the study only counts applicants to colleges that were in the Common App last year and this year.)
But despite those increases, "the numbers of first-generation applicants and fee-waiver recipients each declined (by three and two percentage points, respectively)," said a letter to Common App members from Jenny Rickard, president and CEO of the Common App.
"We continue to be very concerned about the decline among fee waiver and first-generation applicants. Persistent trends of decline among these key subgroups across the 2020-21 cycle signal a need for additional support in the months leading up to enrollment in fall 2021," Rickard added.
The gaps between low-income and all students were larger in the fall. But many low-income students apply to college late in the year.
She also outlined other changes she saw in the data:
"Applications to the largest returning members (>20K students enrolled) swelled by 16 percent, while volume for the smallest members (<1K enrollment) fell 4 percent from 2019-20."
"Finally, more selective member institutions (<50 percent admit rate) generally saw larger increases in application volume than did less selective institutions."
"Applicants are also applying to more colleges this year. With a 9 percent increase in the application per applicant ratio on top of all of the other changes in the external environment and admissions process, it is an understatement to say that yield models will be more challenged than ever this year."
Colleges in the Southwestern part of the country are seeing the most growth (21.3 percent). Colleges in the Mid-Atlantic are seeing the least growth (6.1 percent).
International applications "surged," except not from China. "While applicants from China declined by 18 percent, other countries exhibited noteworthy growth, including India (+28 percent); Canada (+22 percent); Pakistan (+37 percent); the United Kingdom (+23 percent); and Brazil (+41 percent)." (It should be noted that China last year sent by far the most students to study in the United States.)
Reacting to the Data
Angel B. Pérez, CEO of the National Association for College Admission Counseling, said that the gaps for low-income students would have been larger had NACAC members and Common App members not been speaking out about it. "While the data shows we still have a gap to close, the gap would've been much wider if the deliberate campaigns launched across the nation weren't launched. We should not let their efforts go unnoticed."
He said he wasn't surprised by the China numbers.
"As a nation, we have a lot of work to do to repair the damage caused by the previous administration, whose anti-immigration policies, tense relations with China and hurdles created for international students have a deep impact on higher education," Pérez said.
Robert J. Massa, principal and co-founder of Enrollment Intelligence Now, said via email that the regional differences provide a window into what will be the stark reality in the second half of this decade.
"The Northeast and the Midwest will be hit particularly hard as the number of high school graduates decreases," he said. "A 6.1 percent increase in applications to schools in the Mid-Atlantic states vs. a 21.3 [percent] increase to schools in the Southwest forecasts the story of what lies ahead in five years. Of course, institutions in the Southwest tend to be larger than those in the Mid-Atlantic, and larger schools are faring better in attracting more applicants this year. Nevertheless, the disparity in the year-over-year numbers between these two regions is something that college enrollment leaders in the Northeast will need to address sooner rather than later."
He also said he was not surprised by the other statistics released. "Students are hedging their bets by applying to more colleges as a result of COVID-induced uncertainties and the unknowns surrounding how and if test scores are being considered," he said. "Families are also increasingly concerned about costs and value, so applying to more colleges gives them potentially more choices or more chances of being admitted to an institution they can afford."
And Massa said the data are "troubling but again not surprising that first-generation and lower-income applicants are declining in number."
He explained, "This is the group that has been disproportionately impacted by COVID and its financial impact. I would expect that the number of low-income male applicants is down more than the females, as national data would also suggest. Institutions have a special obligation to reach out to these prospective students to encourage then to apply and to enroll. Our national workforce needs and our economy really [depends] on an educated citizenry."