You have /5 articles left.
Sign up for a free account or log in.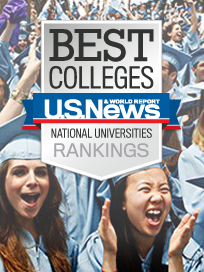 The U.S. News & World Report rankings for 2023 were released today, and the top colleges are not a surprise. As in past years, Inside Higher Ed doesn't report on the results of the rankings because of widespread concerns about the validity of ordinally ranking colleges by a single number and a sense that rankings favor wealthier institutions. (For those who are interested in the rankings themselves, we invite you to visit the magazine's listings.)
But the rankings are, whatever one thinks of their accuracy, influential. So Inside Higher Ed views it as important to cover changes in the methodology, which we do in the story that follows, as well as incidents of colleges cheating on the rankings. On Friday, Columbia University became the highest-ranked university to admit that it is in that category.
A Change on Testing
The big change in the methodology is that U.S. News will no longer punish colleges where most students don't submit SAT or ACT scores. The magazine likes colleges to have test scores, because they are a common criterion that is easy to compare. But with the pandemic, most colleges went test optional (or test blind, in which test scores are not even viewed).
Last year, U.S. News changed its policy on testing in two ways:
"A change for the 2022 edition—if the combined percentage of the fall 2020 entering class submitting test scores was less than 50 percent of all new entrants, its combined SAT/ACT percentile distribution value used in the rankings was discounted by 15 percent. In previous editions, the threshold was 75 percent of new entrants. The change was made to reflect the growth of test-optional policies through the 2019 calendar year and the fact that the coronavirus impacted the fall 2020 admission process at many schools."
And for test-blind colleges (a group that includes the University of California's campuses), the magazine said, "U.S. News again ranks 'test blind' schools, for which data on SAT and ACT scores were not available, by assigning them a rankings value equal to the lowest test score in their rankings. These schools differ from ones with test-optional or test-flexible admissions for which SAT and ACT scores were available and were always rank eligible."
The changes did not result in major changes in who is at the top of the rankings. Generally, the most competitive colleges in admissions had fewer students not submitting scores.
This year, U.S. News announced another change.
The magazine explained, "In previous editions, SAT/ACT scores were, in effect, reduced if too few students submitted scores. For this edition, U.S. News discontinued this practice. For schools that reported SAT/ACT scores for less than 50 percent of new entrants in consecutive years, U.S. News did not use those scores to calculate the school's rank. Instead, U.S. News increased the weights of two other ranking factors: high school class standing and average graduation rate. This change was made due to the pandemic's effects on testing in 2020, when the supply and demand for taking the SAT/ACT plummeted, particularly among students from low-income backgrounds." (Most colleges that went test optional remain test optional.)
At colleges on the top of the list, generally, a majority of students submitted scores. But for those on the bottom of the list, this is generally not true.
Critics of the use of the SAT and ACT in the rankings said they were pleased by the latest change, but they continued to criticize the rankings.
"U.S. News was forced to revise its formula to recognize that ACT/SAT-optional and test-blind/score-free policies have become the new normal in higher education admissions," said Robert Schaeffer, public education director of FairTest: the National Center for Fair and Open Testing, via email. "The latest update, however, does not make the publication's rankings more accurate or reliable—they remain a garbage in, garbage out exercise in which factor weights are driven by marketing concerns, not a meaningful assessment of an institution's potential value to applicants. Students, parents, counselors, college leaders, and the news media should ignore this and other examples of the rankings parlor game."
Stephen Burd, of the left-leaning research organization New America, said, "This looks like slight improvement but further example of contortions U.S. News makes to keep using SAT scores as a metric to judge colleges, which has led to a hazardous merit aid arms race for top scorers from affluent families."
Columbia University
Every summer in recent years, U.S. News has unranked colleges for errors in the material they provided for rankings. However, the punishment of the colleges only lasts until the next ranking list is released, which is in the fall. This year, U.S. News took action against Northland College, the State University of New York at Morrisville, Western Illinois University and other colleges.
In July, Columbia University announced that it was skipping the U.S. News rankings this year. The reason was that Michael Thaddeus, a professor of mathematics at Columbia, had found a number of problems with Columbia's numbers as it rose to second place in the rankings.
He outlines what he considers problems with the data here.
On Friday, Columbia provost Mary Boyce announced that the university agreed with parts of the professor's critique. "On two of the metrics questioned by our faculty member, class size and faculty with terminal degrees, we determined we had previously relied on outdated and/or incorrect methodologies," she wrote.
On class size, she said, "While many of Columbia's undergraduate classes have long had under 20 students, the prior methodologies used resulted in overreporting the number of classes with under 20 students and underreporting of classes with between 20 and 29 students."
She blamed the difference on faculty with terminal degrees on the Common Data Set's definitions of terminal degrees. She said that "in certain disciplines" they "are different from Columbia's requirements, resulting in some overreporting." She stressed that the overwhelming majority of Columbia's professors do have terminal degrees. "We have revised our methodologies to strictly conform to the Common Data Set definitions which show that 95.3 percent of our full-time faculty have terminal degrees."
Boyce added, "The Columbia undergraduate experience is and always has been centered around small classes taught by highly accomplished faculty. That fact is unchanged. But anything less than complete accuracy in the data that we report—regardless of the size or the reason—is inconsistent with the standards of excellence to which Columbia holds itself. We deeply regret the deficiencies in our prior reporting and are committed to doing better."
Other prestigious colleges that have admitted to submitting incorrect data to U.S. News include Emory University (in 2012), Claremont McKenna College (the same year) and Tulane University (in 2013).