You have /5 articles left.
Sign up for a free account or log in.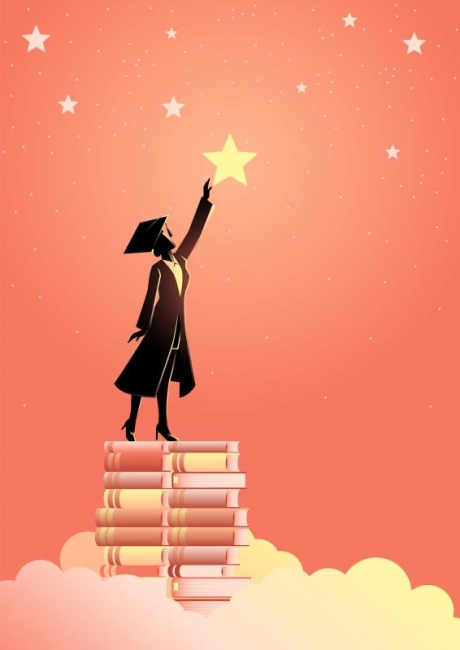 Rudall30/istock/getty images plus
So, you got accepted to a Ph.D. program. Congratulations!
I wish you the best experience ever. And to help you have it, here are five suggestions for those of you who are about to embark on this adventure or are in your first few years of a Ph.D. program. My recommendations focus on what I wish I had known back when I was a graduate student myself.
No. 1: Strive for a variety of experiences. Early in your Ph.D. studies, you may discover an activity that you are really passionate about and be tempted to focus much of your time and energy on it. But later, as you are job hunting, you'll find that landing a new position is usually a matter of checking the most boxes on a list of the potential employer's requirements. And the more of those requirements and preferred qualifications/expertise you happen to have, the better. Therefore, rather than concentrate all your efforts in one area, you should use your grad school years to explore different interests and expand your knowledge and skills.
For example, can you work as a research assistant for a semester? Or a teaching assistant? Can you get experience in curriculum building for undergraduate courses? Or can you teach for the study abroad program? Can you learn some administrative work or help with co-curricular activities in your department? Try out various activities in multiple areas -- research, teaching, service, administrative work and so on -- that are available in your program. You do not have to love them all, but they will make your profile more flexible and diversified, thus allowing you to become competitive for a wider array of jobs later on.
In my case, I had the opportunity to participate as teaching faculty in the study abroad program. That experience in creating my own syllabi, assessment and course structure proved an invaluable asset in distinguishing my profile from other fresh-from-their-doctorate applicants.
No. 2: Take full advantage of the opportunities your university offers beyond your department. Along the same lines, be sure to look for opportunities outside your department. Once you are familiar with what it offers (or doesn't offer), take the time to explore new venues within, say, your college and even the university at large. From travel grants for presenting at conferences to dissertation-writing fellowships, from grant-writing workshops to career advice, other units at your institution may offer precious funding and/or career-launching resources that are simply not available in your department.
If your dissertation or research interests are cross-disciplinary, be sure to seek opportunities in all the areas related to your studies. Even small fellowships that provide funds for conference travel can make the difference, if you can accumulate them. Small grants can also help pave your way toward bigger ones, since you can list them on your CV in the section "previously won grants/fellowships," which proves that your research has already been deemed worthy of funding.
For instance, I applied to and won grants for graduate research and conference travel within the college of arts and sciences. I used those grants to fill the dedicated section of my application for a more consistent scholarship, the yearlong Dissertation Completion Fellowship, that I later won. Never underestimate the career-boosting value of grants/fellowships, no matter how small.
No. 3: Take an active role in your academic community. Doing so is a sign of leadership and enables you to connect with your immediate colleagues, possibly creating a useful network of contacts. Are you a first-generation college student? Or a foreign one? Or part of a minority? Is an interest group that addresses your situation missing at the university? Then create one!
Start small with a workshop or online blog -- reach out to fellow grads in other departments, and see where it goes from there. And even if it goes nowhere, at least you will have made new connections. You'll also probably have gathered prime material for your diversity and inclusion statement, a document that is increasingly becoming mandatory when applying for academic jobs.
No. 4: Find a support friend or group of friends. Do not underestimate this point. It may seem trivial or cheesy, but it has actually saved more than one Ph.D. student. Make sure you find at least one or two supportive friends -- and the more the better. Sometimes, in those five-plus years of pursuing your doctorate, it is easy to lose sight of your goals and motivation. Periods in which you ask yourself, "What am I doing with my life?" "Is a Ph.D. really worth it?" "Why am I subjecting myself to all of this?" will be more common than you think. You will experience ups and downs.
You will need a supportive friend in those down moments to remind you of your strengths, drive and all-around awesomeness. I call them the 3 a.m. Emergency Call Friend, who you know will be there for you when you need it, as you will be for them. They don't have to be in your program or even the same field (mine were not), but preferably they should be someone who understands the stress and toll that a doctorate exacts. Nothing is as effective as having an understanding friend to get you out of your head and put things into perspective.
No. 5: Compare your progress only to your past self's situation. Easy to say, difficult to apply, I know. But people come to a Ph.D. program from different paths in life. If you are a first-generation college student who began a doctorate after working outside academe, you cannot compare yourself to colleagues who are children of university professors and have been groomed throughout their life for this career. You and your colleagues don't share the same backgrounds. Their class/socioeconomic status, skills, knacks, identity, life experiences and so on are all different than yours. No comparison is possible.
Your own profile as an academic is the only one you can change and shape to your liking. Your own progress is the only thing that is in your control. Did the quality of your work this year improve at any level or in any area compared to the previous year? If so, then great job! Celebrate your achievement and let yourself off the hook.
As you incorporate these suggestions into your own Ph.D. studies, I hope they maximize the value of your experience and help you enjoy the journey -- not just the destination. Good luck!