You have /5 articles left.
Sign up for a free account or log in.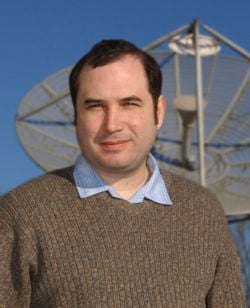 Ball State University's hiring of a high-profile supporter of intelligent design just weeks after it launched an investigation into another professor accused of teaching creationism has left First Amendment watchdogs scratching their heads. The university was within its rights in hiring Guillermo Gonzalez, but his lectures and writings will be subject to scrutiny throughout his probationary period, lest unscientific views be presented as fact in science courses, those watchdogs say.
At the same time, Gonzalez's supporters say he's a distinguished scholar who was denied tenure by Iowa State University in 2007 due to political pressures, and that they'll be watching to see he gets a fair shot this time around.
While supporters of intelligent design like to describe it as a credible theory, most scientists disagree. "Intelligent design has been discredited by science," said Jerry Coyne, a professor of evolution and ecology at the University of Chicago who writes about evolution and creationism in education on his blog, Why Evolution is True. "But if [Gonzalez] wants to talk about it in his writing and speeches, he has a right to do that. But he can't pass that stuff off in a university classroom. He doesn't have the right to get tenure working in discredited science."
The news of Gonzalez's hiring comes on the heels of news that Ball State is investigating Eric Hedin, a professor of physics and astronomy, for possibly proselytizing during a course called "The Boundaries of Science." Critics, including Coyne, have charged that the course is teaching more about Christianity than science, despite being offered as a science course. The investigation is ongoing.
Andrew L. Seidel, attorney for the Freedom from Religion Foundation, whose letter to Ball State moved them to investigate Hedin, called the decision to hire Gonzalez "troubling."
"Ball State already has a serious issue with creationism being taught as science by an astronomy professor, Hedin," Seidel said. "Now they've hired another astronomy professor and creationist to teach science at their university, Gonzalez. This disturbing pattern could be serious blow to the science curriculum at Ball State. Their reputation and ability to attract outstanding professors may suffer."  
Seidel said Ball State's hiring would lead to "extra work for the administration to ensure that proper legal, ethical, and educational boundaries are followed by Gonzalez."
In an e-mailed statement, Gonzalez said he was "very happy" to be working at Ball State, and that he had assured faculty and administrators there in interviews that he would not teach intelligent design – just as he hadn't at Iowa State. That institution denied him tenure, he added, "not because of poor academics on my parts, but for ideological and political reasons."
Gonzalez and his supporters say he was rejected there in part due to his 2004 book, The Privileged Planet: How Our Place in the Cosmos is Designed for Discovery, which argues that there's evidence in the Earth's design that it is unique within the universe. "For some reason our Earthly location is extraordinarily well suited to allow us to peer into the heavens and discover its secrets," reads its synopsis. That's contrary to the widely accepted science on the Earth's location.
Moreover, Gonzalez called the controversy surrounding his hire "artificial," and "largely generated by one activist blogger who is not an astronomer" – presumably Coyne.
Iowa State has said that Gonzalez's tenure denial, and the vote to uphold that denial following his appeal, was based on his academic record. Gregory Geoffrey, then president, said in a statement at the time that details of personnel decisions are private, but that he had based his ultimate decision about Gonzalez's appeal on such factors as his publication record, his ability to attract grants and the number of graduate students he observed. (The Des Moines Register reported that its analysis of Gonzalez's record found that he obtained but a fraction of the average grant totals his departmental colleagues earned.) But Gonzalez and his supporters – including those at the Discovery Institute, a think tank that supports intelligent design, where Gonzalez is a senior fellow – point to a 2005 statement against intelligent design signed by 130 Iowa State faculty as evidence of the political environment that contributed to his denial.
"Guillermo Gonzalez has 75 peer-reviewed publications and he is the co-author of a major textbook in observational astronomy published by Cambridge University Press," said John West, vice president of the Discovery Institute. "I'm glad that the hiring committee at Ball State was apparently fair-minded enough to consider him based on his qualifications, not on pressure tactics engaged in by Darwinian activists."
A co-author of the Iowa State faculty statement, Hector Avalos, professor of religious studies and atheist advocate, said the petition made no mention of Gonzalez, who was one of two intelligent design proponents working at Iowa State in 2005. "Our statement simply wanted to ensure that citizens were aware that Iowa State University faculty did not think intelligent design was a scientific endeavor because the [pro-intelligent design] forces were using the name of [the university]to sell it other states," including to introduce intelligent design-based textbooks in Texas, he said.
A spokesman at the National Academy of Sciences referred questions about Hedin, Gonzalez and intelligent design in education to its 2008 report on Science, Evolution and Creationism. The report classifies intelligent design as another form of creationism, which should not be taught in science classrooms for lack of scientific evidence.
"Critical thinking has to be based on the rules of science and evidence," it reads. "Discussion of critical thinking or controversies does not mean giving equal weight to ideas that lack essential supporting evidence. The ideas offered by scientific design creationists are not the product of scientific reasoning. Discussing these ideas in science class would not be appropriate given their lack of scientific support."
The issue has been addressed in high-level courts in relation to K-12 education, including Kitzmiller v. Dover Area School District, which found that intelligent design is not a science and should not be taught in public schools. But it has never been addressed legally in regard to higher education, Coyne said.
It's impossible to know the extent of religion's creep into science in public higher education, where government funding should ensure the exclusion of religion from curriculum, Coyne said, because knowing depends on students reporting it. And in some communities, outing a creationist-minded professor could have social consequences, he said.
A Ball State spokeswoman said said the university hired Gonzalez – who previously taught at Grove City College in Pennsylvania – by normal hiring standards, and that Ball State agreed with numerous academic societies that intelligent design is "not appropriate" for science courses. "Although it might find its place in appropriate classes and contexts including – but not limited to – religion and philosophy courses," Joan Todd added.
Gonzalez will teach introductory-level astronomy courses on the tenure track next semester and continue his research in astrobiology and stellar astrophysics, again keeping intelligent design out of the classroom.
But, he said, "My view that there is evidence of design in physics and cosmology (the type of design I have written about) is not out of the mainstream; a number of cosmologists and physicists hold to this view."
Some disagree. David Southwood, president of the Royal Astronomical Society and professor of physics at Imperial College London, said he'd reviewed Privileged Planet for a publication and found it interesting "in the way that many books about unlikely facts are." However, he said, "I found the notion that we were put on Earth specifically to discover bizarre and unscientific."
Continuing, he said, "My fundamental concern with Gonzalez's analysis of things that he sees as planned and I see as coincidence is whether he can take a truly scientific view. There were no counterexamples as I recall."
But Southwood said even odd ideas, when left out of the classroom, shouldn't make someone ineligible for teaching university-level science.
Expressing his opinion by example, he said, "I know a doctor friend for whom I have the greatest respect. He is a devout Catholic. I am not. As long as he handles his role as a physician without invoking his religion, for me, the issue of his employment is whether he can fulfill his duties competently and effectively without proselytizing for imposing his views on others."
Avalos agreed. "I would not deny him a job just because of his [intelligent design] views, especially if he is doing good work outside of his [intelligent design] interests," he said. "I believe other scientists and scholars at Ball State should render a final opinion of his work or his ability to do science at his university." He encouraged scientists at Ball State to voice their opinions about intelligent design as a viable scientific theory.
West said Discovery would be monitoring Gonzalez's time at Ball State for fair treatment.