You have /5 articles left.
Sign up for a free account or log in.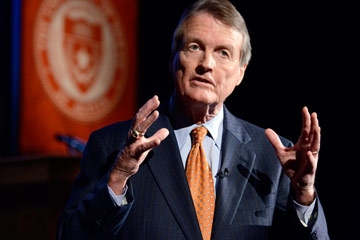 Bill Powers, president of the University of Texas at Austin, enjoys the backing of student, faculty and alumni leaders. He has been held in high regard by university leaders nationally, serving as chair of the board of the Association of American Universities.
But his days as president may be numbered. Reports started circulating Friday -- in what faculty critics are calling a "July 4 coup" -- that Francisco Cigarroa, chancellor of the University of Texas System, had told Powers to either resign or face dismissal by the Board of Regents. The reports said that Powers has said that he is willing to talk about a retirement plan, but not to quit immediately. While UT system and Austin officials are not commenting on the reports, two anonymous sources with knowledge of the discussions confirmed to Inside Higher Ed both the ultimatum given to Powers and his response.
Faculty leaders are demanding that Cigarroa and the board stop trying to oust Powers, and have called a special faculty meeting for Wednesday to plot strategy. Numerous social media campaigns have been launched, some of which are linked to from the Twitter hashtag #savebillpowers. Some in Texas hope they can replicate the type of campaign that saved the job of Teresa Sullivan, who was fired and then reinstated by the board of the University of Virginia two years ago. In that case and in the case of Powers, a board moved against a president whom faculty and students wanted to retain.
Powers has been clashing for years with regents who are close to Governor Rick Perry, a Republican who is in his last year of office. Two years ago, Powers survived a push to fire him.
Bill Powers and the Fight Over UT
As UT Austin president, Powers has defended the university and its faculty members from criticisms from the governor's allies, who have questioned the value of research and graduate programs that do not bring in outside dollars (in other words, non-science research). He has also defended the need for tuition increases, which have been opposed by Perry. Powers has also been a strong defender of affirmative action in higher education, notably in defending the university's admissions practices all the way to the U.S. Supreme Court. (The court last year declined to bar public colleges from considering race in admissions, but sent a challenge to the UT Austin admissions practices back to a lower court for review.)
Anger over the move against Powers extends well beyond Texas. Hunter Rawlings III, president of the AAU issued a statement Sunday backing Powers.
"I thought the State of Texas had in the past two years reached the outer limit of political intrusion into academic institutions, but apparently not:  now a board appointed by a lame duck governor, and, astonishingly, a lame duck chancellor, are threatening to oust a highly accomplished and popular president of Texas' flagship university, and a national leader in higher education," Rawlings said. "This lengthy battle has been extremely corrosive, and clearly damages one of the nation's great research universities. Believe me, faculty members and researchers and graduate students across the country know what is transpiring in Texas: the complete politicization of higher education. This latest fiasco makes a bad situation much worse."
Why Move Against Powers Now?
Until now Cigarroa -- while not always having a great relationship with Powers -- has resisted efforts to oust him.
Cigarroa's reversal, when he has already announced his plans to leave the system chancellorship, has set off competing theories of why he would move against Powers now.
Conservative bloggers -- who have been critical of Powers -- are attributing the shift to what they have called an "admissions scandal" at UT. The first entity to report that Powers could lose his job in the coming week was Breitbart, which has defended a controversial University of Texas regent, Wallace Hall. Hall is currently facing possible impeachment in the Texas House of Representatives for investigations of Powers that many legislators believe have crossed the line from oversight to a witch hunt. Hall's supporters have said that he is being punished for drawing attention to letters written by legislators on behalf of applicants to UT Austin.
Cigarroa in May announced a review of system admissions practices, following an investigation into whether some legislators had inappropriate influence over admissions decisions at UT Austin. That investigation "did not uncover any evidence of a systematic, structured or centralized" process by which legislators had unreasonable influence.
But the investigation did find that many legislators recommend many applicants. And in some cases, those recommended seemed more likely than others to be admitted, even though legislators' letters typically don't say very much about the applicants, the study found.
Supporters of Powers say there is a long tradition of lawmakers in Texas seeking to help constituents (and not just in higher education), and that Governor Perry's allies are trying to discredit Powers by focusing on a practice hardly unique to UT.
The Texas Coalition for Excellence in Higher Education, a group of business and civic leaders who have strongly defended Powers, issued this statement Friday: "It's very clear by the leak of this private conversation that someone's playing politics here. Our hope is that Chancellor Cigarroa will do what's best for the University and the state, and allow Powers to accomplish what he set out to do at The University. Upheaval and disruption benefit no one."
Powers's supporters said privately Friday that this would be a particularly bad time to force him out. With Cigarroa leaving and a new governor arriving, UT Austin needs continuity, they say. They also note that the university is entering the home stretch of a $3 billion capital campaign.
Fired Texas Presidents
If the University of Texas Board of Regents fires Bill Powers over the objections of faculty members, it won't be the first time a UT Austin president lost a job that way. Homer Price Rainey was fired in 1944, after a series of clashes with the regents over academic freedom. The final straw for the regents was when Rainey defended the English department's right to teach U.S.A. by John Dos Passos.
In 1974, the board fired President Stephen Spurr, without giving clear reasons, and that left faculty members and others frustrated and confused.
And while he was not president, John Silber would belong on any list of academic leaders fired by the Texas regents. Silber was fired as dean in 1971 in a decision that was debated for decades. Here is a link to an article with Silber's side of that dispute.
They believe the push against Powers now is because of timing: If Powers leaves now, the search for his replacement will at least be started by and possibly finished by a board dominated by close allies of Governor Perry. Board members who are Perry appointees have, in many of the public systems in Texas, been influential in appointing non-academic leaders to key positions in higher education.
Public Support for Powers
Supporters of Powers late Friday created an online petition to back him. "During his tenure, President Powers has advanced UT Austin in remarkable ways including reforming our core curriculum, creating the first medical school at a tier one university in over 50 years, and successfully leading a three billion dollar capital campaign," says the petition. It notes that, like previous moves against Powers, this one is coming in the summer, "a deliberate attempt by the Board of Regents to hide from the university community while so many are away for the summer." (The move against Teresa Sullivan at Virginia also came during the summer.)
As word spread about the move to oust Powers, more of his supporters started to speak out. The Executive Committee of the Faculty Council at UT Austin issued a statement that it "unanimously reiterates its strong support for the presidency of William Powers who, under extraordinarily difficult circumstances, has fulfilled his position with distinction. He has greatly enhanced the quality and stature of the institution's undergraduate education, its graduate programs, its research mission, its commitment to medical education and care, and its service to the community and to higher education generally."
Andrea C. Gore, chair-elect of the Faculty Council and the Gustavus and Louise Pfeiffer Professor of Pharmacology and Toxicology, sent Inside Higher Ed an email Saturday calling what was happening the "July 4 Coup." Faculty are "astounded and dismayed" about this, Gore said. "It sets an extremely dangerous precedent for higher education institutions around the country."
Leaders of the UT alumni association (including its president, Kay Bailey Hutchison, a former U.S. senator who challenged Governor Perry without success in a Republican primary four years ago), have sent out a letter to all alumni urging them to rally behind Powers. The letter says that it would be "a travesty" if Powers is forced out.
The headline of an editorial in The Daily Texan, the student newspaper, said that the ultimatum given to Powers "shows disrespect to able president."
Meanwhile, The Texas Tribune reported that leaders of the Texas House of Representatives committee that is reviewing the possible impeachment of an anti-Powers regent said that they had earlier told the Board of Regents that it would be wrong to fire Powers when a regent could be facing removal by the Legislature. The committee plans to remind the Board of Regents of its perspective.