You have /5 articles left.
Sign up for a free account or log in.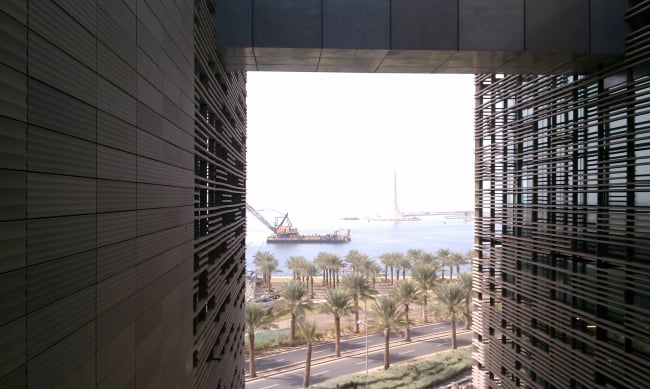 After Algonquin College, a community college in Ontario, announced that it would be opening an all-male campus in Jazan, Saudi Arabia, the faculty union's newsletter published an alarming image: that of the beheaded bodies of five Yemeni nationals convicted of murder and robbery. Their bodies dangled in public display from a pole between two cranes parked in front of Jazan University, where students were reportedly taking exams. 
"Just a few kilometers away, Algonquin College was preparing to open up its Jazan campus," Jack Wilson, the first vice president for the union, wrote in the accompanying newsletter article titled, "Why Are We in Saudi Arabia?" 
"Given the state-sanctioned barbarity of the regime in which the new campus is opening, one might fairly ask how appropriate it is for a publicly funded, taxpayer-supported Ontario institution such as Algonquin to be doing business abroad with distasteful regimes, especially if the regime's values run contrary to the values we hold as Ontarians?"
Saudi Ties on 'This Week'
The issue of Western universities' ties to Saudi universities will be discussed Friday on
"This Week,"
Inside Higher Ed'
s free news podcast.
Sign up here
to be notified of new "This Week" podcasts.
Universities have faced persistent questions about the ethics of building branch campuses or otherwise engaging in authoritarian countries in Asia and the Middle East. But does Saudi Arabia, with its systematic discrimination against women and gay people and a justice system that allows not just for public decapitations but also for floggings and amputations, stand out as a special case? Should Western colleges do business in a country that does not permit women to drive and where advocates of peaceful political reform can be jailed for their views?
In recent weeks, the public flogging of the Saudi blogger Raif Badawi, sentenced to 10 years' imprisonment and 1,000 lashes for the crime of insulting Islam on his Web site, Free Saudi Liberals, has attracted worldwide outrage and prompted a group of 18 Nobel laureates to write to the president of King Abdullah University of Science and Technology (KAUST) to urge academics there to speak out in favor of freedom of dissent.
Professors at Princeton and Villanova Universities, as well as a dean at the University of Minnesota, have signed on to a separate letter, reported on by the CBC, in which they offer to take some of Badawi's lashes for him: "If your government will not remit the punishment of Raif Badawi, we respectfully ask that you permit each of us to take 100 of the lashes that would be given to him," the letter states. "We would rather share in his victimization than stand by and watch him being cruelly tortured." (It's possible international pressure may be having an impact: after administering the first 50 lashes on Jan. 9, the Saudi government has thrice postponed Badawi's continued flogging, the first two times on the advice of doctors. The punishment was due to be meted out over 20 weeks.)
At the same time, the death of King Abdullah last month has drawn attention to the monarch's legacy in expanding access to higher education, including for women, who account for more than half of all higher education enrollments in the kingdom. King Abdullah spearheaded the creation of the country's first truly coeducational university -- KAUST is an enclave walled off from the rest of the country within the perimeter of which women are allowed to drive -- and initiated a scholarship program that has sent more than 100,000 Saudi students to universities abroad. According to the Saudi Arabian Cultural Mission, there are more than 68,000 Saudi students currently studying in the U.S. through the King Abdullah Scholarship Program -- 52,624 men and 15,730 women. 
KAUST: A Crucial Moment in Its History?
The graduate-only university KAUST opened in 2009 with the benefit of a multibillion-dollar endowment and with academic partnerships worth $25 million or more with the likes of the University of California at Berkeley and Stanford University. The late King Abdullah described the university that bore his name as "a beacon for peace, hope and reconciliation." 
Those words meant something to John Polanyi, a Nobel Prize winner in chemistry and professor at the University of Toronto who was the principal author of the recent open letter from 18 Nobel laureates to KAUST's president. In the early days of the Saudi university, Polanyi agreed to serve on a KAUST committee charged with awarding research grants; he said he wouldn't feel comfortable doing so today.
"They really had and still have high hopes for it as an institution for higher learning and advanced research and those are very civilized activities and I wanted to support them, which of course is the duty of members of the international scholarly community," Polanyi said.
"But increasingly it's become evident that there is a profound contradiction between the aims of this laudable institution, which is to promote debate, and the heavy hand of the church in Saudi Arabia, which is pursuing all sorts of brutal means to try to prevent debate. It seems as if this is an important moment in the history of this young institution. It's now five years old. If they don't really underscore the values which they are supposed to defend and I'm sure wish to defend, they're going to find that they have lost the cooperation of the international community."
The letter, addressed to the president of KAUST (and president emeritus of the California Institute of Technology), Jean-Lou Chameau, cites the case of Badawi and expresses concern that "the fabric of international cooperation may be torn apart by dismay at the severe restrictions on freedom of thought and expression still being applied to Saudi Arabian society." 
"We are confident that influential voices in KAUST will be heard arguing for the freedom to dissent, without which no institution of higher learning can be viable," the letter also states.
KAUST's public relations office did not respond to inquiries over several days from Inside Higher Ed. The university has come under fire from the country's conservative clerics for its commitment to coeducation, per this Washington Post article from 2009. 
"They're an agent of change already," said Liz Reisberg, an international higher education consultant (and Inside Higher Ed blogger) who travels to Saudi Arabia at least once a year. "Is it in anyone's interest if stepping into the spotlight on a different issue will make them susceptible to criticism or make it harder for them to accomplish what they're trying to accomplish? I worry about undermining them by asking them to do something that really isn't aligned with their mission when their mission is so important."
Reisberg said that she's observed real change in the kingdom, even if it isn't happening at the pace many might like. "One of the things I respect about the previous king's government is that he set the stage for change and it seems to me the change is taking place, but it's taking place in a slow, natural way that isn't provoking the kind of backlash from the right that forcing faster change would have resulted in," Reisberg said.
"I felt like the king was slowly stretching a rubber band to see how much flexibility there was to change society without pulling it so far that it would go ricocheting back in the other direction."
Algonquin in Jazan
As is frequently the case in these types of conversations, a central question is whether engagement on the part of foreign universities and scholars will have leavening effects or whether it will simply reinforce the status quo.
Doug Wotherspoon, the vice president of international and strategic priorities at Algonquin, said officials there deliberated on the question of Saudi Arabia's human rights record. "In the end, we came to the conclusion that we felt that it was better to engage in those environments so long as we continue to see progress -- sometimes glacial, but nonetheless progress -- and believe that a policy of engagement is better than a policy of isolation. I think actually the United States has just recently realized that with its decision to engage with Cuba, and certainly there's a long record of engaging with China."
"Our response is they don't want our engagement," said Wilson, the Algonquin faculty union vice president and a professor in the Police and Public Safety Institute. The union's executive board passed a resolution last spring calling for Ontario community colleges to freeze further investment in Saudi Arabia and for the provincial government to create an ethical investment framework that would require publicly funded colleges to consider human rights issues.
"We're not training people to be free thinkers; we're training people to be technocrats and enablers that will prop up the current regime," Wilson said. "There's no question that we're educating people to challenge the authorities, and even if we did, we know what their fate would be."
Algonquin's campus in Jazan is part of a Colleges of Excellence initiative that brings foreign providers into Saudi Arabia to provide vocational and technical education (the Algonquin campus trains electrical and mechanical engineering technicians). Wotherspoon gives three reasons the college chose to enter Saudi Arabia, including the creation of international opportunities for Algonquin faculty and students, the desire to share the college's expertise in offering applied education to other communities in other parts of the world and the objective of generating revenue: "The reality of the next 15 years or so in Canada, demographically, means that we need to start to diversify our revenue streams. We're there because we think we can generate some revenue that will be able to be invested back here at home and in the communities we're serving."
In regards to the first of those three objectives, creating international opportunities for faculty and students, Saudi Arabia seems a curious choice of locations: only male faculty at Algonquin can teach at the all-male campus in Jazan, and the college does not have a study abroad program there.
As for the third, revenue generation, Algonquin has at various points reported its earnings according to both Saudi and Canadian accounting systems, the difference being that the former allows for the amortization of start-up costs over the length of the five-year contract while the latter requires they be expensed in year one. At the last board of governors meeting, the college reported a higher-than-projected profit of 197,000 Canadian dollars at the end of its first year of operations in Saudi Arabia; under Canadian accounting rules, Wotherspoon said, that would translate to a loss of 53,000 Canadian dollars. (Wotherspoon said that initial financial projections for the Jazan branch used the Saudi accounting system, which Algonquin will use going forward.)
Algonquin's Saudi Arabia branch struggled in its first year with issues of student preparedness and attrition. According to a fall report to the board, its retention rates for its preparatory year and diploma programs in 2013-14 were 40 and 87 percent, respectively. Attendance in the two programs averaged 66 and 68 percent from September to June of last year. The college gets tuition dollars from the government only when a student attends at an 80 percent rate or better, Wotherspoon said.
"The initial idea was that we could take what we do here in Canada and just import it in Saudi Arabia and everything would be fine," Wotherspoon said. "The reality is that the cultural environment is considerably different. I know that sounds like kind of a simple thing to say, but it's when you get on the ground that you realize the complete and utter difference of it. For example, Saudi males, at the campuses, they don't pay, the government pays, so when you're not paying your impetus for attending is probably a little bit different."
"What this campus is, it's really kind of like our pilot, our test bed, for how do you go about creating the systems, the support networks, that allow you to scale up Algonquin College in other countries, other regions of the world?" Wotherspoon said. (Algonquin is also developing a campus in Kuwait.) "This is a new line of business for us, this whole idea of offshore campuses, and I suspect that when McDonald's or any other franchise was starting up they spent a lot of time figuring out how to get their systems right."
The Contradictions of the Kingdom
Babson College, in Massachusetts, is another Western university engaged in Saudi Arabia. The college's wholly owned Babson Global subsidiary plans to consult on the development of a new Saudi college of business and entrepreneurship, pending approval of an initial licensing application.
"Basically, the framework that we use for determining reputational risk involves three questions," said Shahid Ansari, the CEO of Babson Global. "One has to do with the country, the other has to do with who in a particular country we are engaging with and the third has to do with what is it that we are doing."
Ansari grants that Saudi Arabia, with its record of human rights abuses, doesn't rate especially highly as a country within which to work. "However, the partners with whom we are engaging" -- the real estate developer Emaar, the Economic City -- "are very, very sound and are coming to this with the right intentions of trying to make a positive change in the kingdom. The third thing is we are going to be advising and setting up an educational institution that would create unprecedented opportunity, particularly for women in the country." Ansari said that the planned institution will teach men and women and that the two genders will be able to mix freely at the college's entrepreneurship center, which would be classified as a workplace and therefore subject to less strict laws about gender segregation. Ansari is also hopeful that graduate-level classrooms will be coed, and cites KAUST as a precedent for that.
Ansari said the college's partners originally wanted a Babson branch campus -- an option the college nixed, he said, both for financial reasons and because they couldn't guarantee delivery of a Babson-quality education within the constraints of the kingdom. It's significant, he said, that Babson's scale of engagement there is lower, that it's "not our name on the marquee." At the same time Ansari has seen firsthand the transformative impact of lower-risk consultative relationships: he is a graduate of the Institute of Business Administration, Karachi, which was founded in the 1950s with support from the University of Pennsylvania's Wharton School. Wharton could easily have opted against working in Pakistan because of concerns about women's rights issues or the country's military rule, Ansari said, "but [instead] they made a difference in the lives of some very ordinary people like myself who would never have been able to afford higher education in the U.S."
Penn is another example of a place where faculty are collaborating on the continued development of Saudi Arabia's higher education institutions. Faculty affiliated with the University of Pennsylvania's Alliance for Higher Education and Democracy (AHEAD) just completed an assessment of the College of Arts at Princess Nora Bint AbdulRahman University, a massive women-only institution in Riyadh created through a consolidation of preexisting women's colleges. The university, which moved to a new campus in 2011, has a reported enrollment of more than 50,000 students.
"We did an assessment and just submitted our final report to the college about its curriculum and preparing women for the labor market," said Diane E. Eynon, a senior scholar and director of AHEAD's International Higher Education Initiatives office. "Of course, the irony of all this is that you may be preparing them for jobs that culturally, religiously or socially they can't have or don't have the opportunity to have yet."
In a blog post, Eynon, who studies the intersection of gender, higher education and economic development, noted that while women account for 52 percent of tertiary education enrollments in Saudi Arabia, they make up just 15 percent of the workforce. There has been progress on women's rights issues, she writes: in 2011, King Abdullah announced that Saudi women would have the right to vote in future local elections, and in 2013 he appointed 30 women to the Shura Council, the consultative body that proposes laws and advises the king. Even so, Eynon observes, "It's not clear what the women from PNU will do or face when they graduate. While they may acquire new knowledge, skills and ways of thinking, they will still find themselves in a country without the full freedom to pursue a career of their liking or choosing. Perhaps their contribution will be to create more options for women in the future -- paving the way for the change to come?"
"The problem is that Saudi Arabia challenges many Western notions about higher education," the Toronto-based higher education consultant Alex Usher wrote in a blog post in the wake of King Abdullah's death. "Though we shrink from talking openly about universities' 'civilizing' function because it's deeply uncool in a postcolonial world, the fact is most of us in the West still implicitly believe in that function. Yet despite all these impressive increases in educational attainment -- even Western education -- Saudi Arabia remains in our eyes a deeply uncivilized kind of place: the beheadings, the floggings, the misogyny all evoke notions of barbarity. The spread of higher education in the country has done precious little to change that. Whether that says more about Saudis or about higher education is an exercise for the reader."