You have /5 articles left.
Sign up for a free account or log in.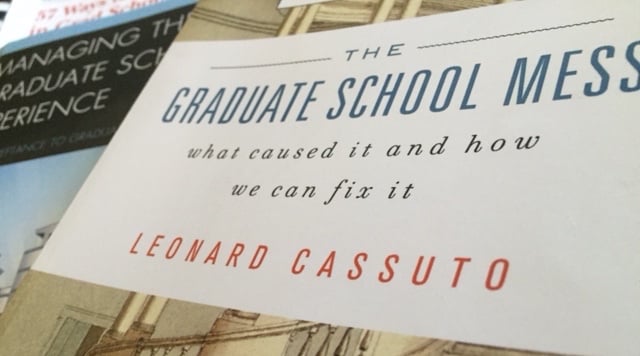 Talk about graduate school being broken is beginning to sound like a broken record: Yes, it's too focused on preparing students to become the tenure-track professors that populate academe's endangered species list. Yes, the better part of a decade is probably too long to spend as an apprentice, forgoing a living wage and likely accruing debt. And yes, too many people never finish.
So now what?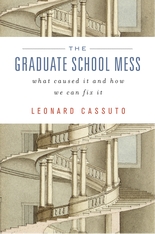 Get to the root of the problem and work upward, argues Leonard Cassuto, a professor of English at Fordham University, in his new book out this month, The Graduate School Mess: What Caused It and How We Can Fix It (Harvard University Press).
"If the problems with graduate school are a tree, a lot of people are fixated on this branch or that branch," Cassuto said in an interview. "But you can't fix the branch if the trouble is in the roots of the tree. And in graduate school, there are a lot of common problems that go down to the roots."
For Cassuto, the fundamental problem for graduate school education in the humanities and humanistic social sciences is one of teaching. Tenure-line professors at research institutions prepare students to become "mini mes," even though the odds are less than one in two that they'll get the chance at becoming one, and that is more than a practical failure, he argues -- it's a moral one.
"There's an enormous trust that's being extended here, and that's something that people who run graduate education programs need to take seriously," Cassuto said. "If you're not teaching them to do and value the work they'll actually be doing, you're really teaching them to be unhappy."
He argues in Mess that graduate school professors must "convey their own awareness and approval" of taking teaching-intensive positions outside research institutions, or outside academe entirely. And programs must make readily available placement data for past graduates so students know what they're getting into, Cassuto says. Next, he argues -- since graduate schools are no longer letting in "armies" of students -- faculty members must begin to better "tailor" students' experiences to their professional goals. Cassuto's not big on quotas, but he says that a program's ability to provide this kind of attention should drive its admission numbers.
He also says that graduate programs must create strong relationships with the campus career services office, which students should be interacting with throughout their time in school -- not just frantically at the end of their programs. It also means a bigger focus on professionalization within graduate programs themselves.
The School of Interdisciplinary Studies at the University of Louisville, for example, in 2012 created a comprehensive professionalization program for all graduate students. It offers 20 to 30 workshops per semester on professional development, life skills, academic development and networking -- hence the program's acronym, PLAN.
Reform also means rethinking the curriculum and traditional milestones. For example, Cassuto asks, why can't time-consuming, comprehensive "tell me what you know" exams be more authentic and better serve students' needs in the humanities, as they already do in other fields? Take biology, he says, in which many programs ask students to defend an original research proposal before a committee of faculty members.
Scientists "test their students in ways that allow them to develop the skills of professional scientists, and the certification of those skills later allows them to enter their scientific disciplinary communities," Cassuto writes. "That's a model that humanists need to adopt."
As for dissertations, Cassuto says it's a "costly and misguided mistake" to think of them as books in progress, as so many humanities and social science departments do, since so few people will read them. (That's outside of those with whom the writer shares a bed or DNA, he quips.) Cassuto suggests considering a three-chapter dissertation, down from four. He also expresses interest in a relatively new multitrack model adopted by the German and Slavic languages department at the University of Colorado at Boulder. Program guidelines state that students who are interested in academic careers but also in those in government, business or the nonprofit sector will spend just a year writing the dissertation after two years of course work and a year of research.
Cassuto also advocates the "expanded repertoire" of dissertation formats noted in the Modern Language Association's 2014 report on reforming graduate school education: web-based projects that give evidence of extensive research, translations with accompanying theoretical and critical reflection, public humanities projects that include collaboration with cultural institutions, and the treatment of texts in terms of their pedagogical value in the classroom.
"A more flexible view of the dissertation offers to expand our definition of 'scholar' (and 'scholarship')," Cassuto writes. "Or else it may lead to the argument that some graduate students are not scholars at all."
Mess has little patience for professors who argue they can't prepare graduate students for jobs outside the academy that they themselves haven't experienced. Professors "have to do this because it's part of their 21st-century job description," Cassuto says. Moreover, he added in the interview, "teachers are very good learners."
Cassuto said a democratic society needs more "happy" Ph.D.s -- whether or not they stay in the academy. And that starts with better teaching. He ironically asserts that with all the talk of reforming graduate education, no one's ever written a book about how to better teach graduate students. But with Mess, he said, he's started to fill the void.
What Students Can Do
If graduate school needs better teachers, two other new books argue that students can do more ensure their own success.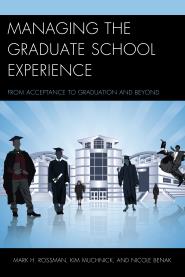 Managing the Graduate School Experience: From Acceptance to Graduation and Beyond (out now from Rowman and Littlefield) pitches itself as the streamlined, comprehensive guide to the doctorate. Whereas Cassuto's book is rich with personal anecdotes, Managing is more to the point: think checklists and bullet points. A chapter called "Can I Really Get a Ph.D.?" gets the ball rolling with discussions of the impact of study on family life, the importance of time management, learning types and reasons for wanting a Ph.D. Further chapters discuss choosing a program and degree type (including online) and financing one's degree -- including how to avoid financial aid scams.
For those who've decided to proceed and have been accepted, there's talk of choosing a dissertation committee, preparing for comprehensive exams and pitching a dissertation idea. There's some practical advice on how to defend a dissertation and a note on what's next -- such as how to copyright or publish one's work.
Mark H. Rossman, a professor emeritus of education at Capella University, co-wrote the book with Kim Muchnik and Nicole Benak, fellow scholars of education. Rossman said that while good teaching matters, it's also up to students to take graduate school success into their own hands.
Since elementary school, he said, "learners have been trained to be good students and to wait until they are told what to do and when to do it. As a result, they frequently wait for something to happen rather than making it happen."
That's a pattern that many students have continued in graduate school, sometimes to their detriment, Rossman said, waiting for advisers or dissertation committee members to tell them what courses to take or how to structure their comprehensive exams, or what to write about.
"While this has worked for many learners, it is not always the best and most expeditious way for the learner to proceed, as it does not foster a lot of critical reading or critical thinking," nor does it encourage creativity, Rossman said. And "many learners do what they are told to do by the major adviser or committee members, which may not be what they really want to do as part of the process of completing a personally satisfying or meaningful graduate degree."
What Not to Do
A second book aimed at empowering students takes the opposite approach from Managing. Instead of a how-to, 57 Ways to Screw Up in Grad School: Perverse Professional Lessons for Graduate Students (out now from University of Chicago Press) is more of a how-not-to. The book is a highly entertaining and informative list of pretested pitfalls, including "Do not think about why you are applying," "do not clarify the supervisor's (or your own) expectations," "expect to write the perfect comprehensive exam" and "write only to deadlines." They're all fleshed out in good humor and only-in-hindsight wisdom.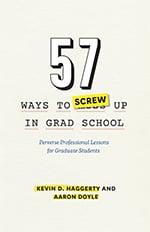 No. 45, "Get romantically involved with faculty," for example, says that flings between graduate students and faculty members have been known to end amicably, or evolve into a long-term relationship. "But more often than not," the book says, "students end up feeling betrayed, exploited and abandoned. These are risky situations and unfortunately the grad student bears almost all the risk." (There's a P.S. about keeping it professional with one's undergraduates as a teaching assistant, as well.)
Kevin D. Haggerty, a Killam Research Laureate and professor of sociology and criminology at the University of Alberta, said he and his co-author, Aaron Doyle, an associate professor in of sociology and anthropology at Carleton University in Canada, created their list by drawing on their own experiences as graduate students and faculty supervisors. They also interviewed various administrators and student services providers from across their respective campuses for a richer perspective.
All 57 points "refer to mistakes we have seen students make over the years, sometimes even after they have been specifically cautioned to avoid a particular pitfall," Haggerty said.
He noted the original plan was 99 points, but it was scaled down after he and Doyle realized various experiences were really part of the same category or mistake. While not every pitfall will ring true or apply to every graduate student in every program, Haggerty added, he and his co-author tried to "balance" out the book to speak to a wide variety of graduate school experiences.
Asked how responsible graduate students are for their own successes or failures, Haggerty said it's obvious students "have to show initiative and take some responsibility for their own program and education. Reading books and blogs about graduate school is a great place to start."
At the same time, he added, universities can and should make structural improvements to better support graduate students -- and a relatively easy place to start is more training for faculty supervisors.
"Everyone recognizes the tremendous impact that a supervisor can have on a student's success in grad school and beyond," Haggerty said. Despite that, "faculty members receive almost no mandatory training in effective and compassionate supervision. Not all faculty members supervise graduate students, but for those who do there should be greater emphasis on training."
Such opportunities exist, he added, "but my experience is that these courses and workshops tend to be populated by people who are already conscientious supervisors, whereas the people who most need such instruction tend to shun them entirely. We need to develop more ways to encourage, support and perhaps reward good supervisors."
That plays into Haggerty's overall piece of advice for new graduate students (as well as Cassuto's to teachers): seek out "wise, experienced and generous academic mentors."
More from Books & Publishing