You have /5 articles left.
Sign up for a free account or log in.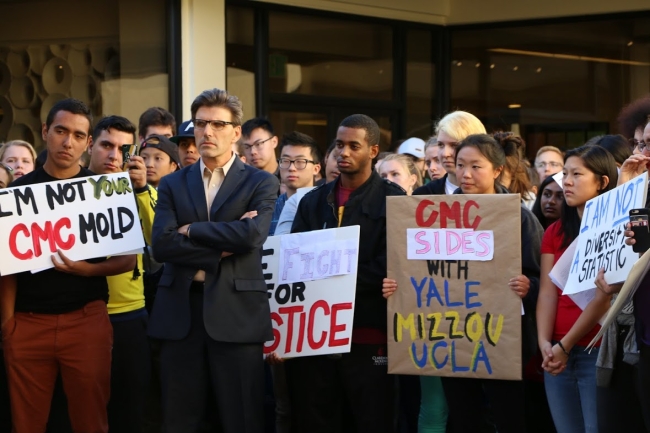 Alex Smith / The Student Life
The dean of students at Claremont McKenna College in California resigned Thursday amid growing protests -- including a hunger strike -- by students over what they say was her "inaction in supporting marginalized students."
"Today I am submitting my letter of resignation, effective immediately," Mary Spellman, the dean of students, wrote in an email to students. "I do so with sadness beyond words, because these nearly six years have been the most rewarding and fulfilling of my life, but also with the conviction that it is the right thing to do for the school and the students I care about so deeply."
The trouble for Spellman began in October, when she responded to an essay published in a student newspaper, The Student Life, which has covered the controversy extensively. The essay, written by a student from a working-class Mexican family, discussed how low-income and minority students feel unwelcome at the college. In an email to the essay's author, Spellman wrote that she and her staff were "working on how we can better serve students, especially those who don't fit our CMC mold."
"The CMC mold" became a rallying cry for some students, who said Spellman's email implied minority students were not considered true members of the college community, and that it highlighted a long-standing indifference to their concerns. An incident last month involving racist Halloween costumes further galvanized students, and demonstrations and hunger strikes took place this week.
Student groups released a letter on Wednesday, listing a series of racist and homophobic incidents that occurred on the campus in the last two years. They demanded that the college create a diversity chair, hire more minority faculty members and adopt racial-sensitivity training for students. Students said they were frustrated because they had sent a similar letter to administrators in April.
On Wednesday, the college's president, Hiram Chodosh, announced that he had authorized the creation of "a new leadership position" focused on diversity and inclusion. "Our students have documented many disturbing stories, and disseminated them through flyers across the campus," Chodosh said in a statement. "I stand by our students. I support their right to speak out forcefully, and want their voices to be heard."
Chodosh also said he would "improve the performance of student affairs" and that he had asked for a "full review of [the office's] capacity and performance in support of our students."
During a demonstration Wednesday, student protesters asked Spellman to resign, though she said at the time she would not, according to the Student Life. Then on Thursday, Spellman sent an email to students announcing that she would, in fact, step down.
"To all who have been so supportive, please know how sorry I am if my decision disappoints you," Spellman wrote. "I believe it is the best way to gain closure of a controversy that has divided the student body and disrupted the mission of this fine institution. Most important, I hope this will help enable a truly thoughtful, civil and productive discussion about the very real issues of diversity and inclusion facing Claremont McKenna, higher education and other institutions across our society."
Spellman's resignation comes three days after the president of the University of Missouri resigned following similar protests.