You have /5 articles left.
Sign up for a free account or log in.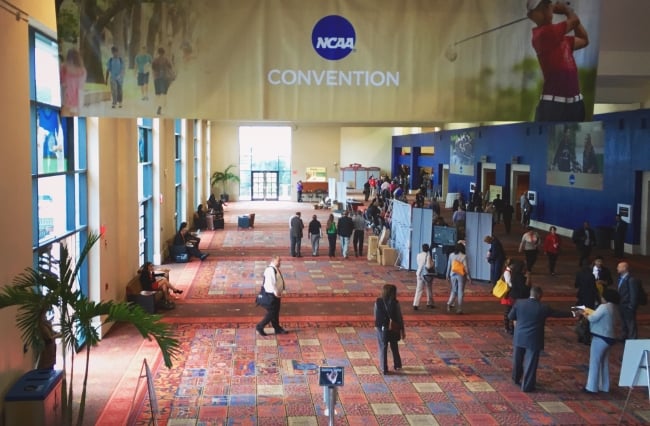 SAN ANTONIO -- In a fast-moving legislative session here Friday, the National Collegiate Athletic Association's five wealthiest conferences adopted few major changes, prompting a backlash from athletes and some college sports leaders.
The discussion forum ahead of Friday's vote lasted less than an hour, with little debate taking place outside of those lamenting the loss of tabled legislation. Earlier in the week, most of the significant proposals scheduled for a vote were suddenly postponed until next year. Among the scuttled proposals were those addressing the time demands on athletes, an issue players have pushed to the forefront in the last year and at this week's meeting.
The results of a national survey of 30,000 Division I athletes, released by the NCAA this week, found that many athletes want to spend less time on athletics. The study was organized by the Student-Athlete Advisory Committee. More than 40 percent of football and basketball players said they wanted an additional day off per week beyond the one they have now, and most athletes indicated they would appreciate two weeks off at the end of a season.
One of the tabled proposals would have created a three-week discretionary period barring required athletic activity following the championship segment of a season. Another proposal aimed to prohibit athletically related activities, other than competition, for a continuous eight-hour period between 9 p.m. and 6 a.m.
According to new data released by the NCAA this week, as part of its ongoing GOALS study, football players in the Football Bowl Subdivision -- the association's most competitive level -- report spending 42 hours per week on their sport. Two-thirds of Division I athletes reported spending as much or more time on athletics during the off-season as during the season. Nearly one in three FBS football players said their sport prevented them from enrolling in a course they wanted to take.
On Thursday, Mark Emmert, president of the NCAA, urged the association's members to address time demand concerns and to "rebalance" academics and athletics. "This is the time now to match our actions with our values," he said during his annual address.
While not all athletes were in agreement about how to address time demands through legislation, many students were vocal critics of the decision to table the proposals. Athletes said they were frustrated by the members' decision to "kick the can down the road," after the Student-Athlete Advisory Committee had urged action on the issue for the past year.
"Who's to say we won't be in this exact same boat next year, where after a year of work we come here and people say they support the principle of these time demand proposals but there are too many logistical challenges and, for that reason, they won't vote for them," Nandi Mehta, a soccer player at Northwestern University, said. "There's no guarantee that won't happen. Eventually we have to take the plunge."
Ty Darlington, a football player for the University of Oklahoma, went further, blasting the association's members for what he said was a lack of urgency. Darlington said he worried the Power Five conferences, after using a new autonomous governance structure to approve a number of big changes last year, had already grown complacent.
"I feel like there should be more significant legislation on the table," Darlington said in an interview after the vote. "When we're talking about the hot topics, what student athletes really care about, we didn't hit any of them. I'm thinking about time demands, transfer eligibility. I'm thinking about name, image and likeness restrictions."
The Pac-12 Conference had planned on introducing a proposal that would loosen rules on how athletes can use their names and likenesses. The proposed legislation would have allowed an athlete to use his or her name, image and likeness to promote his or her own nonathletically related business, such as a dog-walking service or a music career. On Tuesday, the conference announced that it was pulling the proposal in order to "review its implementation" and reintroduce it at a later date.
The Pac-12 also introduced two of the three proposals about time demands of college athletes. Larry Scott, the conference's commissioner, said in an interview Friday that he was frustrated by the need to table the legislation but "understands why." Other leaders within the division said they want to see more research on the issue before taking any action.
"We're on the side of wanting to be bold, of wanting to be very progressive, and we're going to continue to be very aggressive about these things that benefit our student-athletes," Scott said. "There clearly were some who wanted more time to digest it, to understand the implications. There's no question that the things we put forward are going to be voted on in the following year. But I am frustrated, as I have a bias for action. Some in our conference may just be a little bit ahead."
Jo Potuto, a law professor at the University of Nebraska and the university's faculty athletics representative to the NCAA, said the Power Five conferences seem to act with the most urgency only when the NCAA is facing litigation, as when it passed legislation last year that allowed colleges to cover an athlete's full cost of attendance.
"There is the fable of the ant and the grasshopper," Potuto said. "The ant stores away for winter and is ready for when winter comes, and the grasshopper hops around being frivolous. We all tell that fable and we all make great grasshoppers, but there aren't very many ants out there. That's not to say we're frivolous, but it's to say we work better when there's an actual crisis facing us."
Greater Authority for Team Physicians
One such crisis facing the NCAA is its handling of concussions and other sports-related injuries. On Friday, the Power Five conferences voted to give team physicians and athletic trainers "unchallengeable" authority in decisions involving injured athletes.
"I believe it's the most important piece of legislation in the history of the NCAA, because it helps to assure the roots of why the NCAA was established," Brian Hainline, the NCAA's chief medical officer, said. "It's starting a pathway that there's no turning back on."
Hainline has long fought for the rule, releasing concussion guidelines in 2014 that called for giving "unchallengeable autonomous authority" to team medical professionals. The guidelines were not NCAA policy, however, and he said he worried many teams ignored the suggestion.
At last year's meeting, the conferences adopted a new concussion and safety policy, but many in the association felt it was still too weak. That concussion protocol was the most hotly contested piece of legislation at the convention. Worried that the policy allowed coaches too much freedom in decisions about when injured players were allowed to return to play, Darlington, the Oklahoma football player, used the newly acquired voting power granted to athletes last year to ask that the proposal be referred to a committee or that it include an amendment barring coaches from interfering in the decisions of medical personnel. The motion failed, and the proposal passed by a vote of 64 to 16.
This year, the new legislation passed nearly unanimously, with 79 out of the 80 delegates voting in its favor. The success of the legislation surprised Darlington.
"I heard that there might be a little bit of pushback, but there wasn't," he said. "I was very happy that it went through, and I feel like if there's a silver lining from things not going through last year, it's that now we've got it."