You have /5 articles left.
Sign up for a free account or log in.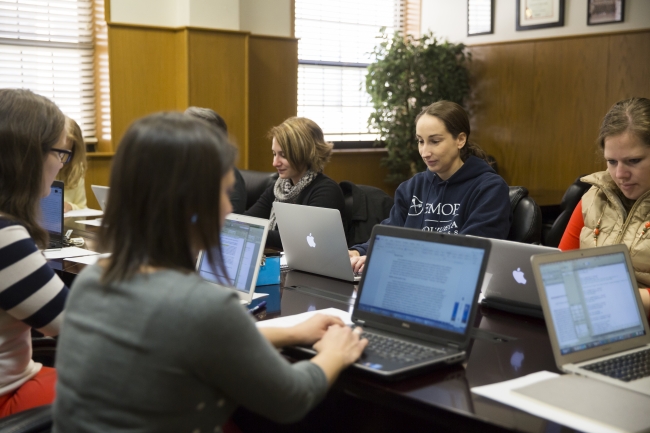 For professors, finding time to do research can be difficult. Especially if they are women.
Numerous studies have found that female professors work the same number of hours as their male counterparts, but they spend less time on research and more time on other commitments. In a 2008 study by professors at the University of North Carolina at Greensboro and the University of Georgia, female participants spent an hour and a half less per week on research than their male counterparts. A big reason was that they spent an hour more on service and a half hour more on teaching.
The Women Faculty Writing Groups at Texas Tech University aim to combat this gender gap in research. Founded this fall, the program seeks to offer female professors a three-hour chunk of time each week to pursue writing and publishing their research without getting sidetracked by other demands, said Caroline Bishop, assistant professor of classical and modern languages at Texas Tech and a co-founder of the program.
"We really wanted to have a safe, protected time," Bishop said. "A time when women can say no to other things."
The overarching goal of the program is to help women prioritize research, which is often the biggest factor in promotion, said Kristin Messuri, associate director of the University Writing Center at Texas Tech and another co-founder of the program. "Women faculty tend to be promoted at lower rates than male faculty," she said. "They go up for promotion less often. When you get into full professors, there are fewer of them."
While the program's goal is ambitious, its structure is simple. At the beginning of each three-hour session, participants discuss articles on productivity and share their progress and goals, Messuri said. The remaining two and a half hours are devoted to writing for publication.
The pursuit of this writing can take different forms, Messuri said. Participants can write articles or book chapters, analyze data, or simply brainstorm ideas. But they are discouraged from checking their email or taking phone calls.
Participants in the Women Faculty Writing Groups represent a full spectrum of ranks, Messuri said. "We've had everything from postdoc to full professor," she said. "But we do give preference to people on the tenure track."
In its inaugural iteration this fall, the program attracted 17 participants who were divided into two groups, Messuri said. This spring, the program increased to encompass 27 participants in three groups, she said.
Looking ahead, Messuri expects the program to keep growing as word spreads. But future growth will depend on the availability of resources, such as professors willing to facilitate the first half hour of each session.
When launching the Women Faculty Writing Groups, the co-founders drew inspiration from a similar program of the same name at Indiana University at Bloomington. Bishop said she was exposed to this program while serving as a visiting professor at IU last year before accepting a tenure-track position at Texas Tech.
Bishop recalled the program at IU as a transformative experience. "My discipline in particular, classical studies, can be a male-focused discipline," she said. "I had quite honestly never been around so many different women of different ranks. They were all so supportive of each other's success. It very quickly became my favorite part of being at Indiana."
In turn, the Women Faculty Writing Groups at IU were inspired by similar programs at several other institutions, said Jane McLeod, associate dean for social and historical sciences and graduate education at IU. When McLeod and another dean attended a 2013 higher education symposium, they were struck by presentations on writing groups by more than eight other universities, including the University of Michigan, she said. Writing groups stood out as "something we could do that wouldn't cost much money but seemed very valuable," she said.
After the symposium, McLeod and the other dean developed a proposal for the Women Faculty Writing Groups and secured funding. They also approached Laura Plummer, director of the Scholarly Writing Program at IU, about leading the program.
Female professors perform more "care work" than their male counterparts, since graduate students disproportionately seek them out as mentors during office hours, Plummer said. "Particularly women of color find themselves mentoring not only their own graduate students, but also [other] graduate students of color in their departments," she said. "So they find that their time is taken up by people coming to their doors to ask for advice."
Family obligations can also weigh on female professors, Plummer said. "Typically, many of them have families," she said. "The pressures of child rearing also play a part in how many things they're juggling."
Finally, departmental service also eats up more of women's time, Plummer said. Women are more likely to take on service roles such as chairing a search committee or directing an undergraduate program, she said.
A 2009 study by researchers at the University of Massachusetts at Amherst found that three-quarters of female associate professors had taken on major service roles, compared to half of their male counterparts. In particular, a third of the women had served as undergraduate directors, compared to 17 percent of the men.
Just like at Texas Tech, the program at IU saw rapid growth. At its inception in 2013, it drew 17 participants who were split into two groups, according to Plummer. Last semester, it drew 154 participants who were split into 13 groups, she said.
But unlike at Texas Tech, the program at IU has acquired a surprising component: coeducational groups. "We had gotten requests from men on campus about the possibility of a group that would include them," Plummer said. "So we're addressing faculty interest by experimenting with two coed groups."