You have /5 articles left.
Sign up for a free account or log in.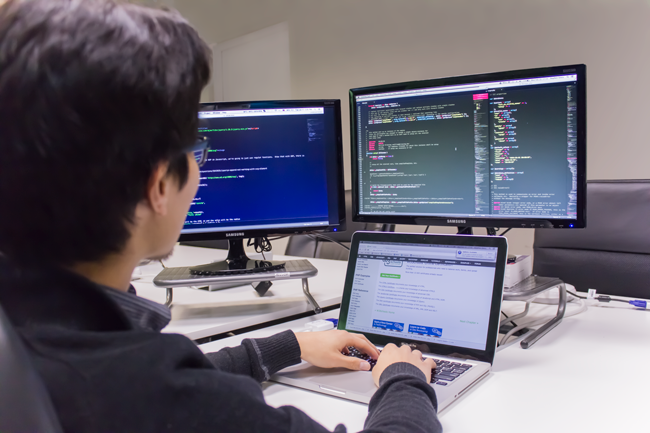 The demand for employees familiar with coding and data analytics has never been higher. By one estimate, the number of job openings including the phrase "data analytics" has increased by 372 percent since 2011.
Many traditional colleges are rushing to meet this demand. And there's arguably no better way than by entering the coding boot camp market.
Coding boot camps are immersive programs that teach students programming languages. They often last several months and offer some sort of career counseling at the end. In 2015, according to a study by Course Report, 67 coding boot camps nationwide produced over 16,000 total graduates and raked in $172 million in revenue.
Some colleges have created their own boot camps from scratch. Others have partnered with outside organizations that already offer boot camps, drawing on existing instructors and resources.
"The whole premise of the coding boot camp is there's a big skills gap," said Kevin Saito, vice president of marketing and product management for Coding Dojo, which offers boot camps in six cities as well as online. "The need for developers in our economy exceeds institutions' ability to produce them … But web development as a skill itself is something that someone can pick up in a relatively short amount of time with perseverance."
Pushing for Partnership
Graduates of Bellevue College don't have to look far for jobs in the tech industry. The community college's north campus in Bellevue, Wash., sits across the street from Microsoft headquarters. Dozens of other tech companies -- including Amazon, Google and Boeing -- have offices nearby in the Seattle area.
"We're lucky. We kind of won the zip code lottery," said Mark Veljkov, product manager for Bellevue.
This fall, the college is capitalizing on its luck by partnering with Coding Dojo to provide a boot camp. Starting in September, students will meet two days a week in a classroom on Bellevue's continuing education campus. They will also complete online assignments through Coding Dojo's learning management system. (They will not be enrolled as credit-seeking students at the college.)
Partnering with Coding Dojo was much easier than launching a new program would have been, Veljkov said. "Creating high-quality content for a coding boot camp is expensive," he said. "You not only have to create the content, but you also have to find subject-matter experts. And that's just to get you started, since sometimes six months later you have to redo the content because the technology has changed."
The typical student in the boot camp will be a working professional, Saito said. "These are people who have a good day job and are looking to enhance their skills," he said. "Maybe they work in a somewhat technical field, and they're looking to become more technical. Maybe they're a software tester, and by learning Ruby on Rails or Java they could transition to a software developer."
Graduates of the program will get a hand with finding jobs. Recruiters from the staffing firm Insight Global will help graduates identify their interests and secure a permanent position or contract work, Veljkov said.
The program comes with a relatively steep price tag. Each web development stack has three modules, and students can pay $1,299 for an individual module or $3,500 for all three modules. Since Coding Dojo is unaccredited, students can't receive financial aid to offset that cost.
While these figures might give some potential students sticker shock, they're fairly typical of the market. The average boot camp costs around $11,000 for 11 weeks of training, according to the 2015 Course Report survey.
Still, Bellevue has been mindful of opening up the program to low-income students. The college's Economic Workforce and Development Office can offer some students funds through a federal grant, Veljkov said. The college will also track the progress of a 2015 project from the U.S. Department of Education, which could pave the way for access to federal financial aid.
In October 2015, the department announced an experimental program called Educational Quality through Innovative Partnerships. The program provides a pathway to federal aid for partnerships between colleges and nontraditional providers, including those that run skills boot camps or offer unaccredited online courses.
"The feds are pushing really hard for more accountability and partnering from schools," Veljkov said. "I'll be anxious to see how the Department of Ed's project comes out. If they expand it, I'm going to push Bellevue to be part of that."
Besides Bellevue, several other colleges have opted to provide boot camps through partnerships. Institutions such as Lynn University have worked with nonaccredited General Assembly, the largest boot camp provider, while Northwestern University and the University of Texas at Austin have teamed up with Trilogy Education Services.
UT Austin launched the first round of its boot camp in April and the second round in July, said Stephen Walls, deputy director of Texas Extended Campus and senior lecturer of marketing at UT Austin. The program costs $10,000 for 24 weeks, and the university remains hopeful about working with the Education Department to receive federal aid in the future, he said.
"The overarching goal is to get students both the educational knowledge and the practical skills to be ready for an appropriate job coming right out of the boot camp," Walls said. "What's been really exciting is to see interest from employers in the IT industry broadly, meaning companies that are focused on IT services as well as companies that have large IT departments."
In September, Northwestern will launch a boot camp that costs $9,500 and targets working professionals, said Mary Cohen, associate dean of academic programs at Northwestern's School of Professional Studies. Northwestern will oversee the curriculum and faculty hiring, while Trilogy will provide its signature platform and a full-time career coach, she said.
"We really wanted an experienced partner who had direct connections in this field and who could help our students make a direct career path from this very short, intensive program into the job market," Cohen said. "From that standpoint, we are starting ahead of the curve by having a partner who already has experience in this area."
Going Solo
Not all institutions feel pressure to find a partner. For at least one university, boot camps are best undertaken as a solo venture.
Northeastern University offers its own boot camp, called Level, in four cities. The program graduated its third group of students last month, with 85 graduates in total so far.
Northeastern has a longstanding, popular co-op program, which allows students to alternate semesters of academic study with semesters of full-time employment. By the time they graduate, participants in the co-op program have a year to 18 months of work experience under their belts.
The ethos of the co-op program drove Northeastern to enter the boot camp market, said Philomena Mantella, the university's senior vice president of enrollment management and student life. "Northeastern has always been sort of at the juncture of higher education and industry, most symbolically with our signature co-op program," she said. "We acknowledge that there are certain high-demand fields, where our traditional format of instruction is not the only way to create the skills and competencies that can meet today and tomorrow's industry needs. The boot camp format is focused on a high-demand area."
True to its name, Level boasts different tiers of programs. Students can currently choose from an introductory program called Level Set, an intermediate program called Level Core and a special program called Level Focus tailored to the domain of marketing and analytics.
Students in hybrid sessions of Level Set and Level Core complete lessons online at their own pace, meeting periodically in person. Level Set costs $4,995, while the other two programs cash in at $7,995.
Level is distinguished by its emphasis on experiential learning, said Nick Ducoff, vice president for new ventures. All students work with an employer partner on a capstone project, applying data skills to real-world cases, he said.
For example, one student in the Boston program recently worked with a Latin American start-up that offers designer handbag rentals, Ducoff said. The student analyzed data and conducted a survey to determine which handbags were typically rented and for how long, he said.
Many students already hold an advanced degree and are looking to grow their tech skills. According to a survey taken upon entrance to the program, approximately 30 percent of students have a master's degree or a Ph.D., Ducoff said.
Graduates of the program have had success with securing employment. According to a survey taken six months after graduation, 100 percent of students from the first cohort are now working, Ducoff said. Many have secured jobs in their field -- graduates are working as a commodity analyst at Raytheon, with a defense contractor and as an ecommerce web analyst at the women's apparel company J. Jill.