You have /5 articles left.
Sign up for a free account or log in.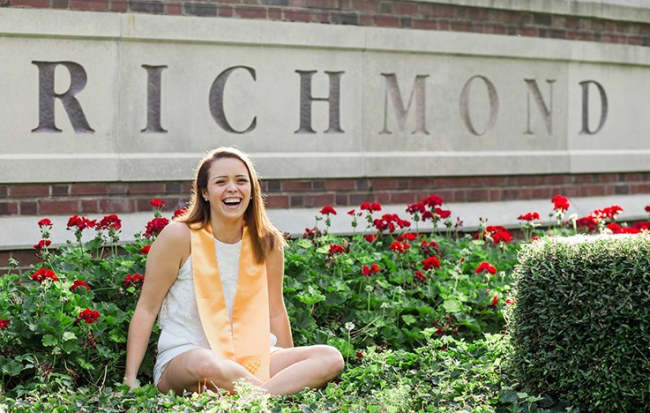 In an escalating war of words, a student has filed a federal complaint against the University of Richmond and gone public with her allegations that officials mishandled her sexual assault complaint against a university athlete.
Earlier this week, Cecilia Carreras, who said she was raped by the athlete in an off-campus house last year, published an essay on The Huffington Post's contributor network detailing her experiences reporting the assault to campus officials. In response, the university sent a campuswide email, saying that many of the student's "assertions of fact are inaccurate and do not reflect the manner in which reports of sexual misconduct have been investigated and adjudicated at the university."
Carreras responded to the email on Thursday with another, much longer Huffington Post essay that included several screen captures of what she said were emails with administrators and text messages from the athlete that backed her version of events.
"Richmond, all I wanted was for you to say sorry," she wrote. "But instead, you called me a liar."
Comparing her case to that of Brock Turner, the former Stanford University swimmer who many believe received a too-light jail sentence for raping a woman last year, Carreras said that Richmond officials chose not to punish the athlete she accused of raping her, and that they mishandled her case, including botching how they enforced the no-contact order between the two students and not providing her with adequate time and resources to prepare her argument against the athlete.
Carreras does not name the athlete or what sport he played, but she said he remained on the team during and after the investigation. She said that she believed the athletic department had interfered in the case, because one administrator told her that "athletics is breathing down my neck."
When an administrator later told Carreras that the case would not be moving forward, the official allegedly said, "I thought it was reasonable for him to penetrate you for a few more minutes if he was going to finish," though Carreras said she did not consent to the sexual activity.
In her second essay on Thursday, Carreras included an email in which she objected to the administrator's alleged comments as far back as September 2015. She also included text messages as evidence that the athlete violated the no-contact order immediately after it was issued, and a partial, time-stamped transcript of a 10-hour hearing about the allegations.
"Richmond's Brock Turner admitted to school officials, three separate times, that he heard me say 'stop,'" Carreras wrote. "Those officials later told a hearing board they thought he was confused when he told them that. No one denied, however, that he penetrated me without my consent. But for Richmond, their Brock Turner having an orgasm was of utmost importance. Whether school administrators were telling me the athletics department was breathing down their neck to wrap up the sexual assault case or whether his coach didn't take him out of game day scenarios at practice, it seemed clear that Richmond would do whatever it took to keep him on the roster."
Carreras's essay, similar to the letter written by the victim in the Stanford case, has since gone viral. A petition urging the university to create a Sexual Assault Response and Prevention Center on campus has collected more than 1,500 signatures. Other Richmond students and faculty member have taken to Twitter and Facebook to express their support for Carreras and their disappointment in the university's response.
"I am sorry that UR chose to imply that you lied about the mishandling of your reported case," Eric Grollman, an assistant sociology professor at Richmond (and an Inside Higher Ed career advice columnist), wrote in an essay directed at Carreras on Thursday. "I am sorry that the university chose not to support you as you bravely spoke up, or to apologize to you for failing you. I am sorry that it chose to distance itself from you rather than from the predator student-athlete who raped you."
Citing privacy laws, Richmond officials did not specify in Wednesday's email which parts of Carreras's account they believe to be untrue. In the campuswide email, the university said that it was "deeply saddened" to read Carrera's essay.
"To be clear: we stand against sexual misconduct," the university said in the email. "We are equally committed to education and prevention, including supporting peer programs. Sexual misconduct is an issue that affects all campuses across the nation, and we are working to care for those affected and to reduce instances here at the University of Richmond, with the goal of eliminating sexual misconduct altogether. To do that, we need your continued help: we must all join together in embracing our shared values, our expectations for our community and how we handle reports and support each other."
Carreras's allegations join a long list of claims that institutions are mishandling how they investigate and adjudicate cases of campus sexual assault -- and that athletic departments continue to interfere with how colleges handle sexual assault reports involving athletes.
In July 2014, Senator Claire McCaskill, a Democrat from Missouri, released a report that suggested more than 20 percent of institutions allow their athletic departments to oversee sexual assault cases. McCaskill called the finding "borderline outrageous," and in a Senate hearing that week, Mark Emmert, president of the National Collegiate Athletic Association, promised he would raise the issue with member institutions' leadership.
Later that year, the NCAA released a handbook instructing colleges on how best to prevent and respond to sexual assaults involving athletes, and adopted a resolution telling athletic departments that they should not interfere with such investigations. The guidelines are not enforceable rules, however, and since the handbook's release, several institutions -- including the University of Tennessee at Knoxville and Baylor University -- have been accused of allowing their athletic departments to influence disciplinary decisions for athletes accused of sexual violence.
During a discussion on college sports issues at the Aspen Institute on Thursday, Emmert admitted that the guidelines had been ineffective at some institutions, despite strong support for the handbook and resolution among the association's members.
"We passed that unanimously, promulgated it, continued to talk about the issue, and then we had a series of very high-profile issues happen yet again over the past, even, just six months," Emmert said. "It's pretty shocking to me personally when you see universities not understanding what that relationship should be."