You have /5 articles left.
Sign up for a free account or log in.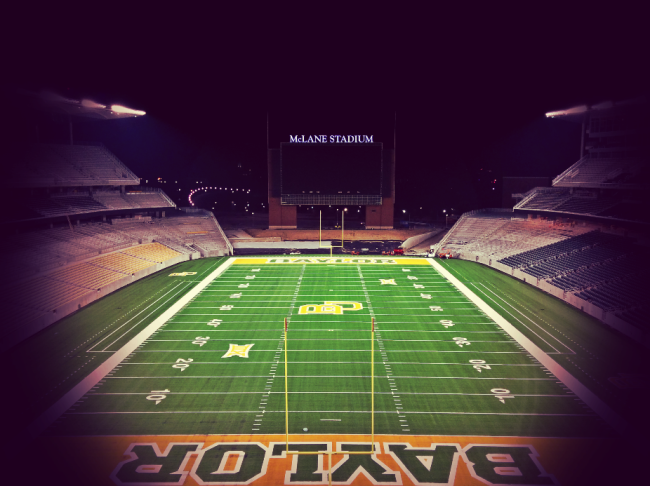 In 2009, a Pennsylvania State University football player was accused of sexual assault. The player was told to report to the university's Office of Student Conduct for an interview. As he sat down with student conduct officials, according to a report released last year by the US. Department of Education, the player had one question:
"Does football know I'm here?"
The question was not unusual, according to the department's report. While overshadowed by the scandal involving Jerry Sandusky, the former assistant football coach who was convicted in 2012 of 45 counts of child abuse, Penn State's football program for years sought to shield football players from the university's student conduct office. Former head coach Joe Paterno "repeatedly resisted" attempts to discipline his athletes through the typical campus process, university officials told the Education Department. The result was that some athletes thought they had a "license to break the rules."
The scenario mirrors some of the incidents detailed in a court document -- filed last week by three of members of Baylor University's Board of Regents -- that describes how Baylor's former head football coach allegedly covered up sexual assaults and other misconduct by his players. Similar complaints were included in a lawsuit filed against the University of Tennessee at Knoxville last year, in which eight women alleged that athletes accused of sexual assault were given preferential treatment in the student conduct process.
Likewise, it evokes the allegations that officials at Florida State University covered up sexual assault complaints against its star quarterback. And the recent allegations at the University of Richmond, where one student says the basketball player she accused of assault avoided punishment because "athletics was breathing down [the] neck" of student conduct officials. And the similar allegations made in September about a football player at the University of North Carolina at Chapel Hill.
"This is an issue across the country, and we've seen it for a long time," said Brenda Tracy, a victims' advocate and member of the National Collegiate Athletic Association's Commission to Combat Campus Sexual Violence. "Athletics already exist in a silo, and football coaches and athletic directors have always preferred taking care of these sorts of things in-house."
'Special Rules for People With Special Talents'
In May, Baylor's Board of Regents asked the university's president to resign and fired the head football coach over allegations that they had continuously mishandled -- and covered up -- sexual assaults committed by football players and other students.
Pepper Hamilton, a law firm the university hired to investigate how it has handled allegations of sexual assault, presented a lengthy oral report to the board, which placed blame on the university's president, athletics director and football coaching staff. The extent to which the head football coach, Art Briles, and his staff covered up complaints of sexual violence and other misconduct has not been entirely clear, as the university declined to release a detailed report about Pepper Hamilton's investigation.
But last month, a student filed a lawsuit against the university alleging that at least 31 football players committed 52 rapes while Briles was coach. Last week, three Baylor regents filed their response to a defamation lawsuit brought against them by the university's former director of football operations, Colin Shillinglaw. In that filing, the regents included a series of text messages that they argue demonstrate how the "football program was a black hole into which reports of misconduct such as drug use, physical assault, domestic violence, brandishing of guns, indecent exposure and academic fraud disappeared."
Among the incidents included in the filing is a description of how Briles and his staff handled allegations that a defensive end on the team physically abused his former girlfriend. She filed a report with local police, according to court documents, and provided the report to Shillinglaw and two assistant coaches. There was no evidence, the regents stated, of the report ever being shared outside the athletic department.
In April 2013, a female volleyball player told her coach that she was gang-raped by five Baylor football players in 2012. The volleyball coach shared the names of the players with Briles, who, according to the filing, replied, "Those are some bad dudes. Why was she around those guys?" The female athlete's mother later met with an assistant football coach, providing the same list of names. Nobody ever reported the alleged gang rape to any university officials outside the athletic department or to police. At the time, Baylor did not have a full-time Title IX coordinator.
Ian McCaw, the university's athletic director at the time, was notified of the 2012 gang rape, but allegedly -- and incorrectly -- told the volleyball coach that if his player did not press charges, then the athletic department could do nothing.
In a 2013 text message conversation between McCaw and Briles, McCaw was informed about a player who had been arrested for assaulting and threatening to kill another student. A football staff member attempted to talk the victim out of pressing criminal charges, Briles texted, and local police agreed to keep the incident out of public view. "That would be great if they kept it quiet," McCaw replied, according to the court filing.
McCaw resigned from Baylor in May after being sanctioned by the university. In November, Liberty University hired him as its new athletics director.
"Mr. McCaw was faced with a complex situation wherein he desired to honor the wishes of the alleged victim, who was unwilling to speak to the police, according to her coach, and a request from her coach for guidance as to where he should go with information he had obtained in 2013 about this incident," Tom Brandt, McCaw's lawyer, said in a statement released Friday by Liberty. "Mr. McCaw responsibly directed the head coach to the Office of Judicial Affairs, which handles student conduct matters and was the appropriate venue to take such an allegation."
Liberty declined to comment on the 2013 text message conversation. When first asked in November why Liberty would hire McCaw after the scandal at Baylor, the university said McCaw "is a godly man of excellent character."
Three other Baylor football staffers have found work elsewhere since leaving the university after the scandal came to light. Kendal Briles, the team's former offensive coordinator and son of the former head coach, was hired in the same position at Florida Atlantic University in December. The university defended the hire, with Lane Kiffin, Florida Atlantic's head football coach, saying, "I don't think because you're on the staff and there's an issue going on that no one has said you're directly involved in, that it should follow you."
Since then, Kendal Briles was specifically named in connection to the scandal. In the lawsuit filed by a female Baylor student last month, the younger Briles was accused of contributing to the culture at Baylor by luring recruits to the team with promises of attractive female college students. "Do you like white women?" Kendal Briles allegedly said to one recruit. "Because we have a lot of them at Baylor, and they love football players."
When asked this week about the new allegations, a Florida Atlantic spokesman said Kiffin's earlier "statement still stands, and the university does not comment on issues at other universities or any related litigation."
The recent court filings also detail instances where Baylor's athletic department reached out to local lawyers on behalf of football players accused of sexual violence and other crimes. The lawsuit filed against the University of Tennessee last year made similar allegations, including that accused athletes -- and no other students -- were provided with a list of sympathetic lawyers, many of them athletic boosters. As part of that lawsuit's settlement, the university agreed to no longer provide the list of lawyers to athletes, and it created a commission that will re-examine its hearing processes for bias.
The lawsuit described Tennessee as showing a "deliberate indifference to known sexual assaults so as to create a hostile sexual environment." The university settled the lawsuit in July for $2.48 million.
The report released in November about Penn State, which was written by the Education Department to summarize an investigation into the university violating the Jeanne Clery Disclosure of Campus Security Policy and Campus Crime Statistics Act, included several other examples of the university offering favorable treatment to athletes accused of violence. Football players at Penn State, the department stated, were led "to believe that there were special rules for people with special talents."
In 2002, a Penn State football player was accused of sexual assault and was suspended for two semesters. Unbeknownst to the student conduct officials who suspended the student, according to the Education Department, the player was still allowed to travel with the team and play in the Capital One Bowl that year. In numerous other cases, "athletic department and football program officials questioned the nature or severity of sanctions imposed for various offenses." One such case involved a football player who was suspended after he was accused of forcing a woman into a bathroom and sexually assaulting her.
"You know you want this," the player allegedly said, holding the bathroom door shut as the woman fought to open it. "I'm a football player. You know you want this."
In 2007, a group of Penn State football players broke into an apartment to confront a man who had reportedly disrespected a teammate, leading to what witnesses described as a brawl. After hearing about the incident, Paterno, the former head coach, sent an email through his personal assistant to the president and athletic director, saying, "I want to make sure everyone understands that the discipline of the players involved will be handled by me as soon as I am comfortable that I understand all the facts." Later, when one of the players failed to appear for a meeting about the incident with a student conduct official, the athlete said that Paterno had told his players that if they visited the student conduct office, they would be "thrown off the team."
Penn State said in a statement in November that it has since improved its procedures for addressing sexual assault and other misconduct involving athletes.
"While regrettably we cannot change the past, today the university has been recognized for significantly strengthening our programs since 2011," the university said. "The safety and security of our university community is a top priority."
The NCAA's Response
The Big 12 Conference, of which Baylor is a member, announced on Wednesday that it would withhold 25 percent of future revenue distributed to Baylor, pending a review of the university's sexual misconduct processes. The NCAA has not announced whether it will take any similar action.
Currently, the association does not have any rules related specifically to sexual misconduct of athletes. After its largely failed attempt to punish Penn State over Sandusky's abuse, according to several sports law experts, the association is likely wary of sanctioning any more institutions over issues outside its official purview. In Baylor's case, the association may have more of a say -- if it can establish that football players were receiving special treatment not available to other students.
The NCAA waded into similarly sordid waters last year when it charged the University of Louisville with four rules violations after a former men's basketball assistant paid an escort service to provide strip shows and sex for recruits and other players.
"The Baylor case is certainly closer to the NCAA's traditional jurisdiction than Penn State ever was," said Josephine Potuto, a law professor at the University of Nebraska and a former member of the NCAA's Committee on Infractions. "It fits within the current bylaw structure if whatever was going on was special to athletes. There would be an underlying violation related to providing extra benefits to athletes. It's an ill fit, but it does fit."
It's an ill fit, Potuto explained, "because 'extra benefits' is just a terrible way to describe this behavior. The NCAA will need something more specific than that if they want to continue in this area." The NCAA has indicated that it might, in the future, be willing to take a larger role in punishing sports programs when their teams and athletic departments interfere with sexual misconduct investigations.
In July 2014, U.S. Senator Claire McCaskill, a Democrat from Missouri, released a report suggesting that more than 20 percent of institutions allow their athletic departments to oversee sexual assault cases. McCaskill called the finding "borderline outrageous." And in a Senate hearing that week, Mark Emmert, the NCAA's president, promised he would raise the issue with the association's members.
Later that year, the NCAA released a handbook instructing colleges on how best to prevent and respond to sexual assaults involving athletes, and adopted a resolution telling athletic departments not to interfere with such investigations. The guidelines are not enforceable rules, however, and since the handbook's release, several institutions have been accused of allowing their athletic departments to influence disciplinary decisions for athletes accused of sexual violence.
During a discussion on college sports issues at the Aspen Institute in September, Emmert admitted that the guidelines had been ineffective at some institutions, despite strong support for the handbook and resolution among the association's members.
"We passed that unanimously, promulgated it, continued to talk about the issue, and then we had a series of very high-profile issues happen yet again over the past, even, just six months," Emmert said. "It's pretty shocking to me personally when you see universities not understanding what that relationship should be."
The NCAA recently formed a new committee to explore the possibility of creating rules that would allow the association to punish colleges that do not follow the 2014 resolution. The decision came after 170,000 people signed a petition created by Brenda Tracy, the victims' advocate, and her son that asked the NCAA to ban any athletes who have committed violent crimes.
In 1998, Tracy reported being gang-raped by football players while attending a party at Oregon State University. The Oregon State players were punished with a one-game suspension and 25 hours of community service. The players' coach at the time, Mike Riley, called the two men "really good guys who made a bad choice." Since 2014, Tracy has visited college campuses to speak to football players about sexual assault, including recently meeting with the team at the University of Nebraska, where Riley now coaches.
Earlier this year, Tracy and Oregon State's president persuaded the Pac-12 conference to adopt new rules barring programs from offering scholarships to athletes who have been kicked off another team for assault and harassment. The Southeastern Conference and the Big 12 have also adopted similar policies.
Tracy has since become a member of the NCAA's Commission to Combat Campus Sexual Violence. The commission has not drafted any legislation yet, she said, though "the discussion is moving in that direction."
"In many cases, athletes are committing sexual violence against other athletes," Tracy said. "The NCAA has a large population of athletes who are survivors. These are women and other athletes who feel betrayed by the organization. I feel like the NCAA has an obligation to protect its membership."