You have /5 articles left.
Sign up for a free account or log in.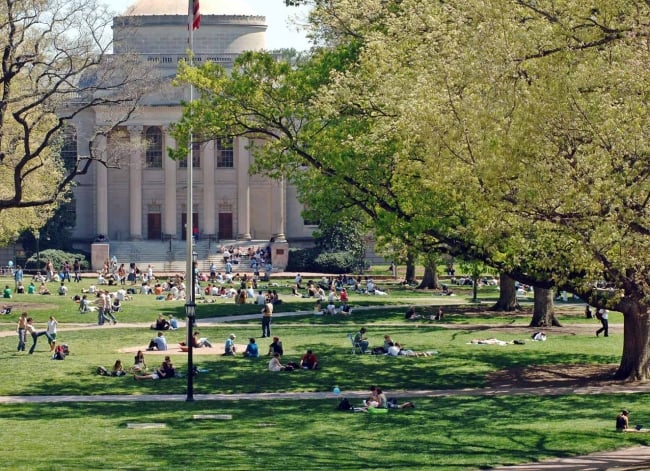 The University of North Carolina at Chapel Hill has been preparing to launch a major fund-raising campaign today, but for a short time Thursday the effort seemed poised to be overshadowed by the National Collegiate Athletic Association announcing long-awaited penalties against the university.
By the end of Thursday, however, circumstances had apparently changed. The fund-raising campaign announcement was still on for Friday. The NCAA announcement was not -- although speculation about the NCAA's findings remains rampant.
What happened is not entirely clear. Neither UNC nor the NCAA have shed much light on the situation.
UNC has been preparing to launch a $4.3 billion capital campaign Friday, billing it as the largest fund-raising campaign in history by a university in North Carolina and in the Southeast. Various announcements are planned throughout the day with high-ranking administrators and trustees.
On Thursday morning, it seemed the capital campaign might be upstaged by the NCAA. The NCAA Committee on Infractions would be releasing its final report on a long-running UNC case at noon Friday, tweeted Andrew Carter, a reporter for The News & Observer. That report would represent the end of a closely watched investigation into no-show classes that helped UNC athletes remain eligible over many years ending in 2011. The scandal has dragged on, embarrassing a university that has historically claimed it could balance academic values and athletic prowess.
Notice went out Thursday morning to parties associated with the investigation that the Committee on Infractions was going to release a final report, including penalties, Carter reported. But by Thursday afternoon, UNC had announced the NCAA report was not being released. Joel Curran, vice chancellor of university communications at Chapel Hill, issued a short statement on the matter.
"Due to scheduling circumstances, there will be no release tomorrow regarding the NCAA Committee on Infractions decision," Curran said. "We have not yet received the committee's public infractions report. We anticipate we will be informed 24 hours prior to the actual release at a later date."
A university spokeswoman declined further comment. An NCAA spokeswoman confirmed the university's statement but did not respond to follow-up queries asking if an announcement had ever been planned for Friday.
Carter stood by his story on Twitter, posting that the NCAA's original intent was to release the report Friday.
David Routh, UNC's vice chancellor for university development, said he was not involved in any talks regarding the NCAA.
"I was not in those discussions, so I really don't know," he said in an interview. "I'm just happy that we have tomorrow to talk about the campaign and the things we need to raise money for."
Pressed on whether he knew of the existence of discussions between UNC and the NCAA, Routh said he had been consumed with coordinating volunteers in town and planning Friday's announcements. He also answered a question about whether kicking off a fund-raising campaign on the same day NCAA sanctions were announced would have been an odd dynamic.
"We all work really hard to tell the story clearly of what the priorities of the university are and what we need to raise money for and what we stand for," he said. "We worked really hard to have tomorrow do that."
The fund-raising campaign is raising money for students, experiential learning, faculty hiring and retention, and signature initiatives, Routh said. The university is increasingly trying to show how it has impacts beyond the borders of its campus, he said.
Still, the situation raised eyebrows among outside observers who wondered what UNC meant by "scheduling circumstances" -- particularly since university officials do not typically appear together with NCAA officials when final investigative reports are released. Experts were also surprised by the lack of additional comment from UNC and the NCAA.
"It's cliché, but the silence is deafening," said Daniel Swinton, managing partner at NCHERM Group, a law and consulting firm. "That strikes me as odd. I'm not sure if it's improper, but it certainly makes me wonder: How much influence does UNC have in this process?"
While that might raise questions about the NCAA's independence, Swinton does not believe the NCAA announcement will have a large impact on UNC's fund-raising capabilities in the long run.
"Memories around these sorts of things are not super long," he said.
Some alumni might not agree with that assessment. But the university's capacity to raise money likely depends less on when the NCAA makes its announcement than on how UNC responds.
"I think what will be most important when thinking about the long-term fund-raising opportunities for UNC is to look at what the institution is doing about the input that they're receiving," said Teresa Valerio Parrot, principal of the national higher ed public relations agency TVP Communications. "If they take the guidance from the NCAA and they can talk about structural changes and ethical changes that have occurred at the university, that really helps alumni and donors and community members to remember that this is an institution that they want to be associated with and that they want to contribute toward."
UNC's last comprehensive campaign ended in 2007. It raised $2.38 billion from 194,000 donors.
NCAA sanctions against UNC have long been expected after an investigation by Kenneth Wainstein, a former U.S. Department of Justice official, in 2014 found systematic and far-reaching academic fraud at the university spanning nearly two decades. More than 3,100 students, many of them athletes, enrolled in and passed classes they never attended and that were not taught by a single faculty member, Wainstein stated in a report. In 2015, the NCAA issued level-one allegations against UNC, signaling the most serious breach of conduct possible.
A second notice of allegations was issued in April of last year, and a third was sent in December. The infractions committee heard the case in August. The NCAA has focused on the time period from 2002 to 2011.
The committee typically takes eight to 12 weeks to release its final report. Colleges and universities receive notification 24 hours before the report is issued.
Whenever it is issued, the NCAA's report will come on the heels of a bombshell announcement at the end of September that fraud and corruption charges were being brought against several college basketball coaches, sneaker company representatives and financial advisers involved in an alleged scheme to steer athletes to certain colleges and agents in exchange for money. No one at North Carolina was named in the charges, which led to the ouster of University of Louisville men's basketball coach Rick Pitino and Louisville athletics director Tom Jurich.
Last month's charges have stoked renewed discussion about how deep corruption runs in big-time college athletics.