You have /5 articles left.
Sign up for a free account or log in.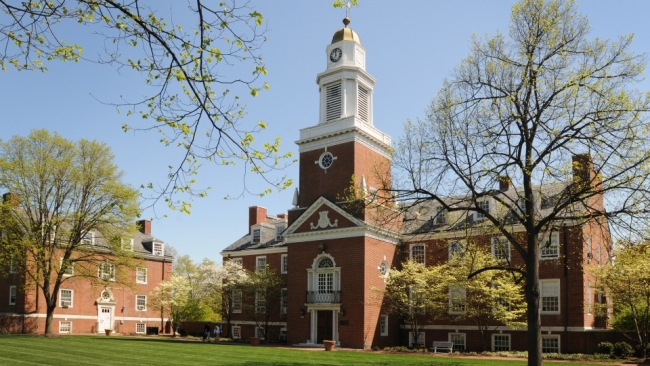 The faculty union at Rider University is protesting after Westminster Choir College's teaching staff received layoff notices warning that the college may close if it cannot be sold.
Rider, with a main campus in Lawrenceville, N.J., faces financial difficulties and has been seeking to sell Westminster to a buyer that would keep the choir college on its campus in Princeton, N.J. The university has entered negotiations with a buyer that faculty members have described as a for-profit company operating K-12 schools in Asia.
Faculty members previously voiced concern that the possible buyer had no higher education experience. They also are worried about the precedent such a sale would set. Their objections took on a new urgency this week when university administrators sent letters warning of potential layoffs.
Westminster's potential buyer wants to operate the college as a nonprofit music school in Princeton, according to a letter signed by Rider's president, Gregory Dell'Omo. Rider's understanding is that the company would want current Westminster faculty and staff members to continue at the college after the sale. But a deal has not yet been reached, and the choir college may need to be closed if the two sides cannot come to an agreement.
"In the event a transaction is not consummated, it may be necessary to transition to closure and provide an opportunity for teach-out of current WCC students," Dell'Omo said in the letter. "This process would decrease the size of the student body and thus create the need to concurrently reduce the size of the work force. We expect to know more in the coming months as the work with the potential partner unfolds."
Administrators believe a deal could be reached by the end of this academic year. But the collective bargaining agreement with Rider's chapter of the American Association of University Professors required the university to notify faculty members of potential layoffs for next year by the end of last month. University leaders provided a layoff notice in case it is required.
The move upset faculty members, many of whom were already distrustful of university leadership and the sale process. Even if the potential buyer has stated it wants to employ current faculty members, there is no guarantee it will do so, said Elizabeth Scheiber, a French and Italian professor who is president of the Rider AAUP chapter.
"Until a contract is drawn up, there is nothing backing that," Scheiber said. "It's just something somebody said."
The prospect of layoffs and closure is a major threat to issue to faculty members, she said. The faculty union is filing a grievance arguing the layoffs do not meet contractual requirements. Union leaders expect the grievance to be referred to arbitration.
They are also worried about issues they cannot challenge under a grievance process, including the sale of a nonprofit institution to a for-profit operator and the sale of a U.S. college to entities from other countries.
"We have concerns about the precedent in the United States of just selling off our education institutions to foreign entities," Scheiber said. "What does it mean for the professors who work at these institutions? Where is the tuition going to go?"
Other U.S. higher education institutions have explored sales to foreign operators. This spring, a deal that would have had the for-profit Santa Fe University of Art and Design selling to Singapore-based Raffles Education Corp. collapsed amid regulatory scrutiny.
Accreditation also could be an issue for Westminster separating from Rider. Westminster merged into Rider in the early 1990s, at which point its separate accreditation ceased.
Pathways exist for it to receive its own accreditation, however. Westminster is identified as a branch of Rider, which experts said makes a spinout easier than if it was classified in other ways.
The parties would have to propose to accreditors that Westminster was being separated as an independent institution with new ownership, said Mike Goldstein, senior counsel at the Washington-based law firm Cooley. Accreditors would have to approve the move after an agreement between Rider and the buyer was reached but before any sale takes place, he said -- or the separated Westminster would find itself operating without accreditation.
Rider cannot yet share the name of the prospective buyer because the university is conducting due diligence and bound by a nondisclosure agreement, a university spokeswoman said. She confirmed that the buyer is an international entity intending to run Westminster Choir College as a nonprofit institution.
Financial analysts have noted the uncertainty surrounding the Westminster sale. Moody's Investors Service on Wednesday dropped the outlook on Rider's debt from stable to negative in part because of questions about the timeline of the Westminster sale and its impact on enrollment and financial performance.
Moody's also noted other financial challenges Rider faces, including increasing debt and thin operating performance. It assigned a low investment grade rating, Baa2, to $40 million in proposed revenue bonds for the university. Rider enrolls about 4,650 students and brought in $152 million in revenue last year.
The university previously considered moving Westminster from Princeton onto its Lawrenceville campus. But alumni and faculty members fought the move, leading to the university's attempt to instead sell the college and its campus.