You have /5 articles left.
Sign up for a free account or log in.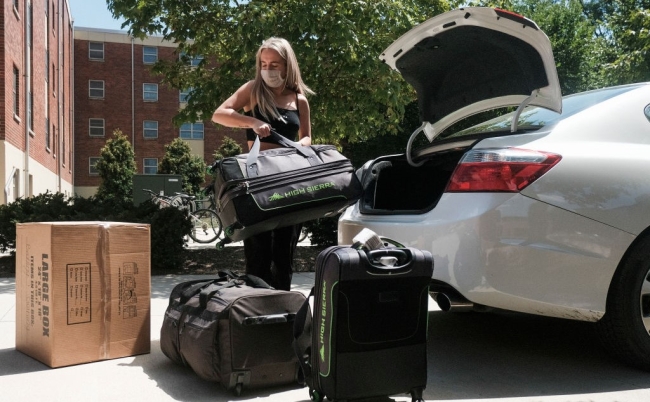 Matthew Hatcher/Getty Images
The United States is entering its worst period for COVID-19 infections to date. On Friday, the nation set a new record for daily infections, reporting more than 184,000 in one day.
Experts have long predicted that the winter would be worse for infections, leading to more outbreaks across the country. And they also predicted that the wave would not bypass American colleges and universities.
In response to skyrocketing cases this week and last, higher ed institutions have been transitioning to online learning in great numbers. This past week alone, at least 20 institutions announced they will be switching to online learning for the remainder of their semesters. Those colleges cited both rising cases around the country and new infections on their campuses as reasons for the change.
"It's not a small number of institutions. It is a large number of institutions," said Chris Marsicano, director of the College Crisis Initiative at Davidson College, which is tracking college plans and modalities. "It is certainly becoming a trend."
Some of those institutions that have made announcements were already planning to transition to remote learning and move students off campus just before Thanksgiving break. Now they are shutting down in-person operations this week, or last. Those colleges, including Seton Hall University, Cleary University, Vincennes University, King's College and Drake University, have moved their timelines for the shift to online up only modestly.
Others, such as the University of Maryland at College Park, the University of Missouri at Columbia, Villa Maria College and the Universities of Wisconsin at Eau Claire, River Falls and Stout, had been planning to continue with in-person classes until the end of the semester, but they are now transitioning to online during the break or before. They moved up their timelines more aggressively in some cases.
With so many students leaving college campuses, questions are swirling about potential impacts to public health. Because campuses are congregate settings that can encourage spread, public health and medical experts are voicing concerns about students leaving college college and  potentially infecting their families and home communities.
A significant number of institutions, Marsicano said, have not announced plans to test students for COVID-19 before they leave campus, despite shifting to online instruction or closing residence halls.
"That is worrisome to us at the College Crisis Initiative at Davidson College, because we understand from our research that if you can control mobility of students and specifically the mobility of COVID-positive students, you can keep everybody safe and healthy," he said. "What you don't want to do, which is what some institutions are doing, is letting students out into the wind without testing them first."
Colleges and universities that are making the switch have varied in how complete their closures are meant to be. While some colleges, such as Westfield State University and Saint Joseph's College of Maine, are closing residence halls and mandating that students move out, others, such as Northern Michigan University, are allowing students to stay on campus if they wish.
"By and large, institutions that are ending in-person classes and switching to remote at Thanksgiving in sort of emergency situations are also asking students to vacate their residence halls," Marsicano said.
For institutions that are asking students to move out, in some cases the turnaround time can be quick. At Westfield State, which announced its shift Monday, staggered moveout begins today, just one day later. (Students at Westfield State will be getting prorated refunds for housing, the university has said.)
At Saint Joseph's, the administration announced Sunday that the exit plan would begin the following day. Students are required to get tested in shifts and -- following a projected 24-hour turnaround time for results -- leave immediately after getting a negative result.
When emergency shifts to remote learning happened in the spring, some students who could not return to another permanent residence were left scrambling to find housing.
While there are still concerns about first-generation and low-income students having adequate housing after the shift, "I think it's less of a concern this time around," said Chris Sinclair, executive director for external affairs for FLIP National, which advocates for these students. "You have more time to plan for extenuating circumstances some students have."
He noted that decisions to move classes to online or quickly empty out residence halls nonetheless illustrates the lack of thought many university leaders give first-generation or low-income students.
Leaving campuses to go home always costs money, he said, "But having to change your travel plans can incur additional costs. There's a presumption that students just have money for these costs just sitting around." .
Colleges have also varied in the amount of time they provided instructors to switch to an online modality. For example, Clark University announced that in-person classes would be fully suspended for three days before resuming remotely on Thursday -- giving instructors a brief respite. Others, such as Adams State University, said the change would begin the next day.
Over all, Marsicano said, colleges could have prepared and planned better for student departures.
"It did not have to be this way. It did not have to be a situation where institutions are responding rather than being proactive," he said. "Institutions that made this call early in the semester or even in the summer have by and large [had] processes in place to help students transition off campus."
"Institutions that are having to scramble now may not necessarily have had those plans in place," he added.