You have /5 articles left.
Sign up for a free account or log in.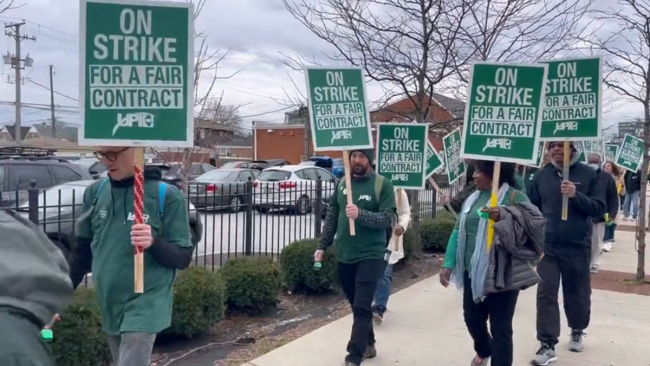 Illinois Federation of Teachers' Twitter account
Chicago State University faculty members and academic support professionals began striking Monday, and more walkouts are set to begin this week and next in Illinois.
University Professionals of Illinois president John Miller said the union's members will likely begin striking Thursday at Eastern Illinois University, in Charleston, and likely are walking out at Governors State University, in Chicago's Southland, at the start of next week.
In New Jersey, three Rutgers University unions—representing various employees, including full-time faculty, part-time lecturers, graduate student workers and physicians—have authorized strikes that don't yet have start dates.
"Many issues have already been resolved, and we are negotiating in good faith on the outstanding items," Rutgers president Jonathan Holloway said Monday in a statement. "Indeed, the university and the faculty unions have held all-day negotiation sessions over the last two weeks, and we have committed to continue negotiations with our faculty unions every day this week. There has been significant movement toward agreement in the past few days, and we are cautiously optimistic that a strike or other job action will not be called by our faculty unions."
The University of Michigan graduate student instructor and staff assistant strike that began Wednesday has continued into this week. Other strikes since November have included University of California system graduate workers, part-time faculty at the New School and tenured, tenure-track and non-tenure-track faculty members at the University of Illinois at Chicago.
"I think generally in the post-pandemic environment, there has been a clear increase in strike activity throughout the nation," said William A. Herbert, executive director of the National Center for the Study of Collective Bargaining in Higher Education and the Professions.
"And that is something that's observable, and certainly the activity both in terms of unionization and strike activity on campus … This seems to be a new generation of activism taking place," Herbert said.
Miller of University Professionals of Illinois and Valerie Goss, a tenured professor who leads Chicago State's chapter of the union, didn't reveal Monday what percentage raises the union is demanding.
"We don't bargain in public," Miller said.
Goss did say that the union's proposal and the university's offer differ by about $294,000 per year in total costs—less than half a percent of the institution's annual budget.
"And they're saying no, and we're saying they're not prioritizing us, they're not prioritizing the students," Goss said. "They're not prioritizing the students because if they prioritize the students, it would be within reason to expect that these raises would be given to the faculty who are doing the work to train the students so they can be transformative individuals with whatever careers they want to go into."
"They can afford that," Miller said. "They're choosing not to, and instead they're choosing to have us walk."
The university said in an email that the union's "faculty salaries are not the only item on the bargaining table; they are part of a larger financial package that isn't fully represented by this isolated number. Many items we have already tentatively agreed upon have costs that impact Chicago State University, including promotional salary increases, reduction in faculty workload, family paid leave and release time. And the $300,000 is on top of the salary increase that has already been offered by the university, which would be a $1.2 million difference over the four-year contract."
Chicago State had roughly 2,400 students in fall 2021, 73 percent of whom were Black. Miller said great faculty members of color are leaving the institution.
"It's a challenge to protect and invest in these communities, and we have a president who just doesn't seem to understand the priority," Miller said.
Miller and Goss have stressed the difference in pay between faculty and staff and university president Zaldwaynaka Scott, a Black woman who made $395,000 in fiscal year 2021.
Goss, who is also Black, said Scott received a 16 percent salary increase in this academic year. The public university said it was a one-time increase worth 7.6 percent of her salary, but it didn't provide a copy of the contract Monday.
The university didn't provide interviews Monday.
"During negotiations, CSU has made numerous concessions and reached agreement with the union on the vast majority of issues with wages being the one area of significant difference," the university said in a written statement.
"The union's financial demands far exceed our current economic position," the university said. "We have achieved agreement on significant issues, including workload, office hours, parental leave and other points as they were raised during our bargaining sessions. Yet the financial realities at the university remain. We recognize the dedication and needs of our faculty, but must also ensure that CSU can continue its commitment to our students, staff and community into the future."
University Professionals of Illinois is affiliated with the American Federation of Teachers union and the AFL-CIO umbrella union organization. AFT president Randi Weingarten attended Monday's start of the strike.
Miller declined to say how many regular dues-paying members the union has out of the 180-person bargaining unit at Chicago State. He said his union also doesn't count how many people are striking.
"We just know that, at the present moment, it doesn't look like there are any classes going on on campus," Miller said Monday afternoon.
At Governors State University, the union represents advisers who must deal with more than 500 students apiece, he said. Coming out of the pandemic, he said, "These students need a lot of help to help them achieve."
Will Davis, a spokesman for Governors State, said in an email that "we have been committed to bargaining in good faith with the goal of reaching a fair contract that works for our faculty, our students and our institution. Progress is being made at the bargaining table and that is where we will be directing our energy—toward reaching an equitable new contract."
Joe Berry—who taught at the University of Illinois Labor Education Program and was among the founders of Chicago Coalition of Contingent Academic Labor—said institutions including Chicago State and Governors State used to be under a single board of governors.
But that governing structure has broken up, he said.
"So the union [the University Professionals of Illinois], which was a statewide union and bargained one contract with the system, now bargains individual contracts and functions separately at each institution," said Berry, co-author of Power Despite Precarity: Strategies for the Contingent Faculty Movement in Higher Education.