You have /5 articles left.
Sign up for a free account or log in.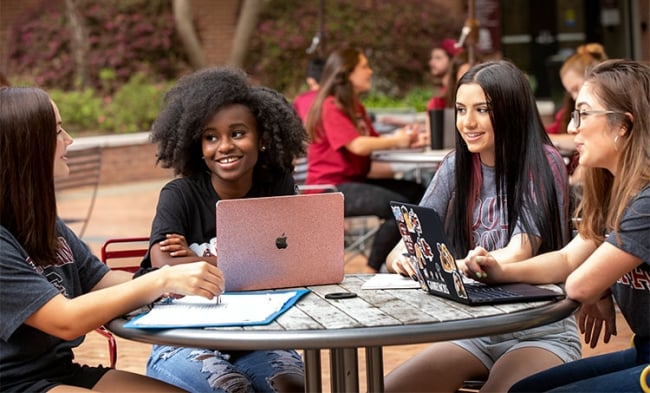 University of South Carolina
In the lead-up to the U.S. Supreme Court's decisions restricting consideration of race in college admissions, college leaders strategized, publicly and privately, about how they might alter their policies and practices if justices limited the use of affirmative action. Among the commonly cited possibilities was adopting an approach, used in Texas and elsewhere, in which public colleges guarantee admission to the top percentile of every high school in the state.
On Tuesday, barely a month after the Supreme Court's rulings restricting race-conscious admissions, the University of South Carolina's flagship campus at Columbia said it would do just that.
"By welcoming the top 10 percent of our state's high school graduates," President Michael Amiridis said in a news release, "we are reinforcing our commitment to access and excellence in education for South Carolina citizens."
But South Carolina officials say that despite proximity of their announcement to the Supreme Court's actions, the policy change wasn't motivated by it.
"This is not a race or diversity strategy, it's more of a geographic strategy," Scott Verzyl, vice president for enrollment management and dean of undergraduate admissions at South Carolina, said in an interview Tuesday.
While many of the country's most selective flagship universities (think the University of Virginia and the University of North Carolina at Chapel Hill) have historically used race as a factor in admissions, South Carolina admits roughly 60 percent of its undergraduate applicants and does not consider race in its decisions. (It does have different strategies for recruiting students of different races, Verzyl said.)
More than half of South Carolinians who rank in the top 10 percent of their classes already apply to the Columbia campus, but they aren't equitably dispersed geographically. "There are counties in the state we get fewer than 30 applicants from, even though we recruit there," Verzyl said.
The university wants to increase its enrollment, and one way of doing so is to "increase the number of South Carolina residents across the board that are enrolling," he said. The flagship's pandemic-driven move to test-optional admissions—which gave the institution a ready-made pilot program to compare the academic performance of those who had submitted test scores with those who had not—helped persuade its officials that it could guarantee admission to students in the top 10 percent of their classes without any diminution in outcomes.
"There was almost no difference in their performance, first-year grades," Verzyl said.
While university officials say they weren't specifically motivated by a desire to racially diversify the student body, they acknowledge wanting to ensure that the "complexion of the undergraduate population reflects the state," Verzyl said. "We'd love to see more first-gen students, rural students, Pell-eligible students."
South Carolina hopes that its new approach will encourage students at high schools that currently send few of their graduates to the flagship to consider it. "We'll be able to tell them, if you apply and meet the requirements, we guarantee you'll be admitted. We hope that will give that strata of students some certainty."
Verzyl said South Carolina officials recognized that the timing of the university's change in its approach might make some people think that it was a direct reaction to the Supreme Court's restriction on race-conscious admissions—which might not please everyone in a deeply red state.
"We were sensitive to the fact that given the timing of it, there might be some assumptions made about our motivation here," Verzyl said. "We socialized the idea, talked to people at the statehouse about it, and we have their support."
Indeed, Tuesday afternoon, South Carolina's Republican governor, Henry McMaster, retweeted the university's announcement with a supportive statement of his own.