You have /5 articles left.
Sign up for a free account or log in.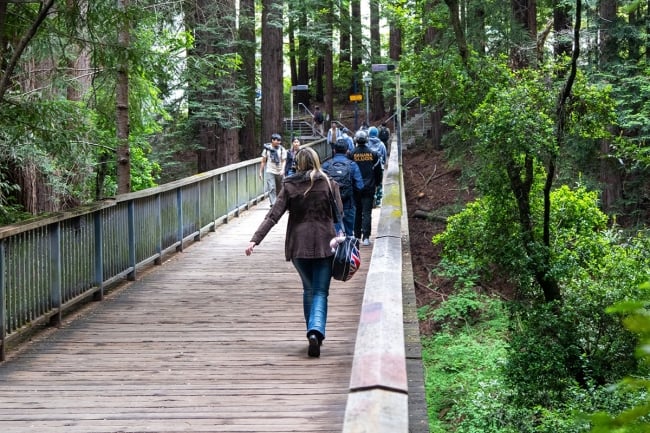 Under pressure from lawmakers to admit more in-state students, the University of California, Santa Cruz, accepted 50,381 total applicants this fall, up from just over 38,000 last year. Of those, roughly 23,000 are in-state freshmen and 6,600 are transfers from within California.
That means in-state first-year students are up by nearly 40 percent and transfers by 2 percent.
The dramatic increase at Santa Cruz is a calculated risk, a gamble that aims to meet the demands of state lawmakers while betting that most of those students won't actually enroll at a campus with a one-year housing guarantee in one of the nation's most expensive real estate markets.
Altogether, the university expects to enroll around 4,650 new students this fall.
Given the high demand for on-campus housing and a lack of affordable options in the city of Santa Cruz, the university is banking on a low yield rate and staggered enrollment so that its capacity of nearly 10,000 beds is not overwhelmed. In the end, despite record acceptance, the university anticipates increasing enrollment by 730 students this year when the fall quarter begins in late September.
The Acceptance Boom
The 10-member University of California system has been under fire for enrolling a high number of out-of-state students since at least 2016, when a state audit declared that "the university has undermined its commitment to resident students." Lawmakers have long been critical of the system's reliance on out-of-state and international students, who pay higher tuition rates.
In response to legislative pressures—and increased state funding—the UC system has made an effort to admit more California resident students in recent years, as well as to raise enrollment over all.
Last July, officials unveiled the UC 2030 Capacity Plan, which aims to add 23,000 students across the system.
"Our goal all along has been to grow in a way that serves the state of California and meets its future education and workforce needs, while being responsive to each of the communities we call home," the system president, Dr. Michael V. Drake, told the UC Board of Regents last year.
In 2022, the UC system admitted a record number of first-year California students, extending offers to 85,268 first-year, in-state applicants while accepting fewer out-of-state and international students. The UC system surpassed that number this year, admitting 88,285 first-year students from California, breaking the record set in 2022 by 3.5 percent—or another 3,000-plus students.
Among UC's 10 members, UC Santa Cruz had the biggest percentage increase of accepted students. Officials said it's also the most diverse group ever admitted, noting that 33 percent of first-year students admitted from California came from underrepresented populations and 32 percent were first-generation students. Among transfers from California community colleges, 37 percent were from underrepresented minorities and 45 percent were first generation.
Michelle Whittingham, associate vice chancellor of enrollment management at UC Santa Cruz, attributed the increased acceptance to a "combination of factors."
First, Whittingham pointed to increased funding from the state to create additional capacity for California students. The high number of graduating students also opened more seats. Then computer science—the major that typically draws the highest yield of admitted students—"had to reduce enrollments," Whittingham told Inside Higher Ed by email, which "in turn, allowed us to admit more students in other majors."
Despite the huge surge in acceptances, UC Santa Cruz isn't planning for a dramatic enrollment increase. Whittingham wrote that "the projected admit to enrollment yield rate is 11% for first year and 16% for transfer students," meaning that enrollment will climb only by about 730 students.
Betting on Yield
On-campus housing at UC Santa Cruz—which is guaranteed for first-year students—is capped at 9,524 residents. And the California housing market is bursting at the seams—especially in Santa Cruz, which one recent report determined has the highest rent in the nation, even surpassing notoriously expensive San Francisco.
Soaring rental costs have forced students to live in cars or cram into shared apartments. Some students rent trailers—without bathrooms and with limited internet—in "Camper Park" for $700 monthly, a bargain in a city where a one-bedroom apartment goes for over $2,000 a month.
In the past, UC Santa Cruz officials have asked faculty and staff to rent rooms to students.
Across the state, the ability to build new residence halls has been constrained by California's rigid Environmental Quality Act and lawsuits from neighborhood groups pushing back on plans to expand enrollment in the UC system while housing remains limited and expensive.
Whittingham wrote that UC Santa Cruz "currently provides housing for more than half of its undergraduates," which she points out is "one of the highest percentages in the UC system." Additionally, she noted that about 97 percent of first-year students live on campus.
Given the university's one-year housing guarantee and tight rental market, Santa Cruz will likely be at capacity this year. And considering the limited number of available beds, the university is betting big on low—and staggered—yield to prevent a sudden influx of incoming students.
Students will enter in two stages—half in the fall quarter and half in the winter. Santa Cruz is counting on December graduates to clear space for the second group of students.
Whittingham noted that enrollment numbers have not yet been finalized and remain a projection.
"Enrollment management is both complex and dynamic. We take housing capacity, projected continuing student enrollments and the capacity of impacted majors into consideration," she wrote. "The campus uses robust analytics to estimate how many of any selected student population is likely to accept our offer and enroll. We are conservative in our initial admission offers and rely on the waitlist to build up to our capacity levels. As we make incremental offers, this allows us to see the actual student acceptance behavior, which minimizes the risk of going over."
Outside experts note that projecting enrollment numbers can be a complex calculus.
Madeline Rhyneer, vice president of consulting and dean of enrollment services at the consulting firm EAB, noted that the field of enrollment management is part art, part science and part guesswork. Universities can crunch numbers all they want, but there's no way to account for the unknown human element of the applicants.
She noted that colleges often look at historical trends to anticipate how many accepted students will enroll. Then there are additional factors to consider, such as local students living at home or commuting from nearby cities, which may ease housing pressures in an extremely expensive rental market.
Rhyneer suggests that UC Santa Cruz is taking a "calculated gamble."
But the key part there is "calculated."
"I'm guessing they're walking a pretty fine line and are hoping that the calculation that they've made is accurate," Rhyneer said, adding that she suspects the record number of acceptance letters sent out by UC Santa Cruz is the result of "mindful" analysis by university officials that will be proven correct when the term starts.