You have /5 articles left.
Sign up for a free account or log in.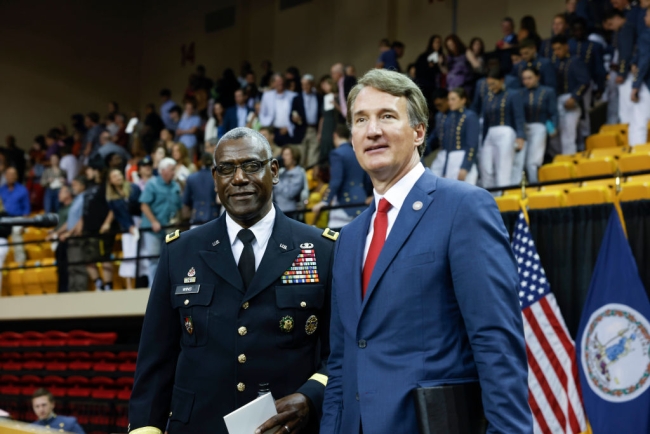 Justin Ide for The Washington Post via Getty Images
Separated by fewer than 75 miles, Virginia Military Institute and the University of Virginia are, in many ways, diametrically opposed. One is a small military college with a rigid honor code, while the other is a large national university known for rigorous academics and cutting-edge research.
But both are public institutions that have become targets in the battle against diversity, equity and inclusion initiatives playing out at colleges and state legislatures across the U.S. and particularly in Southern states.
In that regard, VMI and UVA share a few key commonalities. Located in a state where the Republican governor, Glenn Youngkin, has argued that DEI efforts have gone too far, both institutions have faced abundant criticism of their initiatives. Yet the leaders of both—despite having contrasting backgrounds themselves—have defended their commitment to creating more diverse, equitable and inclusive campuses, pushing back on recent attacks on DEI in slightly different ways.
DEI Attacked at VMI
When Major General Cedric T. Wins was hired as superintendent of VMI in 2021, he became the first Black executive to lead the public institution, which has a history dating back to 1839 and deep ties to the Confederacy and General Stonewall Jackson, who had a statue on campus until late 2020.
Wins, a 1985 graduate of VMI who spent 34 years in the U.S. Army, has frequently been subject to criticism at the helm of his alma mater, which didn't admit Black students until 1968 or women until 1997.
He stepped in at a dramatic moment in VMI history, taking over in the aftermath of a state-ordered investigation that found his predecessor, J. H. Binford Peay III, allowed a racist and sexist environment to flourish. The report prompted the resignation of Peay, who had led the institution since 2003. But many in the VMI community have downplayed the findings of the investigation, arguing that the report relied heavily on anecdotes to reach a foregone conclusion.
Under state scrutiny—and Wins's leadership—VMI has charted a new path, which has included creating a DEI office and implementing mandatory DEI training sessions. (The DEI office has since been renamed the Office of Diversity, Opportunity and Inclusion after the governor's office stripped the word "equity" from state DEI efforts.)
For its efforts, VMI has been a frequent target of alumni who take umbrage at changes to their alma mater, which they fear is being captured by a liberal agenda. One VMI graduate generated headlines when he claimed that the military college was teaching critical race theory, an academic concept that argues racial bias has permeated American institutions, which many conservatives view as a widespread attack on U.S. ideals.
CRT is frequently conflated with DEI. And while some VMI alumni have admitted that no such course is taught at VMI, they argued in a petition last year that "the elements" of critical race theory "are being woven into the fabric" of the college, "rendering harm to the VMI Experience."
The rhetoric prompted a stern rebuke from Wins, who publicly challenged the assertions of one graduate, calling the claims that VMI teaches CRT "categorically false" in a 2022 social media post.
Yet despite the superintendent's pushback, the rumors about CRT have persisted as DEI work at the institution has been frequently and publicly vilified by alumni. Amid the ongoing attacks on DEI efforts, Jamica Love resigned as chief diversity officer, a role she has held since 2021, effective at the end of June.
But Wins promised that despite the change in staffing, the embattled DEI office will remain open. In a statement, he said VMI will focus on creating a more diverse institution; providing a "safe, equitable and inclusive environment" for everyone; and maintaining "a safe, rigorous process for escalating issues which have even the potential to violate the Code of a Cadet."
In an interview with Inside Higher Ed, Wins argued that DEI work at the college is often misunderstood as "advocating for something that equates to equal outcomes" regardless of effort. Critics, he suggested, believe DEI programs at the college undermine meritocracy.
"These tools are intended to give you the best footing to get out of it what you put into it, but if you don't put in work, if you have a deficiency that you are unwilling to work towards improving, then there's no obligation to do anything further to make sure that your outcome is the same as someone else's," Wins said. He added that the notion that DEI is ruining VMI's culture is false.
To counter those concerns, Wins said he welcomes conversations with critics.
"I always invite people to come back and meet with me if they really are interested in having a conversation about why I feel and why I believe this is important for the institute as a college in the 21st century," he said. "Oftentimes, folks take me up on that offer, and they'll come and we'll have some very candid conversations. But there are a number of folks out there who don't and won't. And I believe that's because they don't want to hear me articulate things in this way."
Wins also pointed to national rhetoric about DEI, which has emerged as a frequent target of conservative politicians who argue that marginalized populations are being prioritized based on identity. They believe that hurts white Americans and that white Americans are now suffering from institutional racism themselves.
DEI Questioned at UVA
At the University of Virginia, scrutiny of DEI programs has come from the Board of Visitors. Among the board's 17 members, 13 were appointed by Virginia's last two Democratic governors, and four were appointed by Youngkin, who has been increasingly critical of DEI initiatives since he took office.
Of the members Youngkin appointed, none has been more vocal about UVA's DEI efforts than Bert Ellis, who told The New York Times earlier this year, "This is an exploding bureaucracy and they're reaching into every aspect of our university." Ellis incorrectly estimated that UVA had 100 employees working on DEI efforts. In text messages unearthed by public records requests, Ellis took aim at staff working to contextualize the history of slavery at the university and promised "a battle royale for the soul of UVA." Ellis has also raised concerns about how UVA presents the complex legacy of founder Thomas Jefferson, who advanced principles central to American democracy while also owning hundreds of slaves.
(Ellis did not respond to a request for comment from Inside Higher Ed.)
As criticism of DEI has mounted, UVA president Jim Ryan has argued that such initiatives are misunderstood and there is room for "common ground." Critics have interpreted a recent op-ed by Ryan as a call for a "kinder, gentler DEI." While Wins has elected to push back against DEI critics at VMI in direct public statements, Ryan has chosen to engage through editorial pages and boardrooms.
A Board of Visitors meeting last week featured a presentation by Ryan, who broke down the cost and breadth of UVA's DEI efforts. He identified 55 employees dedicated to DEI positions and a total annual budget of $5.8 million, which goes to support that department-spanning work.
"I believe in the importance of this work," Ryan told the Board of Visitors in last week's presentation. "I also think it's important that universities pay attention to honest critiques of how we approach DEI so that we can be open to ideas or changes that might make us better in this space and might make us better at meeting the needs of our institutions."
Ryan pointed to work that UVA does to make international students feel welcome, to help veterans pursue higher education and to help low-income students afford college through robust financial aid, as examples of far-reaching support that align with UVA's DEI efforts.
Ryan also referenced DEI programs within the U.S. military and major corporations.
As the meeting continued, board members raised concerns about an apparent lack of political diversity among UVA's faculty, expressing a desire to collect details on professors' political views.
"How come we don't have dashboards that track, for example, the political ideology of the faculty?" asked board member Douglas Wetmore, who was appointed by Youngkin last year. "Why wouldn't we do that to try to convince ourselves that we have balance and that we're serving the full range of needs from our constituents as a leading public university?"
Another board member floated the idea of allowing the roster of DEI employees to thin out via attrition and then using those funds to create scholarships for first-generation students at UVA.
Ultimately, no action emerged from the presentation, and UVA has been quick to point out that the institution is not actively considering including an ideological component in a diversity dashboard, despite the interest from some board members.
A National Conflict Over DEI
In April, while speaking at VMI, Virginia's chief diversity officer Martin D. Brown declared, "DEI is dead." Brown argued that "generally, when you are focusing on equity, you're not pursuing merit or excellence or achievement. Not all the time, but you're looking at equal outcomes." Brown's remarks, in many ways, reflected the fears of many VMI graduates regarding DEI.
When Youngkin was asked about Brown's remarks last month, he signaled full support, telling reporters that the goals of DEI were laudable five to 10 years ago but have since "gone off the rails." Youngkin also echoed the remarks of Brown and other DEI critics, arguing, "We've got to get back to the basic principles that we know are right and away from the bombastic language that DEI has become where people all of a sudden are professing that we want equal outcomes for everyone at any costs and where all of a sudden excellence has been subordinated to equity."
But Youngkin's approach to DEI has centered rhetoric over action—unlike other Republican governors, including Florida's Ron DeSantis, who defunded DEI initiatives at state universities. While Virginia's public universities have faced backlash, they haven't seen legislative restraints like those enacted in Florida and elsewhere, which have prompted concerns from national organizations that DEI critics are harming both students and academic freedom.
In a recent Twitter thread, the American Association of University Professors pointed to 37 bills filed in 21 states that took aim at DEI in some way. The AAUP tweeted, "DEI is being misrepresented by politicians [with] an agenda to create a bogeyman in order to exacerbate divisions & revive prejudices of the past." The association also argued that dismantling DEI work will lead to diminished student support and campus diversity, which will harm education over all.
Paulette Granberry Russell, president of the National Association of Diversity Officers in Higher Education, told Inside Higher Ed that attacks on DEI have had a chilling effect on such work and that college presidents need to articulate their commitment to such efforts in the face of these attacks.
Granberry Russell also noted that DEI work goes far beyond matters of race—a point critics often disregard—and impacts many aspects of campus life, from programs focused on first-generation students to club sports for students with disabilities.
In the face of attacks on DEI, Granberry Russell urged presidents to fight back with facts and separate assumptions about such work from the reality on campus.
"Some of the myths that are articulated in the efforts to demonize DEI work should be addressed, and that includes the idea that diversity work is somehow discriminatory, or makes people feel bad, or that our efforts to create a more inclusive campus [are] about discrimination," Granberry Russell said. "Articulating what this work really represents would be helpful."