You have /5 articles left.
Sign up for a free account or log in.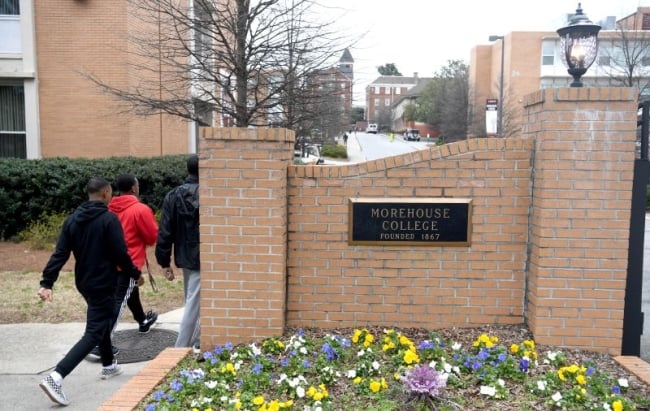 Paras Griffin/Contributor/Getty Images North America
Carlotta Berry always wanted her daughter, a rising high school sophomore, to attend a historically Black college or university. She said that dream has only intensified since the U.S. Supreme Court recently barred affirmative action in college admissions.
Berry, a professor of engineering who lives with her family near Indianapolis, and other Black parents have taken to Twitter to lament the court's ruling. She said professors "nurtured" and "encouraged" her during her time at Spelman College, an all-women HBCU in Atlanta, which prepared her to attend predominantly white institutions for her graduate education in engineering. She was one of just a few Black students, and just a few women, in most of her graduate school classes.
"When I sit back and reflect on the amount of microaggressions and bias that I have seen students experience, even in a world with affirmative action, I just don't want to imagine what Black and brown students may experience now when they go from [being] one of two or three to possibly one of one" students of color in a classroom, she said.
She fears if her daughter attends an institution "that no longer has asset-based admission, where they properly value diversity and culture, thoughts, strengths … her experience might be even worse."
Berry's husband disagrees. He thinks their daughter would be better off attending a predominantly white institution because HBCUs have been historically underfunded and often have fewer resources. Berry believes the trade-off is worth it.
As other Black parents and students are having similar conversations about whether HBCUs should rise to the top of their college application lists, HBCU leaders are having their own discussions about how to proceed in the wake of the Supreme Court ruling. Some campus officials expect a deluge of applications from Black prospective students dismayed by the decision or anticipating being rejected by selective predominantly white institutions in higher numbers. Others believe the projected wave of new students is being overstated and have adopted a wait-and-see approach.
The ruling has contributed to widespread uncertainty across higher ed about the future of campus diversity, equity and inclusion efforts at a time when state bills seeking to limit these initiatives and the teaching of race-related topics have proliferated. The NAACP has called on colleges and universities nationwide to make a "Diversity No Matter What" pledge, committing to continue recruiting historically underrepresented students despite the ruling.
While many HBCUs are eager to accept more students, some of the institutions' presidents and advocates worry they don't have the resources and infrastructure to absorb them. Other HBCU administrators doubt the decision will meaningfully affect their institutions, compared to predominantly white universities where admissions officials are wringing their hands as they try to determine how to diversify their student bodies without running afoul of the ruling.
Anticipation and Anxiety
David A. Thomas, president of Morehouse College, an all-men HBCU in Atlanta, described the court's blow to race-conscious admissions as a "travesty" and said he feels a sense of "responsibility" to serve students who will be affected by the ruling. But Morehouse, which currently has about 2,200 students, isn't prepared for a significant jump in enrollment.
Thomas projects applications could double from 7,000 to 14,000 in the next few years. The college's dorms are already at full capacity, and the college would need to increase its faculty by at least a third over the next three years to accommodate an additional 1,000 students while maintaining small class sizes and course quality, he said.
He expects there to be "many more men who deserve, based on merit, to be at Morehouse, that want to be here, than I can serve today," he said. "Quite frankly, that could financially be beneficial to the college if all we were interested in was the bottom line. We're primarily tuition dependent. More students mean more tuition. But it will compromise delivering on our promise to our students in my view. That's the tension."
Thomas isn't the only HBCU leader feeling a mix of excitement and trepidation.
For example, Leslie Rodriguez-McClellon, senior vice president for student experience at Saint Augustine's University in Raleigh, N.C., told ABC 11 that campus leaders are considering plans to add more dorms and update the campus HVAC system and IT infrastructure to be ready for more students. George French, president of Clark Atlanta University, told ABC News that if more students seek out HBCUs, the institutions will need "not just financial, but programmatic" support.
"If you come to an HBCU for one of our traditional disciplines—law, medicine, education—that's one thing. But if you come for thermonuclear science, we don't have that capacity," French told ABC.
Lodriguez Murray, senior vice president of public policy and government affairs at the United Negro College Fund, which represents private HBCUs, said Black students are seeing "where they are welcomed, seeing where they will be prioritized, seeing where they will be the focal point … and we look forward to more and more students rediscovering historically Black colleges and universities and … having them as a top choice."
Robert Palmer, professor and chair of educational leadership and policy studies at Howard University, said Black students could apply to HBCUs in larger numbers—particularly well-known and selective institutions such as Howard, Spelman and Morehouse—because they tend to view HBCUs as "safe places" and "places where race is not an issue," especially at a time when some Black students feel less welcome on predominantly white campuses.
He added that, at selective predominantly white institutions, or PWIs, "we may see less admissions officers admitting Black and brown students, not because the students aren't qualified" but because race can't be used as a factor "to account for some of the historic and present systemic barriers that Black and brown students face."
Palmer noted that admissions officials at PWIs are trying to find other ways to admit diverse classes, but "whatever policy they implement will be closely scrutinized," and those admissions decisions could send more Black students to HBCUs, as well.
David K. Sheppard, chief business and legal officer at the Thurgood Marshall College Fund, a membership organization representing public HBCUs, said colleges in TMCF's network were already experiencing enrollment booms that put a strain on some campuses. Prior to the Supreme Court decision, applications to public HBCUs were up 44 percent on average relative to last year, he added.
He worries that HBCUs will be faced with increasingly hard decisions about whom to admit, and new applicants who previously would have opted to attend a predominantly white institution, particularly Ivy League colleges, could displace other prospective students eager to attend HBCUs.
Unless these institutions get more federal and state funding, "somebody invariably is going to be left in the breach," he said.
Murray, at UNCF, said he's already begun talking to federal lawmakers about funding concerns, as have representatives of the Thurgood Marshall College Fund.
Thomas noted that Morehouse and other HBCUs experienced enrollment surges after the national 2020 racial reckoning spurred by the killing of George Floyd. But HBCUs also experienced a spike in philanthropy dollars as companies and donors sought to show their support for Black causes and institutions. So far, he hasn't seen the same level of donor support in response to the Supreme Court ruling.
Murray believes it's federal lawmakers' responsibility to ensure HBCU campuses have the funds they need to hire additional faculty members, build up campus infrastructure and otherwise support incoming students.
"This was a decision by one of the three branches of government," he said. "So now it's up to the other two branches of government to see the value of historically Black colleges and universities, to see the value of African American student populations and to react and lead the private sector."
Mixed Expectations
Todd Hurst Simmons, associate vice chancellor of university relations at North Carolina A&T State University, said, as the most populous HBCU in the country, his university was already growing, so another enrollment bump isn't likely to have a significant effect. He noted that the university received about 40,000 applications for the roughly 3,300 slots for first-year students available this upcoming fall.
"We continue to be in that posture of deep planning for significant growth," he said. The court ruling won't "change that for us."
Some higher ed experts argue it's too early to tell how the decision will affect HBCU enrollment.
"It's not clear what this decision will mean for individual institutions yet," Dominique Baker, associate professor of education policy at Southern Methodist University, told AL.com. "A lot of the impacts from this decision will be determined based on how institutions respond. There is certainly potential that some institutions may see increases in enrollment."
Jarrett Carter Sr., founding editor of the news blog HBCU Digest, said on Twitter that he worries "this won't happen like we think it will."
"Black students have had many examples of not being wanted by PWIs over generations and have still overwhelmingly chosen them over HBCUs," he tweeted.
Khala Granville, director of undergraduate admission and recruitment at Morgan State University, said the narrative that Black students are going to flock to HBCUs is untrue and rests on an "assumption that is built on, quite honestly, racism."
The assumption is that Ivies "cheapened their admissions standard in order to accommodate students who were not white or Asian, and that could be so far from the truth," she said. "Basically, it's saying there are not Black and Latinx and Indigenous students that could possibly be as academically talented as any other student who's choosing to apply to Harvard. My belief is, the same kid who was academically talented before this decision is still going to apply to go to all the same institutions that were on their list prior."
She added that as prospective students nationwide are increasingly questioning the return on investment of a college education, they're more likely to apply to colleges based on whether they offer specific fields of study or academic programs known to lead to well-paying jobs. She expects this pattern to continue, regardless of the Supreme Court ruling.
The only change Morgan State is making in response to the decision is that applicants' racial backgrounds will now be hidden from admissions officials while they're reviewing applications, even though race wasn't a factor used in the application review process prior to the decision, Granville said. Morgan State will continue using various strategies to attract Hispanic and Native American students, much as PWIs do, such as building partnerships with community organizations and school districts with high concentrations of these students. Hispanic and Native American students make up 4.5 percent and 0.1 percent of Morgan State's student population, respectively, according to fall 2022 enrollment data on the university's website.
Morgan State will remain "very intentional about how we recruit students from diverse backgrounds and identities," she said.
Berry, the engineering professor, said it's crucial that her daughter attend a college that fosters "her mental well-being and ability to be successful" in a post–affirmative action world.
She believes her daughter could get into any kind of institution. But the question is, "Will she thrive at that university or just survive?"